IPL 14 steps into its third week. Such long tournaments are indeed boring; But not the IPL. It has its own sets of thrills and spills, which keeps its viewers glued to the TV across the world. With the weather becoming hotter day by day, the players have to pump in total stamina. RCB and Punjab are old foes.
Both teams have faced each other on 26 occasions, and Punjab Kings has won 14, with RCB too posting 12 victories.
Both rivals have played six matches each in this edition, and RCB is comfortably placed in the third position compared to that of PBKS in sixth.
The truth is, however, different. RCB can make it to the top of the table if they win today's encounter by a considerable margin. PBKS, on the other hand, can edge out MI from its current standing at the fourth position if they post a win over RCB.
PBKS would also be smarting under the fact that they won over RCB in both encounters in 2020.
Kheltalk.com analyzes the two teams' strengths and weaknesses and an overview of RCB VS PBKS Head Record in the history of the Indian Premier League.
RCB: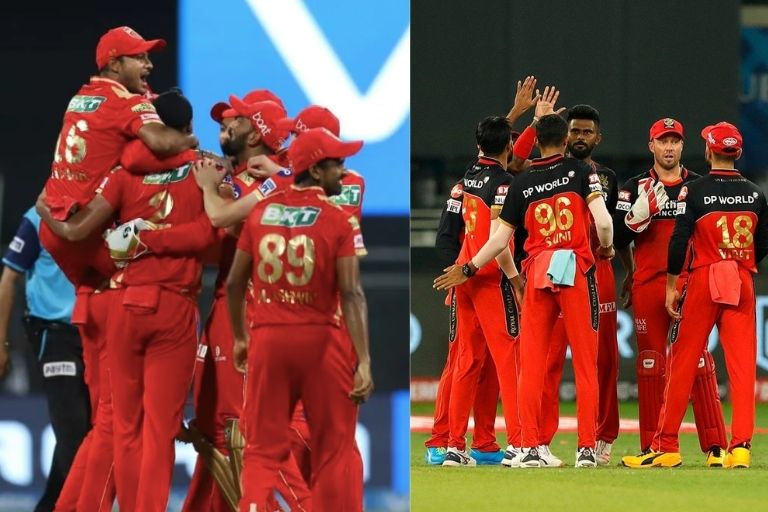 We are witnessing a resurgence in RCB this year. The batting has failed only once and perhaps the same for the bowling; and both failures in the match against CSK.
Maxwell, De Villers and Padikkal have showcased some match-winning performances this season with Virat helping them on a couple of occasions.
Virat and RCB are not too keen about the toss, as the captain loses 90 percent of the time. With this fact in mind, is are ready to bat first or chase down totals too. One can check the pattern of their victories that they are confident in their approach.
This confidence would not have come in easily without the backup by the bowlers. The 6.8 Foot gentle Giant from New Zealand bowls well in both the power plays and death. Harshal Mehta is the Purple Cap holder, which speaks volumes of his performance except for that one over to Jadeja. Sunder and Chawla bowl well within themselves.
With all this ammunition, RCB should be firing real bullets at PBKS rather than blank ones.
PBKS:
PBKS would be a worried lot. They have chosen, bid, and put together a winning combination but keep failing with the winning post in sight. Both their victories have been earned rather than domination over the proceedings. Their skipper KL Rahul continues to bat well, but it is the middle order which lets them down consistently.
The Universal Boss did show signs of aggression but failed when the necessity arises. The sand can be said about Deepak Hooda. Mayank Agarwal is their biggest bet but has slipped into inconsistency. One can see the team totals not willing to go up at all. It hovers in the 120 to 140 mark, and the dependency shifts to the bowling department.
Murugan Ashwin has been a letdown now replaced by Bishnoi. He can be called more consistent. Shami, the spearhead, is no longer that with Arshdeep performing better. Hooda is also trusted with the ball.
KL Rahul realizes the do-or-die situation is around the corner, for it pays no dividends remaining below the fourth position.
The team can oust any opposition on their day, and today should be that day.
Head to Head IPL 2021 Record of RCB vs. PBKS
Date
Winner
Won by
Venue
15-Oct-2020
Punjab Kings
8 Wickets
Sharjah
24-Sep-2020
Punjab Kings
97 Runs
Dubai
24-Apr-2019
Royal Challengers Bangalore
17 runs
Bengaluru
13-Apr-2019
Royal Challengers Bangalore
8 Wickets
Mohali
14-May-2018
Royal Challengers Bangalore
10 Wickets
Indore
13-Apr-2018
Royal Challengers Bangalore
4 Wickets
Bengaluru
5-May-2017
Punjab Kings
16 Runs
Bengaluru
10-Apr-2017
Punjab Kings
8 Wickets
Indore
18-May-2016
Royal Challengers Bangalore
82 Runs
Bengaluru
9-May-2016
Royal Challengers Bangalore
1 Run
Mohali
13-May-2015
Punjab Kings
22 Runs
Mohali
6-May-2015
Royal Challengers Bangalore
138 Runs
Bengaluru
9-May-2014
Punjab Kings
32 Runs
Bengaluru
28-Apr-2014
Punjab Kings
5 Wickets
Dubai
14-May-2013
Punjab Kings
7 Wickets
Bengaluru
6-May-2013
Punjab Kings
6 Wickets
Mohali
2-May-2012
Punjab Kings
4 Wickets
Bengaluru
20-Apr-2012
Royal Challengers Bangalore
5 Wickets
Mohali
17-May-2011
Punjab Kings
111 Runs
Dharamsala
6-May-2011
Royal Challengers Bangalore
85 Runs
Bengaluru
2-Apr-2010
Royal Challengers Bangalore
6 Wickets
Mohali
16-Mar-2010
Royal Challengers Bangalore
8 Wickets
Bengaluru
1-May-2009
Royal Challengers Bangalore
8 Runs
Durban
24-Apr-2009
Punjab Kings
7 Wickets
Durban
12-May-2008
Punjab Kings
9 Wickets
Mohali
5-May-2008
Punjab Kings
6 Wickets
Bengaluru
Top Batsman with Most Runs in RCB vs. PBKS matches.
Chris Gayle, the Universe Boss, has the edge over others in the matches played between RCB and PBKS. He had earlier represented RCB, as he now plays for PBKS. His total runs collated is 827 runs!
Ab De Villers is in the second position with all his runs for RCB at 692, and Captain Kohli is closing upon him with 681.
Top Bowler with Most Wickets overall games between RCB and PBKS
RCB shines again as it is Chahal who tops the wicket tally with 21 PBKS scalps. Sandeep has performed best for PBKS with 16, followed by Chawla at 15.