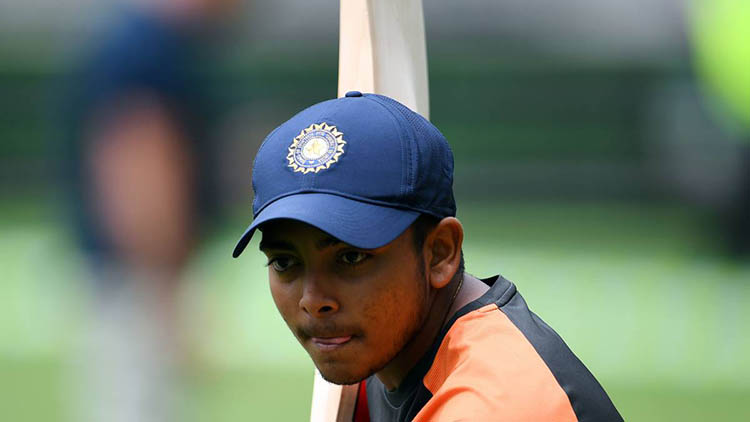 Who is Prithvi Shaw?
Prithvi Pankaj Shaw is an Indian Cricketer and has also been former Captain of the India Under-19 Cricket Team. Prithvi Shaw (9 November 1999) is a right-handed opening batsman who led the India Under-19 Cricket Team and won the World Cup.
He made his international appearance on 4 October 2018 and emerged as only the 2nd youngest batsman in India after Sachin Tendulkar to score a ton in the Test Cricket on debut.
During the 2016-17 Ranji Trophy semi-finals, he made his first-class debut on 1 January 2017 for Mumbai. He went on to hit a century in the 2nd innings and was also adjudged the Man of the Match. He also earned another distinction of hitting a century in his first match that he played in the Duleep Trophy. This way, he equaled Sachin Tendulkar's record. Tendulkar had also hit centuries during his debut matches in Duleep Trophy and Ranji Trophy. Prithvi Shaw was appointed the Captain of
India for the Under-19 Cricket World Cup of 2018. He guided the Team to reach the Final, where they beat Australia by 8 wickets to win India's 4th Under-19 Cricket World Cup.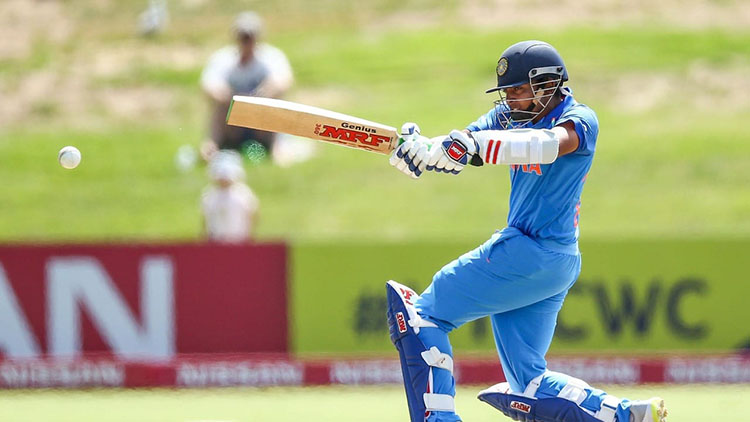 Owing to this immense talent and skills that we're converting into amazing performances, the ICC named him one of the 5 breakout Stars in 2018's men Cricket. BCCI suspended Prithvi Shaw for doping violation till 15 November 2019. He had to undergo a ban of 8 months for ingesting a prohibited substance – found common in cough syrups.
Prithvi Shaw Wiki –
Here is some basic information like Prithvi Shaw age, full name, height, date of birth & all the basic stuff. Prithvi Shaw age is 21 years, he was born on 9th November 1999. Prithvi Shaw height is around 5 feet 6 inches & he weighs around 70 kgs.
| | |
| --- | --- |
| Full name | Prithvi Pankaj Shaw |
| Nickname | Prithvi Missile |
| Date of Birth | 09th November 1999 |
| Age | 21 Years ( in 2020) |
| Place of Birth | Virar, Maharastra, India |
| Zodiac sign | Scorpio |
| Religion | Hindu |
| Caste | Vaisya (Madhesia) |
| Height | 5'6″ |
| Weight | 70 kg |
| Eyes | Black |
| Hair | Black |
| Body Colour | Black |
| School | A.V.S. Vidyamandir, Virar, Mumbai & Rizvi Springfield High School, Mumbai |
| College | Rizvi College of Arts, Science & Commerce, Mumbai |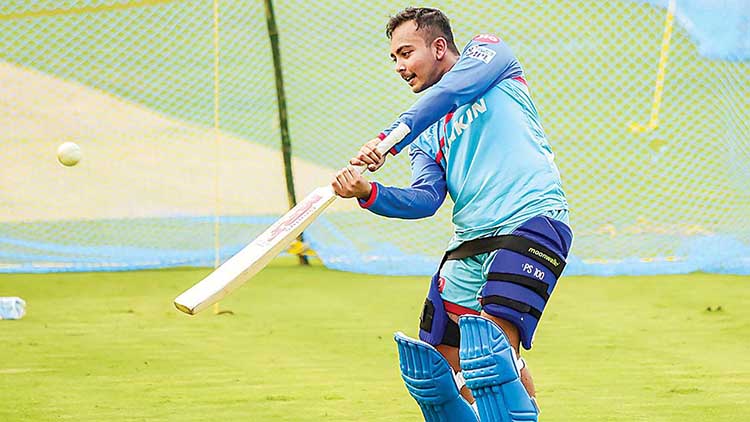 Prithvi Shaw Biography –
Prithvi Shaw Family and Personal Life –
Prithvi Shaw hails from Gaya, Bihar. Pankaj Gupta (adopted the surname of Shaw) went to Mumbai in search of work. Ashok Gupta (grandfather of Prithvi Shaw) states that he was disappointed with the business results that he had in Manpur. Prithvi Shaw got an offer and contract by AAP Entertainment, permitting him, along with his father to move to Mumbai and pursue his Cricketing Coaching. Indian Oil also provided him with sponsorship. He featured as a key figure in Beyond All Boundaries, a documentary and was also selected twice to go to England to continue his Cricket education.
Prithvi Shaw also got Rs.36 lakh worth deal with SG, a deal which was sponsored by Legends of Cricket like Sunil Gavaskar, Rahul Dravid and Virender Sehwag.
| | |
| --- | --- |
| Father | Pankaj Shaw |
| Mother | Name Not Known (Died in 2003) |
| Sister | None |
| Brother | None |
| Marital Status | Not Married |
| Wife | None |
| Marriage Date | None |
| Children | None |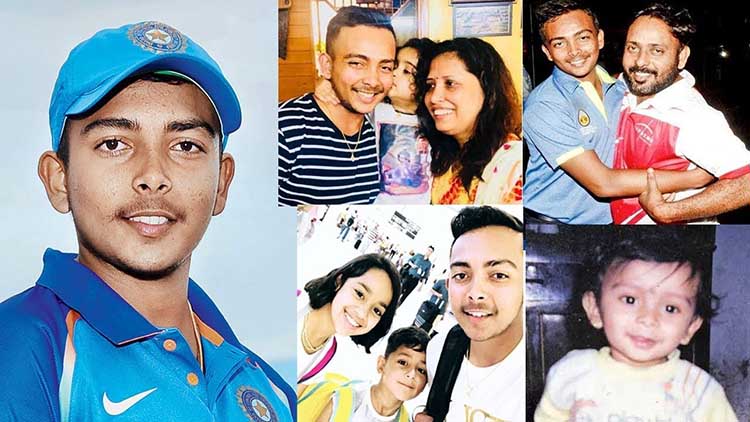 Prithvi Shaw Social –
Prithvi Shaw is very active on social media. He has over 1 Million followers on Instagram and Twitter combined.
Prithvi Shaw Career –
The hard work, persistence and dedication of Prithvi Shaw paid off because Nilesh Kulkarni, a Mumbai bowler spotted his potential. The Sports Talent Management Agency of Nilesh Kulkarni signed him for a yearly stipend of Rs.3 lakh. A corporation, who spotted Prithvi Shaw the same year, offered a flat in Santa Cruz. It helped Shaw cut his travel time.
Prithvi Shaw scored 73 while playing for MIG Vs JW Cricket Academy in 2010. In the process, he got to impress Julian Wood, a former County Cricket player and the founder of the English academy. He saw talent in the 11-year-old boy and offered a role of playing in England to his father.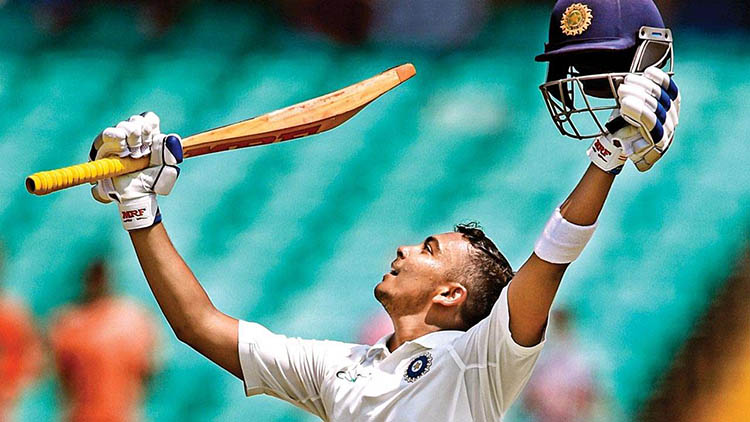 But, it was not until 2012 that Prithvi Shaw got a chance to play in England. He featured for Cheadle Hulme School, Cheshire around Manchester in 2012. He amassed a huge 1,446 runs during his 4 months stint. He even took 68 wickets as a bowler.
For Gloucestershire Second Team, he got to play in May 2013. He began studying at the Bradfield College in Reading. He also attended private tuitions to cope with academic difficulties. By the end of the year, he was now leading Rizvi Springfield. It was the time he went on to play an inning of 546. He led his school for two back to back seasons of Harris Shield in 2012 and 2013.
Prithvi Shaw First Class Cricket –
Prithvi Shaw was made a part of the Mumbai's Domestic Team in 2016-17. He got to make his debut vs Tamil Nadu in the Semi-Finals in Rajkot, hitting a ton. He hit 120 runs in 175 balls to take Mumbai into the Finals. His inning was studded with 1 six and 13 fours.
During the Final match at Indore, he scored 71 in the 1st inning before being run out by Juneja. He went on to score another 44 in the second innings. But his debut got overpowered by Parthiv Patel, another opener, who played a knock of 90 and 143 that helped Gujarat win its first title.
Prithvi Shaw continued his class for multiple outings and told the world that he was no one-season wonder. On 24 October 2017, he made his first ton Vs Tamil Nadu. This was followed by another 105 Vs Odisha on 1 November 2017. On 17 November 2017, he made another century Vs Andhra at Ongole.
He was the 2nd highest run aggregator for Mumbai with 537 runs in 6 games. He got to play for India Red in September 2017 and hit a ton Vs India Blue in the Final game. This way, he increased his similarity in Domestic Cricket with that of Sachin. He followed the Master Blaster in scoring tons on his Duleep Trophy and Ranji Trophy debuts.
Prithvi Shaw Injury –
Despite being extremely talented and making the most of the occasions thrown to him to rise in the ranks, injuries also marred his career. It began with an ankle injury while fielding in an Australia Tour match ruled him out of the historic Tour Down Under. It was then followed with instances of behavioral issues during his stint while being with his IPL franchise, Delhi Capitals in IPL 2019.
A hip injury also meant that he was not a part of the 2019 ICC Cricket World Cup. Post World Cup, his hip injury came back that kept him away from the West Indies Tour. The insult to the injury was the ban handed to him by the BCCI for ingesting a prohibited substance, which is found commonly in Cough Syrups. His urine sample collected during a match of the Syed Mushtaq Ali Trophy in Indore 22 February 2019 revealed it.
However, Prithvi Shaw was determined to make an impressive comeback, and he did that by hitting a double century Vs Baroda. But, sadly, his stellar Domestic performance was halted by another injury. This time, it was a shoulder injury that he got during a match against Karnataka in January.
India A Career –
Prithvi Shaw made an impressive comeback in the International Cricket by scoring a massive 150 Vs New Zealand for India A. He also replaced Shikhar Dhawan for the ODI Series. He had an inning of 48 in the 2nd unofficial ODI.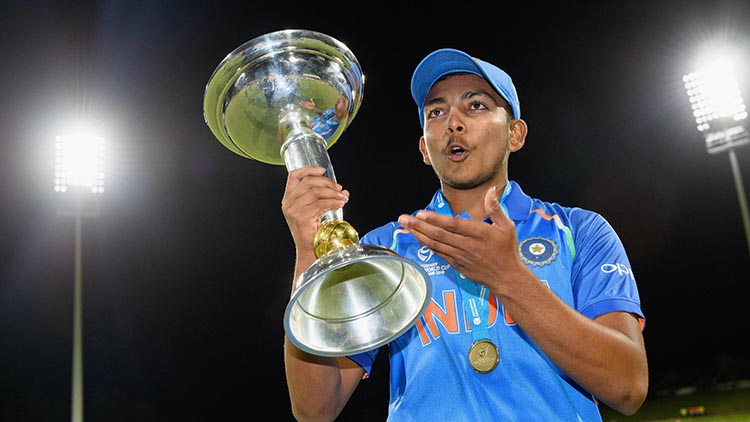 India Under 19 Glory –
Prithvi Shaw was included in the U-19 Team of India in 2018. He was given the responsibility to lead the squad in the 2018 U-19 Cricket World Cup. He captained the side that had talents such as Riyan Parag, KL Nagarkoti, Shubhman Gill and AS Roy under the guidance of Rahul Dravid to take the country to glory.
Prithvi Shaw was India's 2nd highest run scorer with 261 runs in 5 innings at 65.25 averages and a strike rate of 94.56. He opened the innings with Shubhman Gill and hit 2 fifties that included his highest score of 94 Vs Australia U-19 Team.
He was all set to lead the India Under-19 Team in the U 19 Asian Cup, but could not participate in the Tournament owing to his 8 months suspension awarded by the BCCI.
Prithvi Shaw IPL Career –
The Delhi Daredevils (now, Delhi Capitals) signed 17-year-old Prithvi Shaw at an astronomical amount of Rs.1.2 crores to play in the Indian Premier League. Even though he had performed a lot, but his buying raised eyebrows as most of them have been Test performances and not T20s. Nonetheless, Delhi Daredevils could capitalize on its investment as Prithvi Shaw went on to live up to all the hype.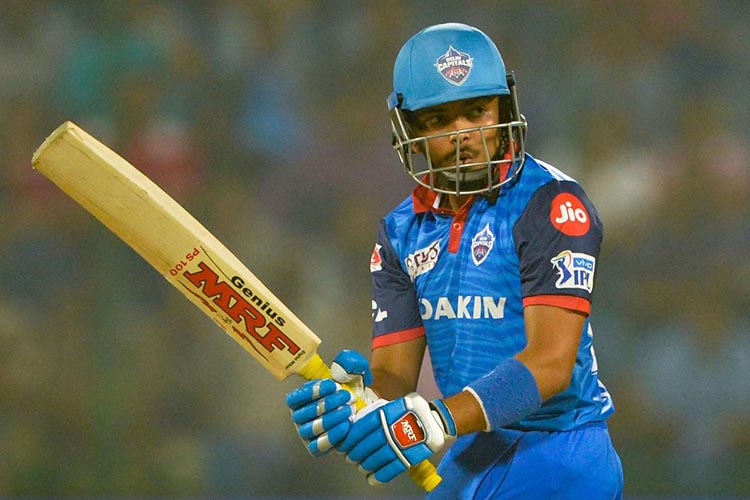 He made his IPL debut 2011 IPL's match number 22 at the age of 18 years and 165 days. He was asked to open the innings with Gautam Gambhir and added 22 runs in 10 balls. During the process, Prithvi Shaw emerged as the youngest ever opening batsman of the IPL. He went past his Delhi Teammate Rishabh Pant, who had made his IPL debut by playing at the age of 18 years and 212 days.
In the lackluster Delhi Team of the IPL, Prithvi Shaw was one of the Stars. The IPL 2011 season saw him scoring 245 runs in 9 games at 27.22's average. His strike rate was an explosive one at 153.12. He was retained by DD for the next season at Rs.1.2 crores, and it was the time Delhi revamped into being Delhi Capitals.
Prithvi Shaw emerged as an integral part of the Delhi IPL Team led by Shreyas Iyer. He capitalized on his performance the next season by opening the innings with Dhawan. He went on to score 598 runs at an average of 22.06 in 25 matches, with a strike rate of 133.71. His IPL highest score so far is 99 that he scored against the Kolkata Knight Riders (KKR).
Prithvi Shaw has earned around ₹ 36,000,000 in his IPL career. Here are his IPL earnings breakdown.
| | | |
| --- | --- | --- |
| Year | Team | Salary |
| 2020 (Retain) | Delhi Capitals | ₹ 1,20,00,000 |
| 2019 (Retain) | Delhi Capitals | ₹ 1,20,00,000 |
| 2018 | Delhi Daredevils | ₹ 1,20,00,000 |
| Total | Total amount earned | ₹ 3,60,00,000 |
Prithvi Shaw International Career –
Prithvi Shaw was called to make it to the Test Team of India in August 2018 for the 1st two Test games Vs England, but he did not go to play. In September 2018, he was also included in the Team against the West Indies Series. Finally, he got the chance to play in his Test debut game on 4 October 2018 against the Windies. He scored a ton in the game and became the youngest batsman to do that for India (8 years and 319 days). Prithvi Shaw was named as the Man of the Series as India won the 2nd Test by 10 wickets. He was also picked up to play the ODI Series Vs New Zealand in January 2020. He made his ODI match debut Vs the Black Caps on 5 February 2020.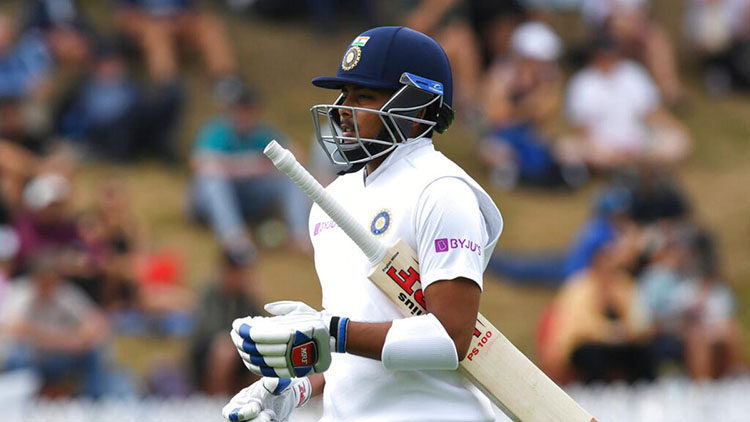 Prithvi Shaw Stats –
Here are some important cricket facts and info about Shaw –
| | |
| --- | --- |
| Playing Role | Batsman |
| Country | India |
| Batting style | Right Handed Bat |
| Bowling style | Right-arm off-break |
| Jersey Number | # 100 (India) & # 100 (Domestic) |
| Coach | Coach- Santosh Pingulkar & Mentor- Rahul Dravid |
| Teams for which he played | India U19, Mumbai, India U23, India Red, India A, Indian Board Presidents XI, Delhi Capitals, Rest of India, India, Board Presidents XI, North Mumbai Panthers |
Shaw's Career Statistics –
| | |
| --- | --- |
| Test debut | vs West Indies at Saurashtra Cricket Association Stadium, Oct 04, 2018 |
| Last Test | vs New Zealand at Hagley Oval, Feb 29, 2020 |
| ODI debut | vs New Zealand at Seddon Park, Feb 05, 2020 |
| Last ODI | vs New Zealand at Bay Oval, Feb 11, 2020 |
| IPL debut | vs Kings XI Punjab at Arun Jaitley Stadium, Apr 23, 2018 |
| Last IPL | vs Chennai Super Kings at Dr. Y.S. Rajasekhara Reddy ACA-VDCA Cricket Stadium, May 10, 2019 |
| First-class debut | Mumbai v Tamil Nadu at Rajkot, Jan 1-5, 2017 |
| Last First-class | New Zealand v India at Christchurch, Feb 29-Mar 2, 2020 |
| List A debut | Gujarat v Mumbai at Chennai, Feb 25, 2017 |
| Last List A | New Zealand v India at Mount Maunganui, Feb 11, 2020 |
Shaw's Batting Statistics –
| | | | | | | | | | | | | | | |
| --- | --- | --- | --- | --- | --- | --- | --- | --- | --- | --- | --- | --- | --- | --- |
| | Mat | Inns | NO | Runs | HS | Ave | BF | SR | 100 | 50 | 4s | 6s | Ct | St |
| Tests | 4 | 7 | 1 | 335 | 134 | 55.83 | 388 | 86.34 | 1 | 2 | 48 | 2 | 2 | 0 |
| ODIs | 3 | 3 | 0 | 84 | 40 | 28 | 82 | 102.43 | 0 | 0 | 12 | 2 | 0 | 0 |
| First-class | 22 | 40 | 2 | 2197 | 202 | 57.81 | 2713 | 80.98 | 9 | 10 | 303 | 22 | 13 | 0 |
| List A | 33 | 33 | 0 | 1384 | 150 | 41.93 | 1171 | 118.18 | 4 | 7 | 192 | 32 | 6 | 0 |
| T20s | 38 | 38 | 0 | 972 | 99 | 25.57 | 652 | 149.07 | 0 | 8 | 105 | 46 | 9 | 0 |
A Quick Look at Prithvi Shaw Unknown Facts –
Prithvi Shaw started playing Cricket at a tender age of just 3.
His mother passed away when he was only 4 and left a big void in his life. He shifted his focus to Cricket to overcome the immense loss.
His father sacrificed a lot for his Cricketing career. He closed his well-to-do garment business in Baroda and Surat. For 3 years, his family survived on the savings made by his father.
The financial crisis started fading when Shaw began getting scholarships. Sanjay Potnis, a Shiv Sena MLA, also gave him a home in Vakola, an area that was close to the training ground of Bandra.
Earlier, he and his father had to travel a daunting 70 kms between Virar and Mumbai to attend Cricket coaching.
His father helped him practice by being a practice bowler at Kalina's Air India Ground.
He was selected to play in 2011 for Polly Umrigar XI.
He made headlines and the world to take notice by hitting 546 off only 330 balls in a Harish Shield Elite Division in Mumbai. Prithvi played the incredible known at the age of only 14.
He was also a part of India U-19 that won the Under-19 Asia Cup Tourney under the Coaching of Rahul Dravid.
Ashok Gupta, his grandfather, operates a cloth store in Bihar under the banner of 'Shri Balaji Cut Piece Centre.'
He loves sharing funny on social platforms the dub smash videos
Shaw has featured in a documentary on Cricket named as Beyond All Boundaries, and it was directed by Shushrut Jain.
Prithvi Shaw comes from Gaya, a pilgrimage town of Bihar, which is around 100 kms away from the State Capital, Patna.
The surname of Prithvi Shaw was Gupta, which his father changed to Shaw when he moved to Mumbai after his business did not do well.
He used to wake up at 4:30 am to catch the 6 am train to train at the MIG Cricket Club after covering a distance of around 60 kms.
Prithvi Shaw has featured for different Cricket Teams such as the Indian Cricket Team, Mumbai Indians (MI), Delhi Daredevils (DD), Mumbai, Rizvi Springfield, MIG Cricket Academy and many more during his course of Cricketing journey.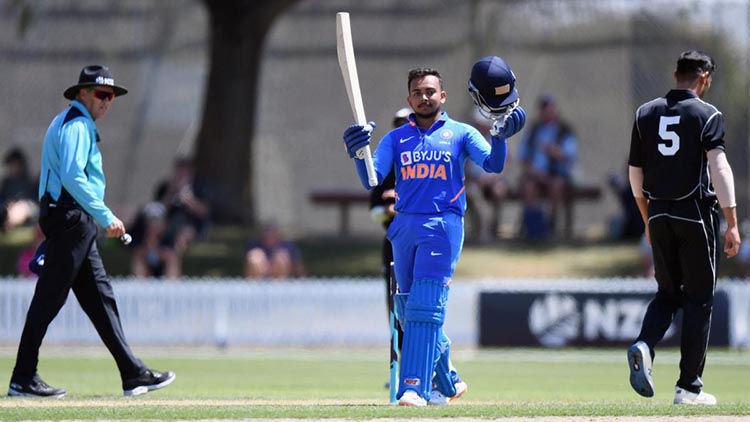 Prithvi Shaw Record –
Prithvi Shaw scored a brilliant 546 runs in a Harris Shield match's innings. It is the highest score set by any Indian batsman in Minor Cricket in India.
He scored a ton on debuts in Duleep Trophy, as well as, Ranji Trophy Tournaments.
He is the first player to score a century on his Duleep, Ranji and Test debuts.
He scored 5 tons in his first 9 First-Class games.
Before turning 19, he has made 8 First-Class centuries, and he is only behind that of Sachin Tendulkar.
He Captained the India U-19 to glory by winning the Under-19 Cricket World Cup.
Prithvi Shaw is the 2nd youngest Indian batsman and 7th on the whole to score a Test century.
He happens to be the youngest Indian to score more than 50 on his Test debut in an innings.
Prithvi Shaw is the 4th youngest to have scored a century in his debut match.
His ton against West Indies was scored only in 99 balls. It was the fastest one made by any batsman playing in his Test debut.
He is only 2nd opener of India to have scored a century in Test Cricket.
Prithvi Shaw is the youngest ever opener to play in the Indian Premier League (IPL), going past Rishabh Pant, his Delhi Teammate. He holds the record by being able to play at the age of 18 years and 212 days.