Zaheer Khan was one of the most amazing and finest fast bowlers India could have. With a nice run-up to the wicket at close to medium pace, he used to take wickets at will with the new ball. He always used to maintain an aggressive line and length to take wickets, he never shied away from going for runs in search of wickets. With 311 wickets from 92 Test matches, he is India's fifth most capped Test player.

Zaheer made his debut in 2000 against Bangladesh when he was just 22 years old. He is one of the few players to have played in both 2003, 2007, and 2011 World Cups. His 311 wickets in test and over 250 wickets in ODI made him one of the most valuable assets of team India.
He has also performed admirably with the bat, scoring over 1200 runs in test matches at a strike rate of 50. His experience was put to the best use in the 2011 World Cup when he was the tournament's joint leading wicket-taker with 21 wickets. Zaheer Khan announced his retirement from international cricket on October 15, 2015. But, his opulent performance for our country will always be remembered.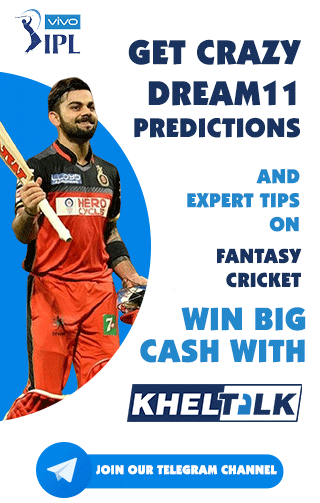 SUR vs WAS Dream11 Prediction, Royal London One-Day Cup Team By Expert for Today's Match, 10th August 2021
In his early years, he faced numerous challenges. Zaheer pursued his cricketing ambitions in Mumbai by staying in a modest hospital room where his father used to work. Sudhir Nayak, his coach, assisted him in finding a job in a textile mill. He was employed there on a salary of less than RS. 5000. But his early years of hard effort and dedication to cricket were well worth it. He is now a cricket superstar. His is another rags to riches narrative. We will take a look at his net worth down below.

Zaheer Khan Net Worth 2021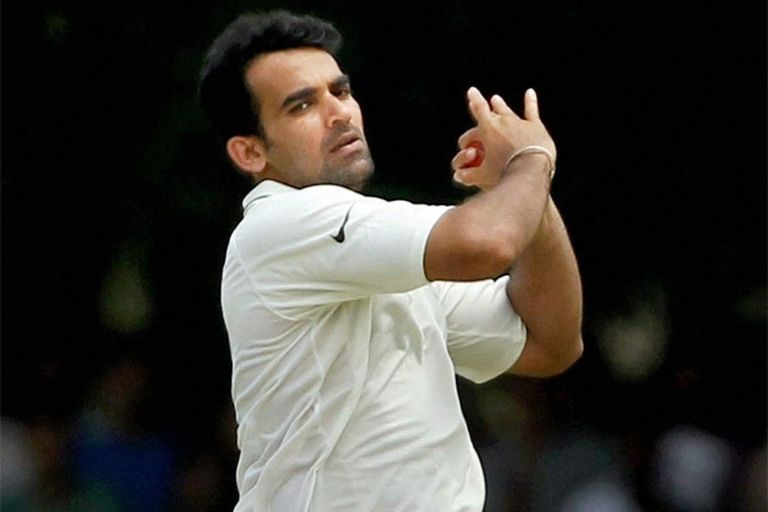 Zaheer Khan's Net Worth in 2021 is a whopping 244 crores. The star left-arm bowler was very smart during his cricketing days and outside cricket also, he has been very smart with his investments and income. Zaheer Khan was very notorious and aggressive on the cricket field but off-field, he is regarded as one of the calmest and coolest cricketers. He is India's wealthiest bowler after Harbhajan Singh.
Zaheer Khan Net Worth over the years
| | |
| --- | --- |
| Year | Net Worth (in rupees) |
| 2017 | 217 crore |
| 2018 | 226 crores |
| 2019 | 232 crores |
| 2020 | 240 crores |
| 2021 | 244 crores |
Let's now go into details of Zaheer Khan's net worth.
Zaheer Khan's Source of Income
IPL Income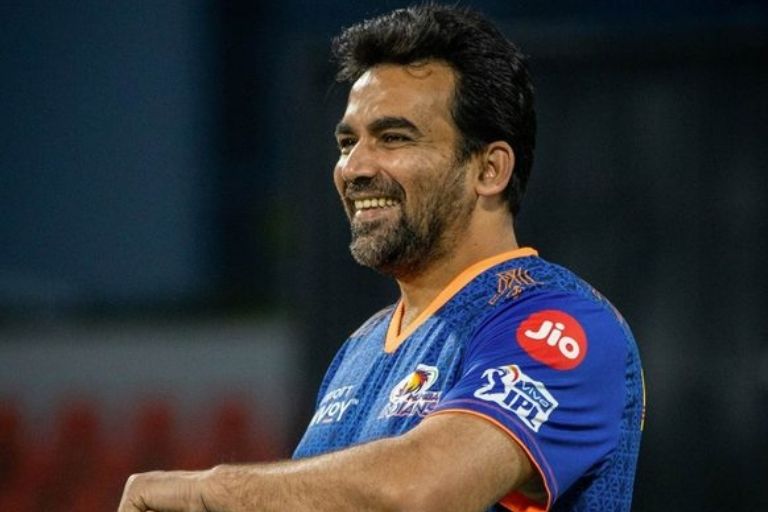 Zaheer Khan was India's best bowler at the time IPL started. He didn't get the lucrative contracts like Batsmen or All-rounders does but was always among the topmost earning bowlers list. However, Zaheer didn't enjoy much success on personal terms as he was mostly injured or fatigued at the time IPL season used to start.
Zaheer represented Royal Challengers Bangalore in the inaugural season and was transferred to Mumbai Indian in 2nd season. In 2011, he was again picked by Royal Challengers Bangalore for a whopping 4.14 crores but due to injury problems, he missed most of the matches for them. As seasons progressed, he became more injury-prone but his demand in IPL was still unaffected. He represented Delhi Daredevils in his last 3 seasons and was even appointed captain for them.
After retirement like Yuvraj Singh, Zaheer Khan also appeared in the T10 league for Delhi Franchise. However again Injury restricted him to fully participate in the league. He eventually played only a couple of matches for them and was ruled out for the whole tournament.
| | |
| --- | --- |
| Year | Salary (in rupees) |
| 2008 | 1.8 Crores |
| 2009 | 1.8 crores |
| 2010 | 1.8 crores |
| 2011 (injured) | 4.14 crores |
| 2012 | 4.14 crores |
| 2013 | 4.14 crores |
| 2014 (injured) | 2.6 crores |
| 2015 (half-season injured) | 4 crores |
| 2016 | 4 crores |
| 2017 | 4 crores |
Zaheer Khan's Brand Endorsements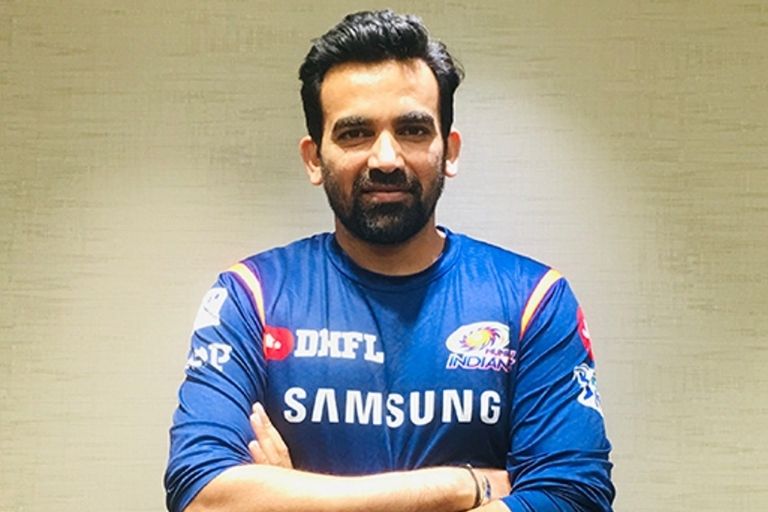 Zaheer Khan is a very elegant person. He is one of the most admired ex-cricketer of our generation. During his cricketing days also he was very popular in the brand endorsement world. He was surprisingly the most popular cricketer after Yuvraj Singh in the media world and was on every brand's hit list. He reportedly even now earns a great chunk of money through endorsements and is now is easily seen in the commentator's box also. Some brands, he is now associated with are:
IGL
StepSetGo
Pro Sport Fitness
Wedding Nama
Star Sports
Cricbuzz
Zaheer Khan Social Media Appearance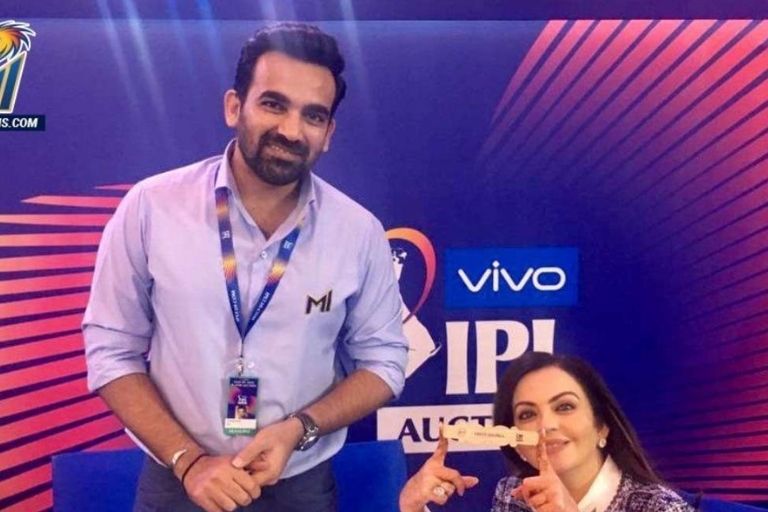 Zaheer Khan is not very fond of social media despite his big following. He often shares his pics on social media with his wife on different occasions like Diwali, Eid, Holi, etc. He also shares his old memories with their fellow cricket friends on Instagram and other platforms, which indicates he's a bit emotional too. He rarely promotes any brand on his social media, so his earnings are not very much dependent on it.
| | | |
| --- | --- | --- |
| Social Media Platform | Followers | Profile |
| Instagram | 1.2 million followers | Click Here |
| Twitter | 5.9 million followers | Click Here |
| Facebook | 4.6 million followers | Click Here |
Zaheer Khan Cars
Zaheer Khan doesn't like to live an extravagant lifestyle and his car collection reflects that. He has some classy cars in his collection like BMW and Mercedes. However, his wife Sagarika is a car enthusiast and owns a stylish BMW i5.
| | | |
| --- | --- | --- |
| Brand | Model | Value |
| Audi | Audi A8 | 1.50 crore + |
| BMW | BMW i5 | 70 Lakh + |
| Toyota | Toyota Fortuner | 35 Lakh + |
| Mercedes | Mercedes-Benz S-Class | 2.50 crore + |
Zaheer Khan's Property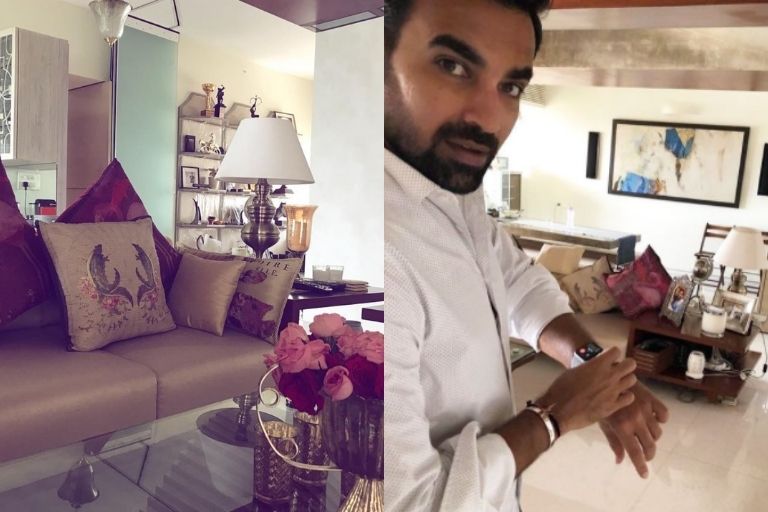 Zaheer Khan recently bought a 4,000 sq ft property in Mumbai worth INR 11.5 crores. From living in a rental house to buying an 11 crores house, Zaheer Khan has come a long way. He used to be a neighbor of his childhood friend Ajit Agarkar but now will be living in the same building as Shreyas Iyer. He owns 2 floors in that building. He has various properties across India and also owns one villa in the Maldives.
Zaheer Khan's Investment
Zaheer Khan is a very successful entrepreneur. He has not only invested in some successful start-ups but also runs some businesses by himself. Everyone knows how much Zaheer loves food. That's why he runs his own restaurant named Zaheer Khan's Dine Fine. Some of his own businesses are
Pro Sport Fitness
Zaheer Khan's Dine Fine
Sher Khan
Toss
Zaheer Khan Wife, Personal life and Family
1. Wife, Family and Personal info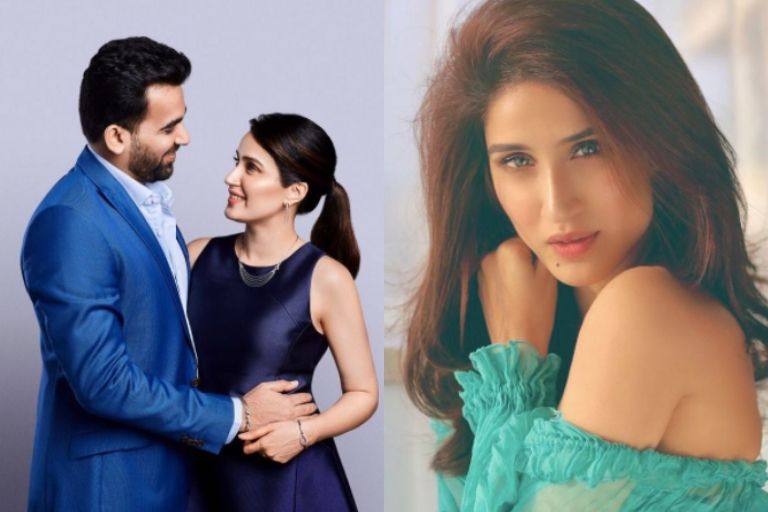 He was born into a Muslim household in Marathi. His parents, Zakia and Bakhtiyar Khan raised him in Shrirampur, Ahmednagar District, Maharashtra, India. His father was a photographer and the biggest inspiration for him. At age of 17, his father saw him in a local tournament and was impressed with his pace. Later on the same day, he advised him to pursue cricket as a career which became a turning point of his career.
Sagarika Ghatge, an actor and model by vocation, is Zaheer Khan's wife. They married on November 23, 2017, after getting engaged in April 2017. Take a look at his personal life below.
Zaheer Khan Overview:
| | |
| --- | --- |
| Full name | Zaheer Khan |
| Date of Birth | 7 October 1978 |
| Birth Place | Shrirampur |
| Father | Bakhtiyar Khan |
| Mother | Zakia Khan |
| Brothers | Zeeshan (Elder) and Anees (Younger) |
| Domestic Cricket debut | 1999/20 for Baroda |
| IPL Debut | 18 April 2008 v Kolkata Knight Riders |
| TEST Debut | 10 November 2000 v Bangladesh |
| ODI Debut | 3 October 2000 v Kenya |
| T20I Debut | 1 December 2006 v South Africa |
2. Zaheer Khan Favourite Things, Hobbies, Friends, etc
| | |
| --- | --- |
| Best Friend | Ajit Agarkar |
| Nickname | Zak |
| Favorite Actor | Amitabh Bachchan |
| Favorite Actress | Madhuri Dixit |
| Favorite Singer | Kishore Kumar |
| Favorite Social media platform | Twitter |
| Favorite food | Mutton Biryani |
| Idol | Wasim Akram |
| Favorite Cricketer | Sachin Tendulkar |
| Favorite Football Club | Manchester United |
| Favorite Coach | Gary Kirsten |
| Hobbies | Traveling, reading |
| Favorite Bowler | Jasprit Bumrah |
| Favorite Holiday Destination | Maldives |
3. Zaheer Khan Affairs and Marriage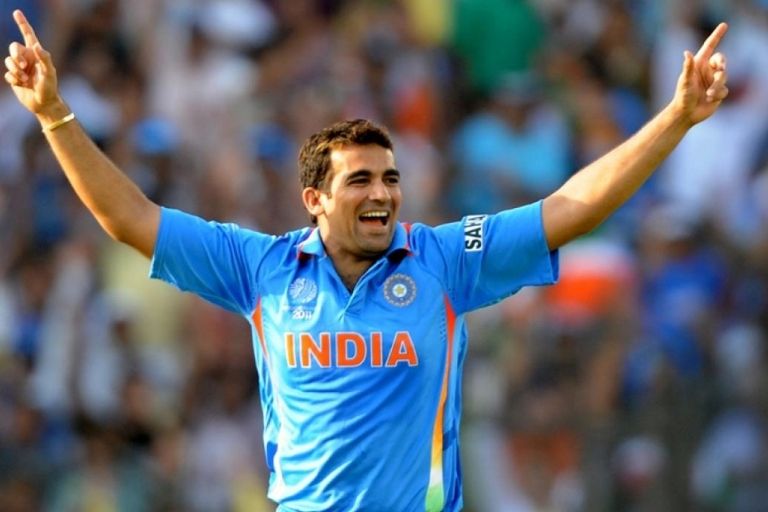 Zaheer Khan never made headlines about his personal life. He was always private and shy about such things. However, he was in a very serious relationship with actress Isha Sharvani after the 2007 world cup. They were many times snapped together in events and on holidays. But things didn't go well and they broke up.
After the 2011 world cup, he met Sagarika Ghatge and eventually married her in 2017. Their relationship was always under the carpet and the media didn't know until he broke the news of his engagement with her on social media.
Zaheer Khan career stats
| | | | |
| --- | --- | --- | --- |
| Format | Matches | Wickets | Fifers |
| Test | 92 | 311 | 11 |
| ODI | 200 | 282 | 1 |
| T20I | 17 | 17 | 0 |
Zaheer Khan Achievements/Records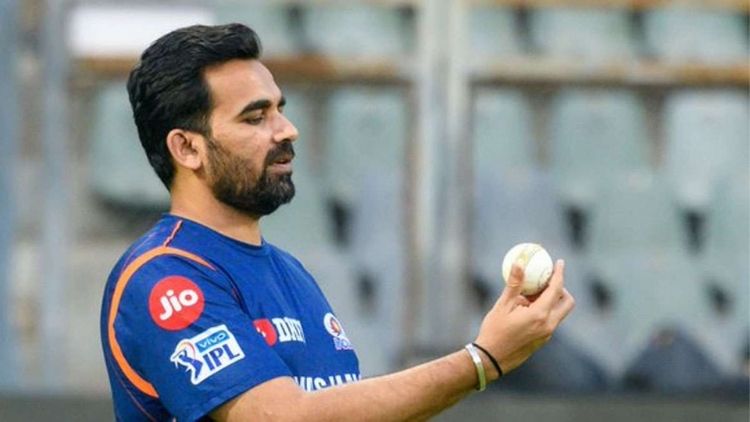 Zaheer Khan is Arjun Award winner.
He has won the Man of the Match award 5 times and the Man of the Series award 3 times throughout his test career.
He holds the record for highest test partnership for India for the 11th wicket.
He was 2nd highest wicket-taker in the 2011 world cup.
He has dismissed Graeme Smith most times (13) in his career.
He won the Wisden Player of the year award in 2008
Unknown Facts about Zaheer Khan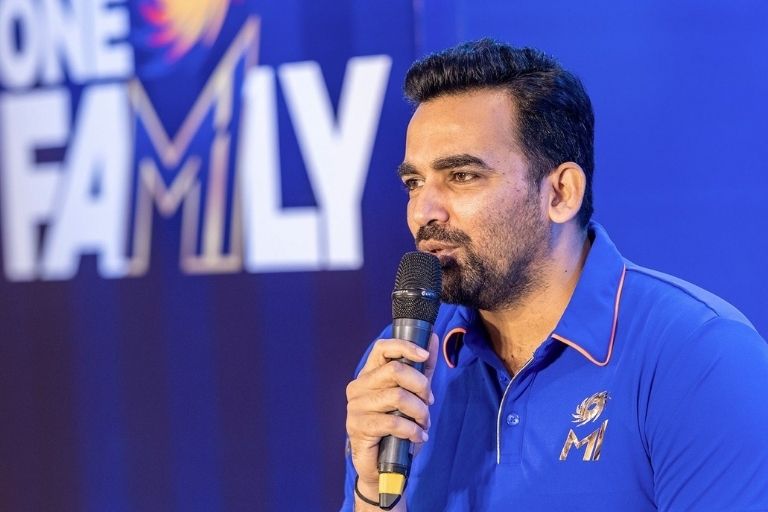 Zaheer Khan has bowled left-arm spin a few times in his career.
He introduced Knuckleball in International cricket.
Zaheer Khan was afraid of flights during his early international career.
Zaheer Khan is a food lover and owns a restaurant also in Mumbai.
Zaheer Khan is a Mumbaikar but he started playing first-class cricket for Baroda.
Zaheer Khan was on his way to pursuing Engineering after an injury setback early in his career.
Zaheer Khan's father was a professional Photographer.
MS Dhoni once called him "Sachin Tendulkar of Indian bowling lineup" in a press conference.
Zaheer Khan is India's highest wicket-taker in World Cups.
FAQs about Zaheer Khan
Q. Is Zaheer Khan a neighbor of Ajit Agarkar?
Answer- Yes, they are childhood friends and live nearby.
Did Zaheer Khan introduce Knuckleball in the international arena?
Answer- Yes, In the 2011 World Cup against England, he first bowled Knuckleball.
Q. Is Zaheer Khan Alcoholic?
Answer- No
Q. Does Zaheer Khan live in Mumbai?
Answer- Yes
Q. Did Ishant Sharma was caught abusing Zaheer Khan in the 2014 New Zealand tour?
Answer- No, he didn't abuse Zaheer Khan but was caught cursing Brendon McCullum instead.
Q. Is Zaheer Khan's wife an actress?
Answer- Yes
Q. Did Injury ruined Zaheer Khan's career after 2011?
Answer- No, he didn't abuse Zaheer Khan but was caught cursing Brendon McCullum instead.
Q. Zaheer Khan's wife's name?
Answer- Sagarika Ghatge
Check Here:-