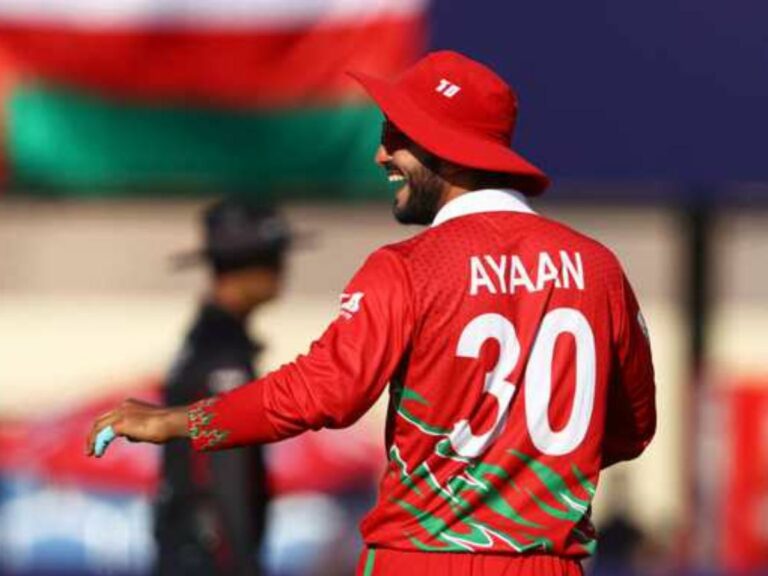 Match: Oman (OMN) vs Kuwait (KUW)
Date- 22nd September 2023
Match Format- T20
Venue- Asian Town Cricket Stadium, Doha
Time- 11:00 PM (IST)
Weather Forecast- Partly Cloudy, 41℃
Oman vs Kuwait Match Prediction Preview:
Welcome to the OMN vs KUW Today Prediction curated by Kheltalk cricket experts.
In Match 15 of the ongoing Gulf T20I Championship 2023, Oman will be squaring off with Kuwait at the Asian Town Cricket Ground in Doha, Qatar.
Oman outclassed Saudi Arabia in their previous game in this tournament by 47 runs. The side has been brimming with confidence and would be looking to get one over their Kuwaiti counterparts.
On the other hand, Kuwait were handed a 31-run defeat by UAE in their previous game. The batting department of Kuwait couldn't match up to the prowess of UAE and there lied the difference between the two sides.
Ravija Sandaruwan was the top-scorer of Kuwait in that game, with 36 runs under his belt. Muhammad Aslam too got a start but couldn't get his bearings right during the run chase.
Top Batters OMN vs KUW
Aqib Ilyas (OMN)- 94 runs in the tournament
Ravija Sandaruwan (KUW)- 136 runs in the tournament
Meet Bhavsar (KUW)- 131 runs in the tournament
Top Bowlers for OMN vs KUW
Fayyaz Butt (OMN)- 7 wickets in the tournament
Bilal Khan (OMN)- 6 wickets in the tournament
Shiraz Khan (KUW)- 5 wickets in the tournament
OMN vs KUW Today Match Prediction Scenarios
Scenario 1- If OMN bats first
First Innings score prediction- OMN is expected to score 180-200 runs
Result prediction- OMN will win the match by 25-35 runs
Scenario 2- If KUW bats first
First Innings score prediction- KUW is expected to score 170-190
Result prediction- OMN will win the match by 5 wickets
OMN vs KUW Today Match Prediction, Match 15, Who Will Win the Match?
Oman to win
We predict that Oman will be grabbing the honours in Match 15 of the ongoing tournament. They are presently ranked higher than Kuwait in the points table and this would inject a lot of confidence into their side.
Team Update/Players Availability/Injury News
There are no injury news as of now. We will update if there are any updates.
Probable Playing 11
Oman Predicted Playing XI
Jatinder Singh (C), Kashyaphumar Prajapati, Shoaib Khan, Rafiullah-M, Aqib Ilyas, Ayan Khan, Muhammad Nadeem, Naseem Khushi (wk), S Goud, Bilal Khan, Kaleemullah
Kuwait Playing XI
Ahsan Ul Haq, Ali Zaheer, Aslam Nawfer, Ravija Sandaruwan, Meet Bhavsar (wk), Parvinder Kumar, Shiraz Khan, Clinto Velookkara Anto, Ilyas Ahmed, Mohamed Shafeeq, Sayed Monib, Yasin Patel
Oman Squad
Jatinder Singh (C), Kashyaphumar Prajapati, Shoaib Khan, Rafiullah-M, Aqib Ilyas, Ayan Khan, Muhammad Nadeem, Naseem Khushi (wk), S Goud, Bilal Khan, Kaleemullah, Samay Shrivastava, Mehran Khan, Jay Odedra, Fayyaz Butt, Muzahir Raza, Shakeel Ahmad, Wasim Ali
Kuwait Squad
R Sandaruwan (C), Adnan Idrees, Clinto Velookkara Anto, Ilyas Ahmed, Shahrukh Quddus, Bilal Tahir, Shiraz Khan, Usman Ghani, Meet Bhavsar (wk), Mohammed Shafeeq, Sayed Monib, Parvinder Kumar, Ahsan Ul Haq, Ali Zaheer, Aslam Nawfer, Yasin Patel
Also read: Unbelievable! Air Fares For Ind vs Pak Game In World Cup Shoots Up By 415%