The ICC Elite Panel umpire Aleem Dar's long and successful career has come to an end.
After officiating a record 435 men's international matches, including four World Cup finals, the 54-year-old has stepped down.
A record 435 men's international matches were officiated by veteran Pakistani umpire Aleem Dar throughout his 19 years on the Elite panel.
On Thursday, South African Adrian Holdstock and Pakistani Ahsan Raza were added to the Emirates ICC Elite Panel of Umpires.
Who is Aleem Dar?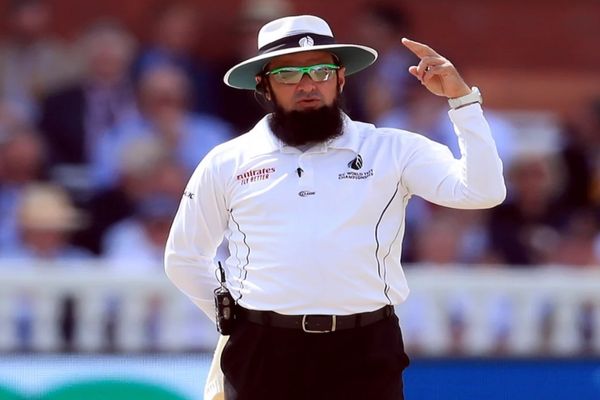 Aleem has officiated in more Tests and ODIs than any other umpire and is second in T20Is, after fellow countryman Ahsan.
Aleem has been a member of the Elite panel since the panel's creation in the year 2002.
Among the most important matches he has officiated are the 2006 ICC Men's Champions Trophy final, the 2007 and 2011 ICC Men's Cricket World Cup finals, and the 2010 and 2012 ICC Men's T20 World Cup finals.
The fact that he won the ICC Umpire of the Year award three times in a row between 2009 and 2011 is evidence of how good he was at his job.
Work hard, maintain discipline, and never stop learning
Aleem also expressed gratitude to his colleagues throughout the years and reflected on his career as the first Pakistani umpire to join the ICC Elite Panel.
"It has been a long journey, but I have enjoyed every bit of it.
I have had the pleasure and honour of umpiring the world over and what I have achieved is something I did not even dream of when I started in the profession," said Aleem in an ICC statement.
"Though I am still keen to continue as an international umpire, I felt it was now the right time, after 19 years on the road, to step away from the Elite panel and provide an opportunity to someone from the International Panel.
My message to umpires the world over is to work hard, maintain discipline and never stop learning.
"I thank the ICC, the Pakistan Cricket Board (PCB), and my colleagues on the panel for their support over the years.
I would also like to thank my family; without their support, I could not have gone on for so long.
I look forward to continuing to serve the game as an umpire," Aleem added.
Two new umpires in the Elite panel
The ICC increased the size of its Elite panel from 11 to 12 by welcoming two new umpires.
A list is joined by Adrian Holdstock (South Africa) and Ahsan Raza (Pakistan), the only player to have stood in more men's T20Is than Dar's 69.
Whereas Ahsan has stood in seven Tests, 41 ODIs, and 72 T20Is, Holdstock has officiated in five Tests, 42 ODIs, and 48 T20Is.
The 2021 and 2022 men's T20 World Cup panels included both umpires.
The other members of the panel are Chris Gaffaney (New Zealand), Kumar Dharmasena (Sri Lanka), Marais Erasmus (South Africa), Michael Gough (England), Nitin Menon (India), Paul Reiffel (Australia), Richard Illingworth (England), Richard Kettleborough (England), Rodney Tucker (Australia), Joel Wilson (West Indies).
Also Read: IPL 2023: 3 Players Royal Challenger Bangalore (RCB) Can Target To Replace Will Jacks