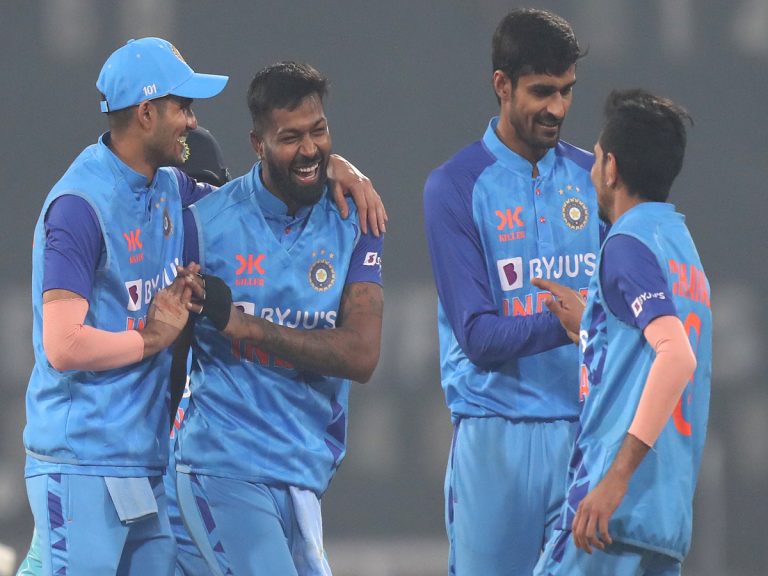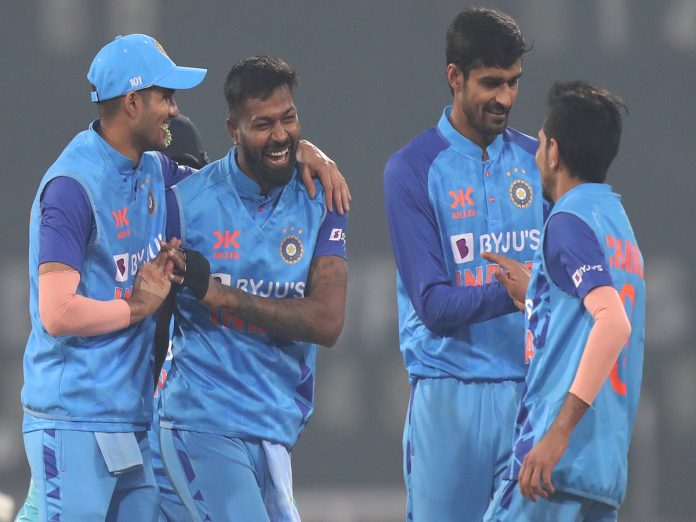 Hardik Pandya was praised by India's bowling coach Paras Mhambrey for his use of spin bowling on a challenging Lucknow wicket for the second Twenty20 International against New Zealand on January 29. India won the last over of the last over to chase down the target and tie the three-match series at 1-1 after limiting New Zealand to 99 for 8 in 20 overs.
Umran Malik, a pacer, was dropped by India in favor of Yuzvendra Chahal, an additional spinner. The strategy paid off well as India stunned everyone, including skipper Hardik, by choking New Zealand's heavy hitters with spin right away.
Hardik Pandya, India's captain, questioned the pitch's characteristics and called it a "shocker" after India's razor-thin six-wicket victory.
Paras Mhambrey, the bowling coach for India, agreed with Hardik's assessment of the field and suggested that the curator be questioned about why the pitch, where spinners bowled 30 of the 40 overs, acted in that way.
"Firstly when we saw the wicket, we realized that it was on the drier side. Obviously, there was a little bit of grass covering the middle, but there was no grass at both ends. So, when we came yesterday, it looked like it would turn. We realized that it would be a challenging wicket. The reason (why the pitch behaved like that), you have to ask the curator," Mhambrey said in the post-match press conference.
"Was it time? Or I don't know and I think he's the right person to answer that question. But yeah definitely it was challenging. We knew that it would be a big challenge and luckily happy with the way we controlled the game.
I think we allowed 100 runs and anything beyond 120-130, I thought it would have been more challenging but we did well to restrict them to 99 and give us a reasonable target to chase," the bowling coach added.
Why Chahal was in Playing XI over Umran Malik?
Paras Mhambrey further clarified the decision to play Chahal rather than pacemaker Umran Malik.
"In the last game, we had an extra seamer, but looking at the conditions, we realized that an additional spinner would definitely help. It did and Chahal bowled well for us."
"Even though Jadeja and Axar aren't there, we know what value the other two spinners provide. It's also an opportunity to try other bowlers as well. Hooda bowled four overs, but you don't often see Hooda finishing four overs when Akshar, Jadeja, or any regular spinner is available."
"But credit goes to Hardik for the way he rotated the bowlers and the faith he showed in them, especially Hooda and Washy. Very happy the way they have bowled and progressed throughout the innings."
Also Read: PUMA New Brand Ambassador: Ropes In Indian Women's Cricket Team Captain Harmanpreet Kaur