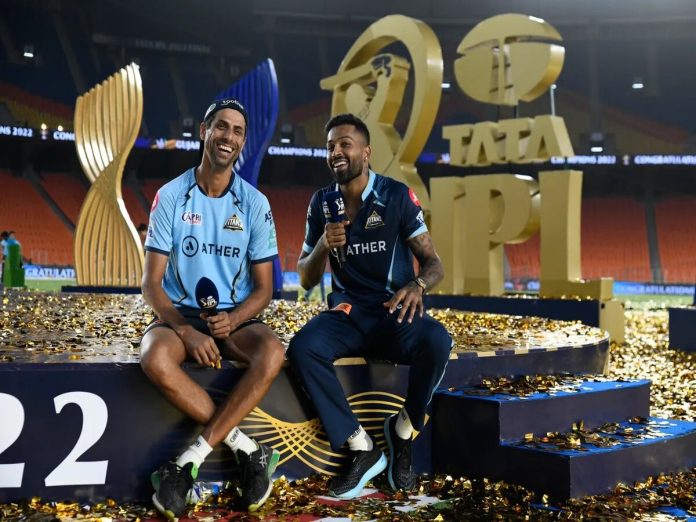 Since leading Gujarat Titans to an IPL victory in their inaugural season last year, Hardik Pandya has not looked back. The new Indian T20I captain and all-rounder Hardik Pandya have recognised the significant role Gujarat Titans (GT) coach Ashish Nehra has played in his development as a leader. 
The cricket player claimed that collaborating with a similarly minded coach improved the worth of his captaincy. After a protracted injury layoff, Gujarat's top all-rounder was appointed captain in a risky move by the new team. But Pandya, who had only ever led at the senior level once, in a tour game against Australia, disproved his critics and showed them how to lead.
Throughout the three-match T20I series against Sri Lanka at home, Pandya served as the Men in Blue's captain. India won the last game at Rajkot by 91 runs to take the series 2-1. In their opening innings, the hosts scored 228-5 thanks to Suryakumar Yadav's 112* off 51. After that, the bowlers worked together to dismiss Sri Lanka for 137 in 16.4 overs.
Never led in junior cricket as well
"I have never led in junior cricket as well. When I was U16, I led for Baroda. … What has been very important from the Gujarat point of view is the kind of coach I worked with. Ashish Nehra made a big difference in my life – we are very similar cricketing thought wise," Hardik said after the series win.
"Because I was with him, it added value to my captaincy. It helped me to get exactly what I know. It was just about getting that assurance, once I got that… the awareness of this game I always knew. It was all about knowing and backing what I knew already. It has definitely helped me," he added.
Hardik on leading the young side
Pandya captained a team that was comparatively inexperienced in the series because Rohit Sharma, Virat Kohli, and KL Rahul were not selected for the Sri Lanka T20Is. On how tough he found the endeavour, the 29-year-old asserted:
"Managing (a young team) is not difficult. But, at the same point of time, it's a young group. They will make mistakes and learn from it. We emphasise that once you make a mistake, you learn from that. Acceptance is very important in this sport. If you don't accept it, things go very far."
Also Read: WIPL 2023: Women's IPL Will Have Player Auction; Registration Date, Reserve Price, All You Need To Know