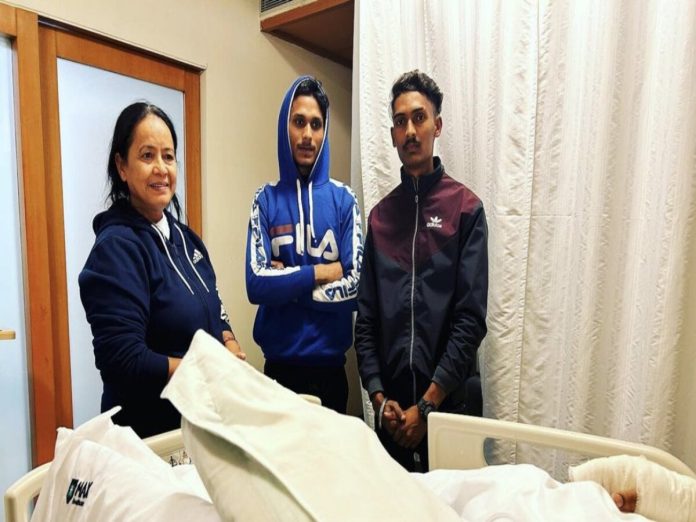 After his horrible car accident on December 30 on the Delhi-Dehradun highway, Rishabh Pant thanked Rajat Kumar and Nishu Kumar for helping him in getting to the hospital.
Pant was involved in a terrible car accident on the Delhi-Dehradun route. The vehicle of the Indian wicketkeeper hit a divider and caught fire. A bystander pulled the 25-year-old out of the rubble after noticing that the automobile was entirely on fire.
The Indian wicketkeeper sustained wounds to his forehead, tore a ligament in his right knee, and also wounded his right wrist, ankle, and toe. His back also received abrasion injuries. His brain and spinal cord were unaffected, according to the MRI results.
Pant was airlifted from Dehradun to Mumbai for surgery and additional ligament repair treatments.
I may not have been able to thank
Pant tweeted, "I may not have been able to thank everyone individually, but I must acknowledge these two heroes who helped me during my accident and ensured I got to the hospital safely. Rajat Kumar & Nishu Kumar, Thank you. I'll be forever grateful and indebted."
Grateful for all the support
The 25-year-old expressed his thanks and gratitude on Twitter for all the support and well wishes he has received since the accident. Pant disclosed that his procedure had been successful and that his path to recovery had started. The Indian wicketkeeper expressed his readiness for the challenges that lie ahead and thanked Jay Shah, the BCCI, and the government for their support.
"I am humbled and grateful for all the support and good wishes. I am glad to let you know that my surgery was a success. The road to recovery has begun and I am ready for the challenges ahead. Thank you to the @BCCI,@JayShah & government authorities for their incredible support," said Pant on Twitter.
Pant has been ruled out of the IPL 2023
Pant has already been excluded from the IPL, and it has been reported that he would miss the majority of 2023, including the ODI World Cup in India in October and November. The wicketkeeper-batsman was on the sidelines for the white ball home series against Sri Lanka after the two-Test series in Bangladesh in December.
Also Read: Babar Azam Caught In A Honey Trap? Check LEAKED Chats, Pictures, Screenshots, Videos, And Audio