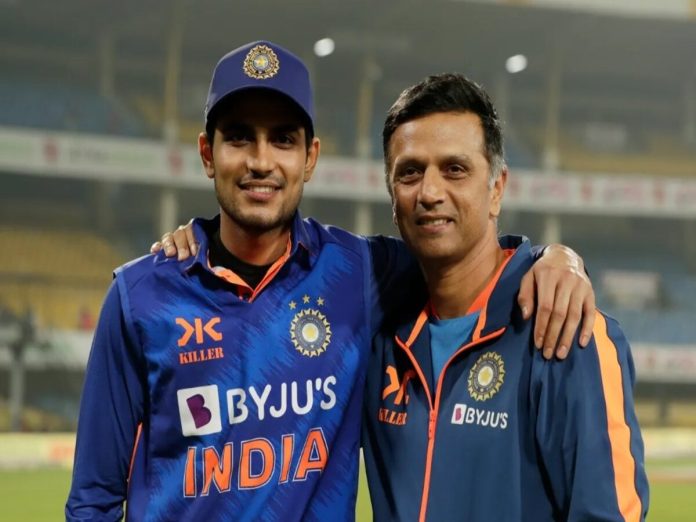 Shubman Gill reached yet another milestone as he led India to a 90-run victory over New Zealand by smashing his fourth ODI century. With this win, the team led by Rohit Sharma was guaranteed to experience another whitewash.
Shubman Gill scored 112 runs in the final ODI against New Zealand, playing a superb inning. He and Team India's captain Rohit Sharma opened the innings together and added 212 runs together.
In the previous four ODIs, Gill had recorded three centuries. He had previously struck a century against Sri Lanka and 208 runs against New Zealand in the first game of the series.
Shubman Gill was asked by Indian coach Rahul Dravid following the final ODI of the series between India and New Zealand. Dravid wished Gill luck at this time and revealed the humorous explanation for his impressive form.
Shubman Gill was batting brilliantly when he was out after hitting a half-century, and Dravid said that his father asked him if he would keep showering lightly or if a storm would ever come.
Father will be glad over the last month
Watch Interview –
Rahul Dravid, the head coach, and Gill interacted pleasantly in an interview that BCCI posted following the game.
"I think his father will be glad that over the last month or so, what you have done is you really made it rain. So, well done. It must make you and your dad really proud," said Dravid.
In response, Gill stated that his father would not have been pleased with his 112 in the third ODI against New Zealand.
"Yeah, I don't think he will be too happy about this game. He would definitely tell me to, I would have carried on, I should have carried on in this game and looked to have got another big score in this one," said Gill.
Hard task master your dad man! If we don't push you, he will. So you're in good hands," said Dravid.
Reason behind Gill's performance
Dravid asked Gill if he had been in good form since the Test series against Bangladesh. In the last six innings, he has three hundreds. How do you feel right now? In response, Gill stated that he enjoys batting in One-Day Internationals. He can take his time at first and assess the pitch.
After that, he may demonstrate his natural game. Gill stated that he was unsure whether he would play in the ODI series against Sri Lanka, but the faith is shown in him by you (Dravid) and skipper Rohit gave him a lot of confidence. While watching this, Dravid commented that you did an excellent job by applauding the coach.
Shubman Gill reached milestone
During the three-match series against New Zealand, Shubman Gill, the Indian opener, reached a rare milestone set by Babar Azam against the West Indies in 2016.
For his fourth ODI century and second of the series, Gill hit 112 runs in just 78 balls on Tuesday in Indore. The series' opener in Hyderabad had struck 208 earlier, making him the fifth Indian to reach an ODI double hundred.
Gill's total runs in the bilateral series now stand at 360 after hitting 40 runs in the second ODI of the series. The number of runs scored by Gill is the joint-highest total ever amassed by any hitter in a bilateral ODI series of three games or less. In the 2016 series against the West Indies, Babar Azam scored three hundreds in three games for a total of 360 runs.
Also Read: Top 5 Players Expected To Perform In IND vs NZ T20I Series