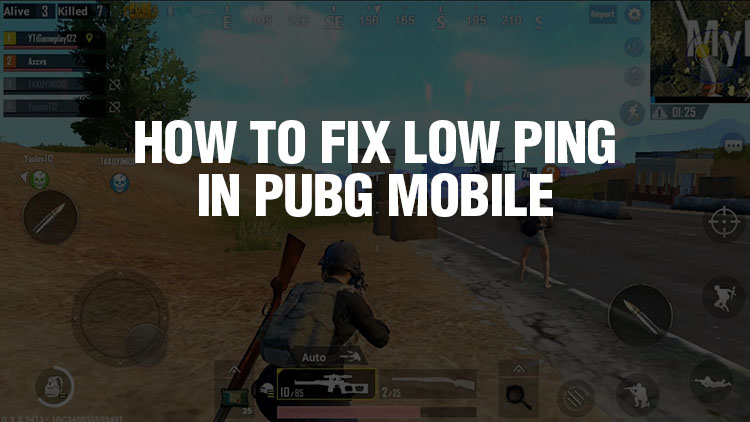 In this PUBG Mobile Guide, we'll be sharing some easy tips that you can follow to fix Pubg ping Issue & lower the ping in Pubg Mobile.
In recent years gone by, PUBG Mobile has emerged the 'most favorite' and sought-after multiplayer game. There is no reason not to accept that PUBG Mobile has gained immense craze in India. It is especially after launching in 2018 and even elsewhere.
While PUBG Mobile does come with ample server, gamers face some issues such as higher ping. And it may make the game playing totally unresponsive!
You may put a point that some gamers may have slow internet connectivity leading to the fault. But even players with super-fast internet may get ping up to 100 ms.
Hence, if you face this issue and if it is making your PUBG Mobile experience bad, then you will find this post helpful!
Let's check out 9 easy ways you can use to get rid of the issue! The 9 tips that you are going to check are techniques that can help you bring down ping. And it can help you enjoy PUBG Mobile without interruptions.
The steps that you will go through are simple and don't need root access. Without further ado, let's jump in right away to techniques to ward off the issues of ping in PUBG Mobile!
Tips to fix Higher Pubg Ping Issue
1. Close apps that are running in the background
When you are playing PUBG Mobile, you need to ensure that you don't have apps opened in the background. Yes, it will help you get a lower ping. The data consumption of your limited plan may increase due to apps like YouTube and Facebook open. You should keep them off. One can also remove them and keep what is vital. You will be able to enjoy a longer battery life and ward off the issues of overheating.
2. Try getting a 5GHz WiFi router
What if you have a stable internet connection and still being unable to reduce ping below 100 ms? If you face this, then your router may be harming. Nowadays, homes have many smart devices operating in the 2.4GHz range. Hence, it may be making it congested. What's more, if you have more users on the router, then your latency will become even worse. Hence, the solution will be going for a 5GHz WiFi router. It will help you connect faster and without facing any delay further. Thus, the point to ponder is – getting the 5GHz router and enjoying PUBG Mobile without ping issues.
3. Repair PUBG Mobile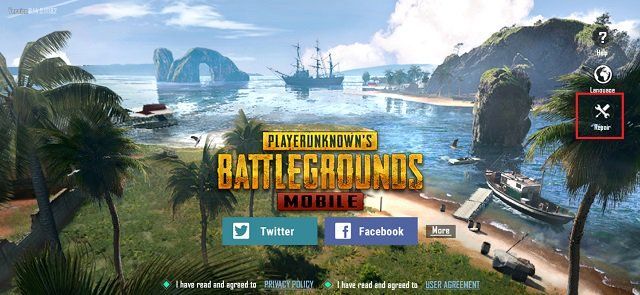 Going for the repair of the PUBG Mobile may also be an option if nothing else may be working to reduce ping. You can do that by repairing the PUBG Mobile via its inbuilt settings. You can land on the login screen and tap the 'Repair' button. It will reinstall PUBG Mobile. But your entire gaming configurations and custom controls will also be changed. Nonetheless, it will help you enjoy having fewer pings.
4. Manage space
You may not enjoy smooth gameplay if the storage of your smartphone is full or you have some space issues. Hence, you must clean your device. Some apps may lead to the creation of extra GBs of cache memory. It happens even when you don't use them regularly. You can go to settings and tap Apps to clean the cache memory of all such apps. We hope that it will help you have a reduced number of pings.
5. Change the PUBG server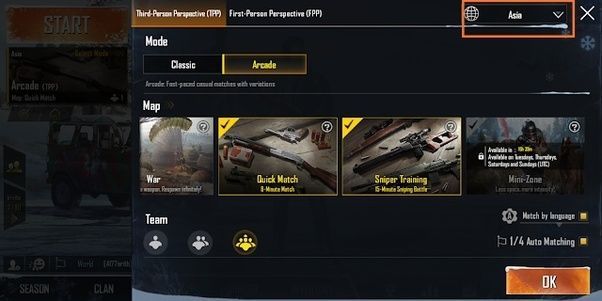 PUBG Mobile servers may not continue to work efficiently and keep up many requests at a time owing to heavy load. This situation may lead to larger ping. Thus, the solution is changing the PUBG server. Once done, you should see if this hack controls the ping or not. Other than this measure, you should also use a VPN that can connect you to a different server. Turbo VPN is one of the best that you can try. It is because it has the best response time. Thus, you may change the VPN and modify the country location and then play PUBG Mobile. It may help you have lower ping now.
6. Go for third-party tools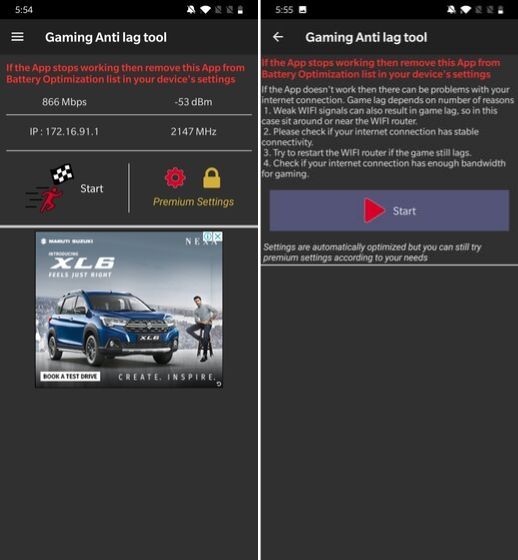 If the tricks that you employed so far failed to reduce ping on PUBG Mobile, then trying some third-party tools may help. When it comes to smartphone games-based famous apps, you can try the GFX Tool. And yes, you can use it to keep the number of ping down. If you want to enjoy PUBG Mobile with low-latency, then you can go for the settings. Set graphics to 720p, medium/low rendering quality and disable shadows and light effects. In the end, you should also enable GPU optimization. It should help you fix ping issues in PUBG Mobile. There is another app known as Mobile Gaming Ping that can reduce the latency. It may lead to the improvement of the server-client connection by using a 1-tap button.
7. Disable background syncing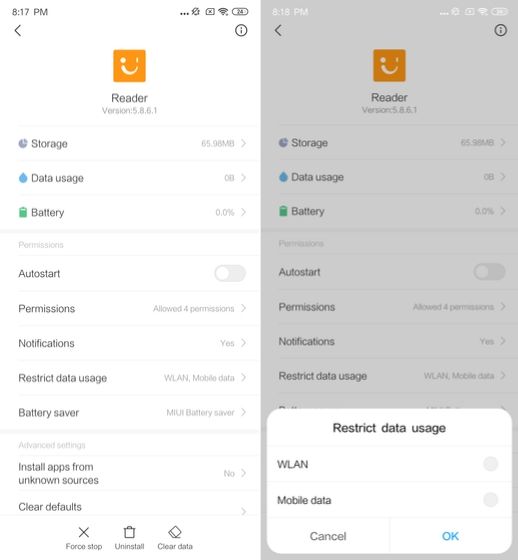 Here is another trick that you can also use to bring the number of pings to lower while enjoying PUBG Mobile. Yes, you can go ahead and manually disable the background syncing of Apps. It is possible on any Android device by accessing Settings and landing on Apps. Once here, you can select the doubtful app and touch 'Restrict Data Usage'. You will now need to uncheck WiFi/WLAN and Mobile Data both. You can also configure the settings of 'Battery Saver' and restrict your background activity.
8. Control the settings of your WiFi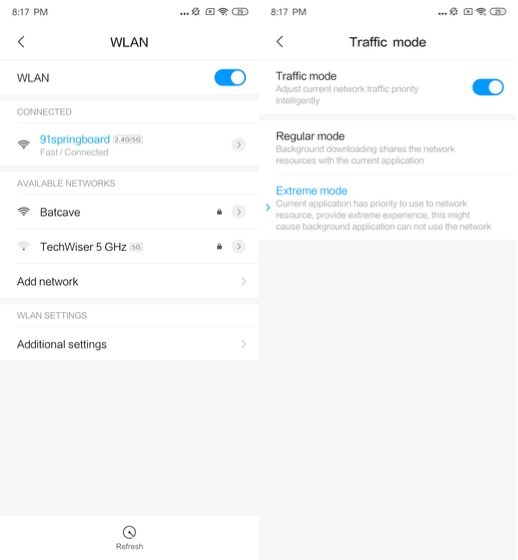 You can also manually configure the settings of your WiFi if you want to reduce ping. On the settings page, you will need to go to WiFi and look for Additional/Advanced settings. Here, change the traffic mode to extreme mode. And that will lead to the rerouting of all network resources to the current app. Hence, it may bring down ping.
9. Make the most of the Native Game Booster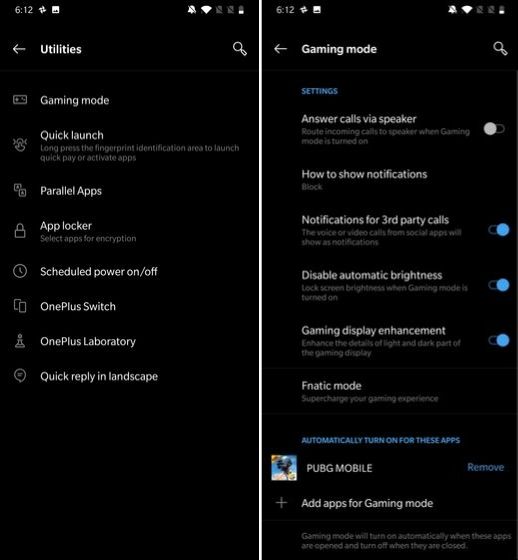 Smartphones are now loaded with in-built game boosters. They reduce background activities to help you enjoy a hassle-free game playing on PUBG Mobile. These boosters may bring down the issues of latency. And it may also make bandwidth up for current games. When you play games, the native boosters may also stop the background from accessing memory, network, and other vital resources. Hence, you can always try controlling the syncing of the background to have reduced ping. Are you using a Xiaomi mobile? You can enable Game Turbo settings on your phone under the MI Security app. OnePlus users can enable Gaming Mode by following Settings > Utilities and Gaming Mode. Users of other mobile phones may also check out if their sets have gaming mode and enable them. Downloading Game Booster App from the Play Store is also recommended. It is if your smartphone does not have a dedicated game booster. In turn, it should solve the issue of ping in PUBG Mobile.