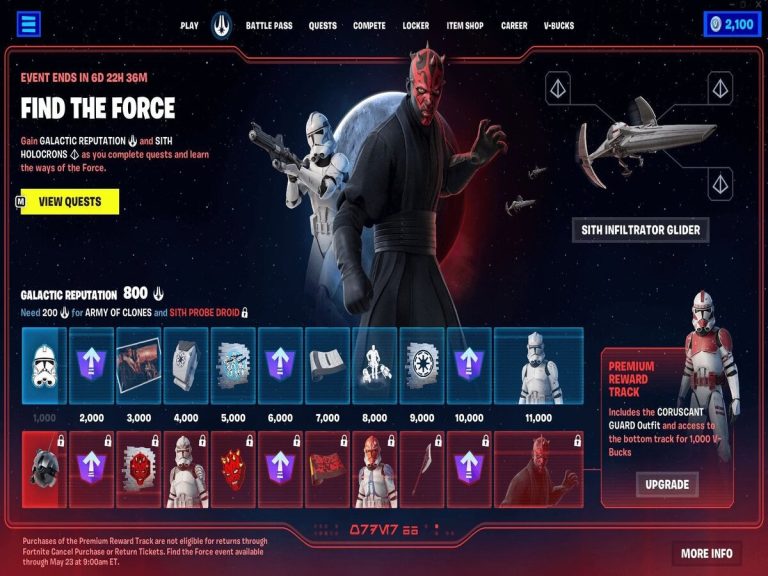 In Fortnite, after the v24.30 update was made available, free Star Wars rewards became obtainable.
One of Fortnite Chapter 4 Season 2's biggest updates, it was released on Tuesday, May 2. Another Fortnite x Star Wars collaboration is the most important update addition, and as a result, players may gain an immense number of new cosmetic items for free.
Epic Games launched a new currency that is used to unlock new cosmetics, much as some of the earlier occasions and collaborations.
Players must acquire Galactic Reputation in Fortnite Chapter 4 Season 2 in order to get the free Star Wars rewards. This may be obtained by doing a particular set of missions.
Many creative cosmetic items from the new Fortnite x Star Wars event have arrived, and they all look fantastic.
Many free cosmetic items, including the Clone Trooper outfit, are available to players. Furthermore, additional cosmetics, such as Darth Maul, are available for 1,000 V-Bucks.
You must accomplish a set of Fortnite quests in order to acquire Galactic Reputation for both free and paid rewards.
These quests may be finished rather fast, although they are only accessible for a short while.
Free rewards in Fortnite x Star Wars
If you wish to obtain the free rewards in the Fortnite x Star Wars collaboration, here's how to do so:
Land During Find The Force – Land on the island five times
Learn Force Abilities at Rift Gates in Different Matches – Visit Rift Gates and interact with the Star Wars NPC
Search a Republic Chest – Open a special chest that can be found at Star Wars outposts
Hire a Character – Hire any character for gold
Damage an Enemy Player That is Wielding a Lightsaber or DC-15 Blaster Rifle – Deal damage to any enemy who's carrying a Star Wars item
Destroy Objects With Force Abilities or a Star Wars Weapon – Destroy 50 objects with new weapons or abilities
Launch Kinetic Ore With a Star Wars Weapon – Hit two different Kinetic Ores with a lightsaber
Collect Ammo at Named Locations – Collect 250 ammo in total
Travel Distance on Foot at Night – Travel 500 meters at night
Travel Distance in Vehicles – Travel 1,000 meters
Survive Storm Phases – Survive 25 phases in total
Outlast Opponents – Outlive 250 opponents
Travel Distance While Sprinting – Travel 1,000 meters in total
Travel Distance While Sliding – Slide for 327 meters
Travel Distance on Foot – Walk 2,500 meters
Fortnite's Star Wars rewards are only accessible for a short period of time. On May 23, 2023, at 9 a.m. Eastern Time, the event will come to a conclusion.
Therefore, Fortnite players must grab the free rewards quickly.
Also Read: League Of Legends Patch 13.10 Full Notes – Changes & Reworks