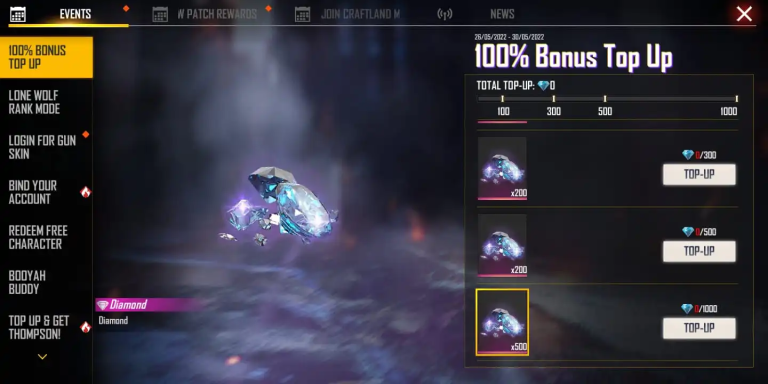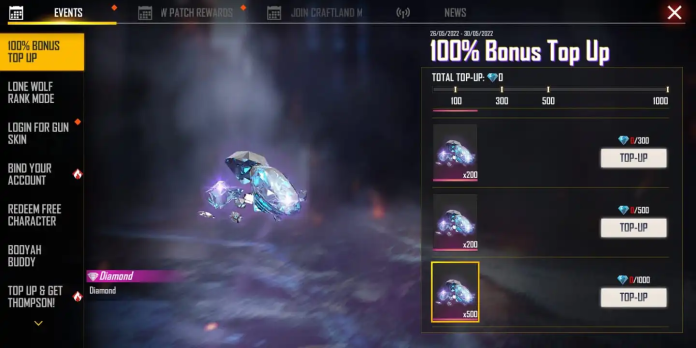 The new Free Fire MAX 100% Bonus Top-Up event has started on the Indian server, as was earlier mentioned in the leaks. Players have been excitedly anticipating taking advantage of this wonderful chance ever since the appearance of these leaks.
Fans are naturally drawn to this event since the cost of each diamond has been decreased by half. The advantages are limited, though, since the developers have established a restriction on how many free diamonds players may get through the top-up, which is 1000.
On February 27, 2023, the new 100% Bonus Top-Up event began on the Free Fire MAX Indian server, and players may take advantage of it up until March 5, 2023. According to every other event of this kind that has previously been made accessible, you are just required to buy the necessary amount of the premium in-game currency.
Event criteria
The following criteria must be met for the top-up event:
Purchase 100 diamonds to get 100 free diamonds
Purchase 300 diamonds to get 200 free diamonds
Purchase 500 diamonds to get 200 free diamonds
Purchase 1000 diamonds to get 500 free diamonds
Free Fire MAX 100% Bonus Top-Up Event
There will be no further procedures needed to obtain 100% more diamonds as part of the ongoing event. You must take the following steps in order to receive the rewards:
Open the Free Fire MAX top-up part and choose the best pack from the available choices. Top-up of up to 1060 diamonds will earn you a 100% bonus, so you may choose your favourite pack.
Once the diamonds have been added to your account, proceed to complete the transaction. You can then claim more diamonds by visiting the events tab.
Choose the 100% Bonus Top-Up section after choosing the Chroma Futura option from the menu. The screen will display the event interface.
To get the diamonds, you must select the Claim button next to the selected option.
Also Read: BGMI Unban News: New Update By Krafton Might Signify Return