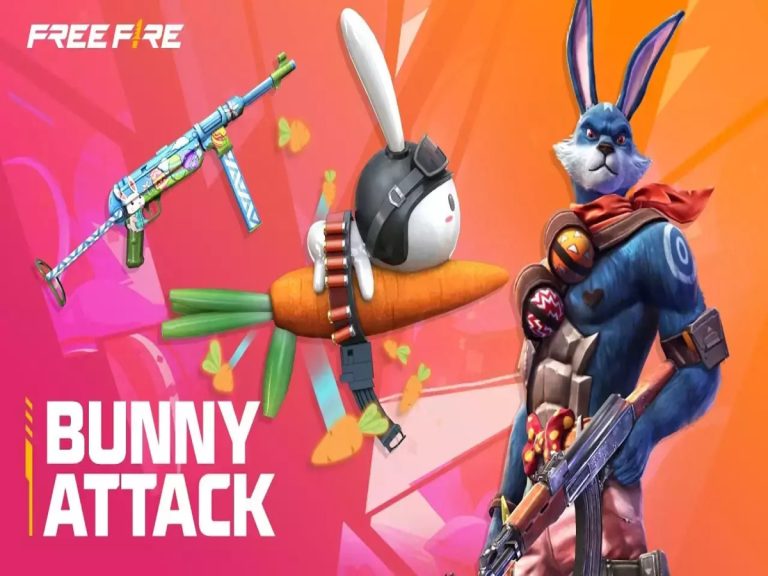 There is no dearth of new and exciting events in Free Fire MAX. The Free Fure MAX Bunny Attack event is now live in the game. Players in this Luck Royale must pay diamonds to spin in order to obtain the rewards or the necessary tokens.
The Bunny Warrior Bundle and MP5 – Candy Bunny are two of the new event's main features. But, there are a number of other items that have the community's interest. Throughout Free Fire MAX, players anxiously anticipate adding these cosmetics to their collections.
The long-awaited Free Fire MAX Bunny Attack event has begun and will run until March 24, 2023, giving the sought-after Bunny Warrior and several other related items.
Free Fire MAX Bunny Attack Event Rewards
In this Luck Royale, a single spin costs 20 diamonds, and 10+1 spins cost 200 diamonds. Similar to other Ring-themed events, you may trade tokens for enticing rewards. You can purchase any of the following products from the following area by paying diamonds:
MP5 – Candy Bunny
MP40 – Crazy Bunny
Bunny Queen Bundle
Bunny Warrior Bundle
Bunny Sidekick
Candy Bunny Overalls
Rabbit Token
2x Rabbit Tokens
3x Rabbit Tokens
5x Rabbit Tokens
10x Rabbit Tokens
250x Rabbit Tokens
With the obtained tokens, players can receive the following rewards:
MP5 – Candy Bunny: 250x Rabbit Tokens
Bunny Warrior Bundle: 250x Rabbit Tokens
MP40 – Crazy Bunny: 200x Rabbit Tokens
Bunny Queen Bundle: 150x Rabbit Tokens
Candy Bunny Overalls: 100x Rabbit Tokens
Bunny Sidekick: 50x Rabbit Tokens
1x Diamond Royale Voucher (Expiry date: April 30, 2023): 8x Rabbit Tokens
1x Weapon Royale Voucher (Expiry date: April 30, 2023): 8x Rabbit Tokens
Hipster Bunny Weapon Loot Crate: 6x Rabbit Tokens
How to receive rewards in the Bunny Attack event
Launch Free Fire MAX's Luck Royale game and choose the Bunny Attack category from the list of options.
Set the desired number of spins in the event interface.
Keep spinning the wheel until you have the required prize or the tokens.
To access the event's exchange section, click the button in the upper right corner.
To get the desired cosmetic, choose your favourite item and press the Exchange option.
Also Read: Free Fire MAX: Is The Game Going To Be Shut Down In India?