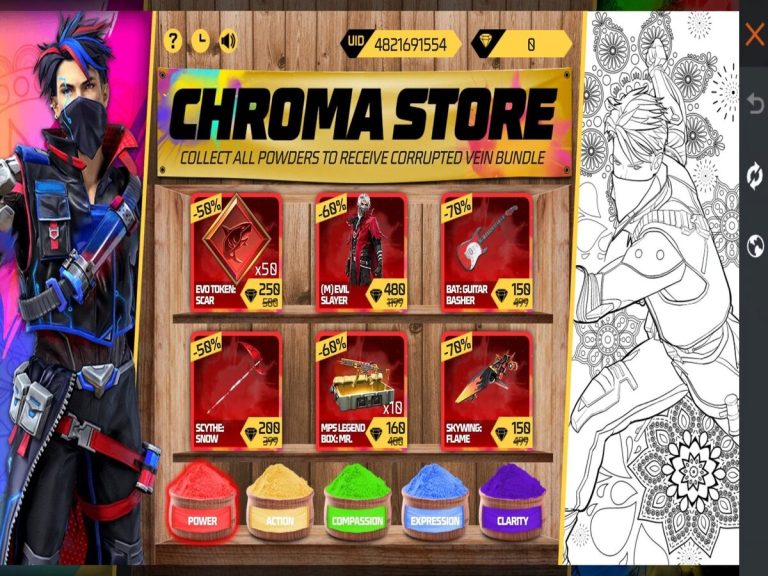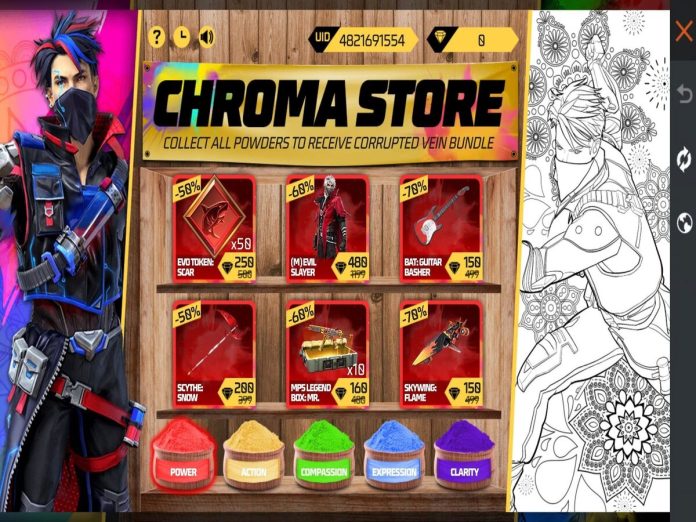 A huge selection of cosmetics has once more been offered to Free Fire MAX players with the arrival of Chroma Store, the final events of the brand-new Chroma Futura campaign.
The Chroma Store's numerous sections allow players to immediately buy whatever they want. But the main prize can only be won when a number of requirements have been satisfied.
It's also vital to emphasize that diamonds must be spent in order to purchase any of these items. None of them are available for free.
Free Fire MAX Chroma Store
The Free Fire MAX Chroma Shop is a specially created event that is divided into five categories or colours. Each of these categories offers six lovely items at a discounted price. Gamers can use the designated premium in-game cash to spend on the chosen things.
Players can gain the Corrupted Vein Bundle for free when players acquire one item from each set, rather than being offered for direct purchase. Fans have until March 14, 2023 to finish these purchases and obtain the special outfit after the event began on March 8, 2023.
Items available
This is a list of the items that are available in each colour:
Power (Red)
50x Evo Token: Scar
Evil Slayer bundle
Parang: Keyboard
Scythe: Snow
10x MP5 Legend Box: Mr. Nutcracker
Skywing: Flame Wings
Action (Yellow)
50x Hyperbook Token
Wilderness Hunter Bundle
5x Room Card
Rap Swag Emote
MP5/P90/SCAR/AWM theme Box _ Old Fashioned
Vehicle: Smooth Ride
Compassion (Green)
50x Evo Token: M1014
Plague Doctor bundle
Banne: Doctor of Plague
Gloo Wall: Pink Wink
MAG-7: Hurricane
Avatar: The Doc
Expression (Blue)
50x Hyperbook Token
Weekend Runner Bundle
5x Craftland Room card
Katana: Indigo Burn
MAG-7: Lethal
Loot Box: Otherworldly
Clarity (Purple)
50x Evo Token: AN94
Shadow Striker Bundle
Backpack: Bejeweled
Pan: Cyber Bounty Hunter
10x AN94 Legend Box: Spikey Spine
Skyboard: Maniacal Chainsaw
How to get Free Fire MAX Corrupted Vein Bundle
Launch Free Fire MAX and select the Events tab. Click the Chroma Futura section.
Click the Go button after selecting the Chroma Shop option from the list of potential events.
You may then choose the required items from each coloured powder part using the brand-new event interface that will show up on the screen.
You will immediately obtain the Corrupted Vein Bundle in Free Fire MAX after making purchases from each section.
The battle royale game's Vault portion is where the outfit may ultimately be equipped. In this event, you can get a lot of wonderful things for a low cost. With enough diamonds, players can surely try to take advantage of the Chroma store event to their advantage.
Also Read: BGMI Ban: Popular Indian Gamers Express Their Views About Return Date