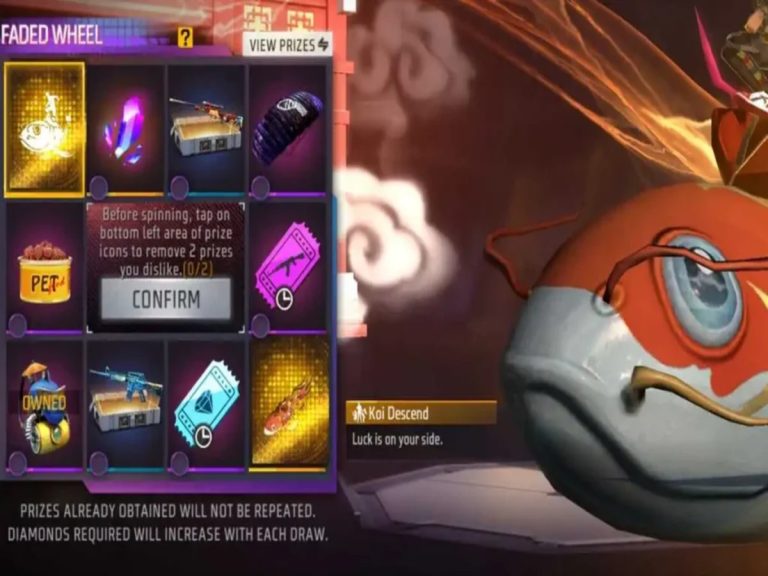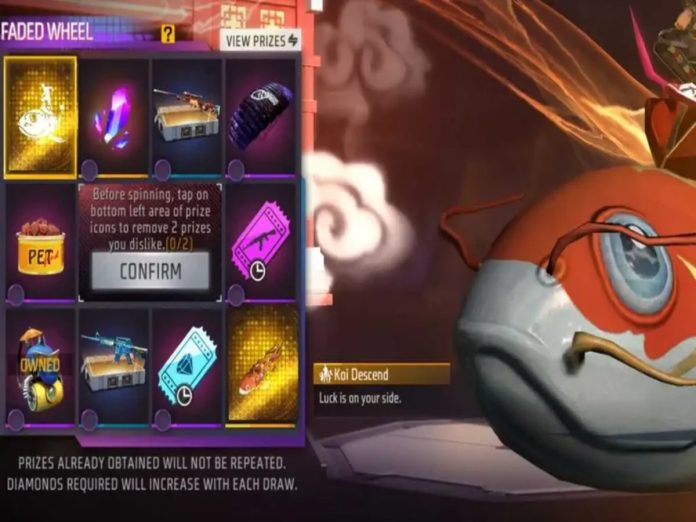 Free Fire MAX is a battle-royale game that comprises numerous events from time to time, making the game incredibly interesting.
The Koi Descent arrival animation and Koi Skyfin are the two newest additions in Free Fire MAX, both of which can be found on the recently launched Faded Wheel.
Faded Wheel is the new Luck Royale that went live in Free Fire MAX, where players may spend diamonds to win numerous enticing gifts.
This Luck Royale event is even more alluring because the gifts are unique. With 8 spins, players can get assured rewards.
Available rewards
Players can access the new Luck Royale event in Free Fire MAX until March 20, 2023 to claim the rewards from the prize pool, which consists of the following:
Koi Descend arrival animation
Koi Skyfin
Aquarius parachute
Mr. Shark
Cube Fragment
Lucky Koi Weapon Loot CrateWeapon Royale Voucher (Expiry date: April 30, 2023)
Diamond Royale Voucher (Expiry date: April 30, 2023)
Skyline Loot Crate
Pet Food
Gamers must pass up two rewards in order to receive the reset of the rewards. The Cube Fragment and Pet Food are typically readily omitted from spins in order to maximise value.
Moreover, the cost of the spins is not fixed. It begins with nine diamonds and rises progressively to 499 diamonds.
How to obtain rewards in Free Fire MAX Faded Wheel event
To achieve Koi Descend's arrival animation and Koi Skyfin in Free Fire MAX, you can perform the following steps.
Launch the Luck Royale section of the game, and from the list of accessible tabs, choose the New Arrival Animation option.
Choose two undesirable prizes from the 10 available prizes.
Clicking on the wheel's centre button will confirm their removal.
When the two rewards have been taken away, you can spin a random object using diamonds.
Carry on making spins until you have received all the prizes.
Also Read: Call Of Duty: Play Modern Warfare Season 2 For Free From March 16th – 20th