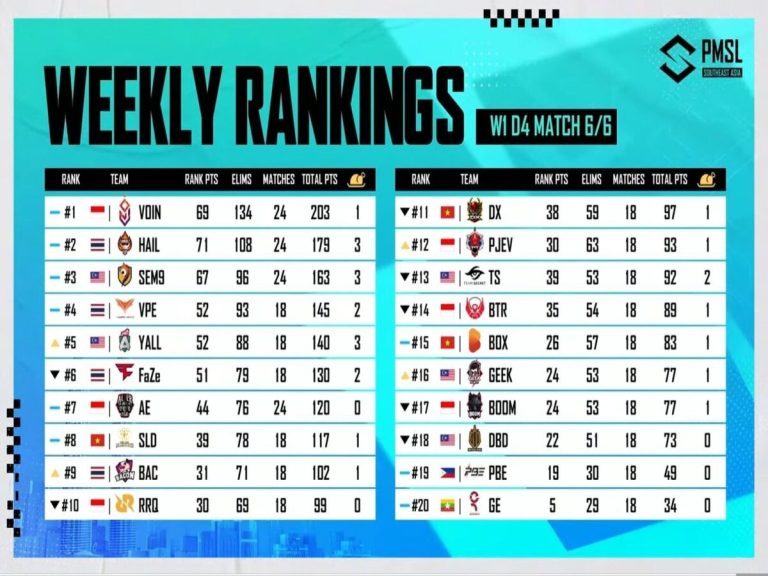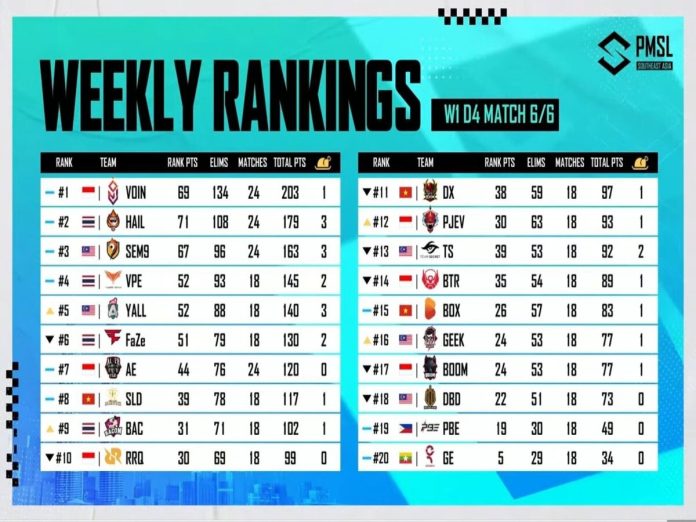 In the PUBG Mobile PMSL 2023 Spring Week 1 Day 4, VOIN Esports emerged to grab first place after four days of tough competition between the top 20 Southeast Asian teams.
The squad continued to play consistently, finishing with 203 points and 134 eliminations.
Despite getting just one chicken dinner in 24 games, they were able to hold onto first place thanks to several high-ranking finishes and numerous frags.
HAIL Esports held second place, finishing with 179 points and 108 frags in the PMSL 2023 Spring Week 1 Day 4. They managed to get a chicken dinner as well.
Malaysian team SEM9 took third place after 24 games, moving up from the previous spot.
The first week of PMSL has shown consistency from this team as well.
Despite having a mediocre performance on Day 4, the team still managed to score 163 points and rack up 96 kills.
Vampire Esports resumed their winning streak.
With many first-place finishes and a high-frag chicken dinner, the team earned 145 points.
Rankings after PMSL 2023 Spring Week 1 Day 4
VOIN Esports
HAIL Esports
SEM9
Vampire Esports
Yoodoo Alliance
Player to focus
VOIN Alva – 44 eliminations
AE Rosemary – 8993 damage
HAIL TIGERx – 27 assists
PMSL 2023 Spring Week 1 Day 4 Match Highlights
Persija EVOS got the day off to a great start by winning the opening match. The team entered the final circle and used nine frags to secure the victory.
Vampire Esports demonstrated their survival skills and gained second place with a single frag.
HAIL Esports won the second game of the PMSL Day 4 with five kills. SEM9, however, created a lasting impact in this encounter by recording 13 eliminations and coming in second place following an exhilarating demonstration of their talent.
Vampire Esports and D'Xavier won the third and fourth games played on Erangel respectively. Both of these teams demonstrated their prowess by winning with 15 and 13 kills, respectively.
They dominated the collection of chicken dinners.
In the fifth match of PMSL Day 4, Team Secret broke through and scored a victory with nine kills. With 10 kills, VOIN Esports came in second. BTR RV came in third place, playing well and accruing 11 frags.
In the last game of PMSL Day 4, Yoodo Alliance eventually managed to acquire a chicken dinner with eight frags.
Geek Slate, took second place in this match with six kills, while VOIN Esports had another outstanding performance to take third with eight eliminations.
Also Read: Free Fire MAX Alvaro Ring Luck Royale: How To Get Free Rewards