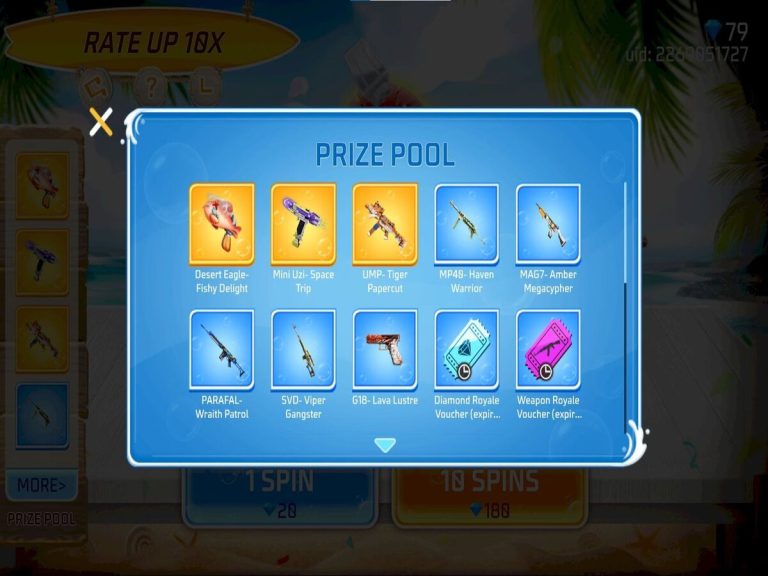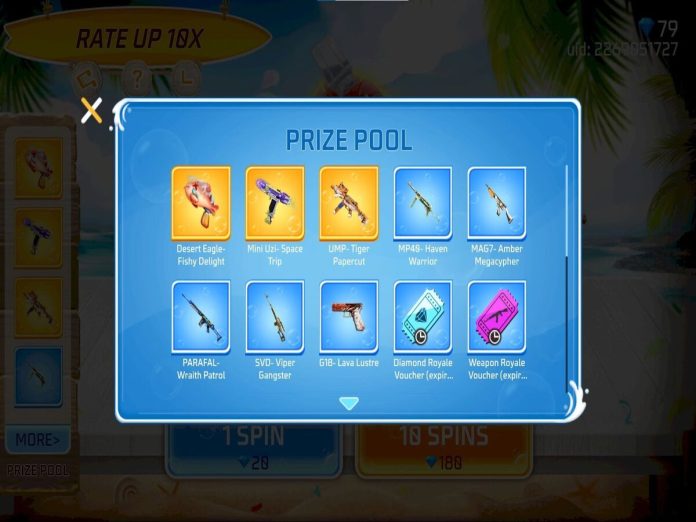 In Free Fire MAX, gun skins are vital because they not only improve the look of weapons but also give them better features that boost their total efficacy. These skins can be acquired in a variety of ways, including luck royales, events, and weapon loot boxes.
The Free Fire MAX community now has a brand-new Rate Up event that includes several eye-catching weapon skins among other prizes. Players can purchase the Fishy Delight Desert Eagle and Space Trip Mini Uzi, two of the event's main rewards, by using diamonds.
Beginning on March 31 and running through April 13, the new Rate Up event is now accessible in Free Fire MAX. The event gives participants a 10x greater chance of winning the reward they want.
Free Fire MAX Rate up event Prize Pool
For this Rate Up, players can choose one of the three Free Fire pistol skins before spinning the wheel to obtain prizes at random. A set of 10 spins will cost 180 diamonds while a single spin costs 20 diamonds. The following are included in the prize pool:
Fishy Delight Desert Eagle
Space Trip Mini Uzi
UMP – Tiger Papercut
MP40 – Haven Warrior
MAG7 – Amber Megacypher
PARAFAL – Wraith Patrol
SVD – Viper Gangster
G18 – Lava Lustre
Diamond Royale Voucher (Expiry date: May 31, 2023)
Weapon Royale Voucher (Expiry date: May 31, 2023)
Sneaky Clown (MP40 + XM8) Weapon Loot Crate
Operano (Groza + M82B) Weapon Loot Crate
Skull Hunter (AK + SPAS12) Weapon Loot Crate
Pink Laminate (M4A1) Weapon Loot Crate
Blood Moon (SCAR) Weapon Loot Crate
Imperial Rome Weapon Loot Crate
Winterlands Weapon Loot Crate
Private Eye Weapon Loot Crate
Artificial Intelligence Weapon Loot Crate
Cosmic Bounty Hunter Weapon Loot Crate
Pet Food
Cube Fragment
Secret Clue
Bonfire
Supply Crate
There is no precise probability attached to winning the grand reward.
How to gain the rewards
First, load Free Fire MAX, then enter the events section.
To reach the new event, select the Rate Up 10X option from the menu and press the Go icon.
A prompt will ask you to choose the legendary skin you want to have a 10x chance of getting.
Once the object has been verified, you can use diamonds to turn the wheel and collect your rewards.
On doing so, you will obtain a gun skin which can then be equipped from the weapons tab.
Also Read: BGMI Dynamo Stats: BGMI ID, Wins, Finishes, F/D Ratio