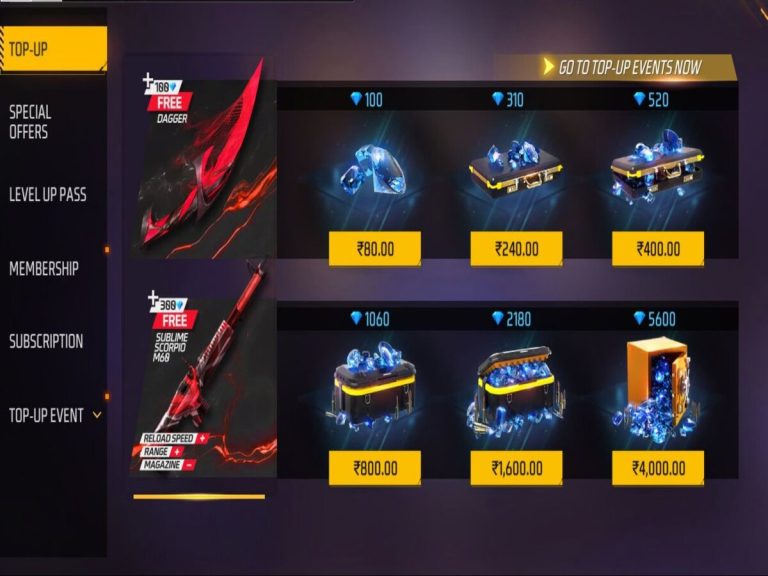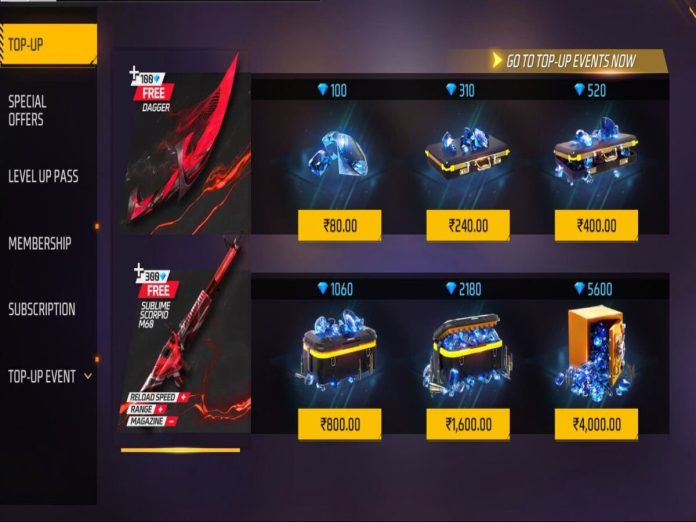 In Free Fire MAX, Top-Up events are the most opportune time to top-up your diamonds. This is because in addition to getting the diamonds in your account, you will also get some exciting rewards.
On Free Fire MAX, Project Crimson events are gradually becoming available. The newest event in the battle royale game, the Scorpio Top-Up one, gives players a range of rewards.
It follows the completion of the Tidal Top-Up event in Free Fire MAX, which ran during the course of last week. It gave a free Katana skin and Skyboard.
During this event, players who purchase a certain amount of diamonds while the event is still running will have the chance to receive a free mythic dagger and a rare pistol skin.
How to get free rewards in the Free Fire MAX Scorpio Top-Up event
To purchase diamonds for your Free Fire MAX account and claim the rewards from the most recent event, simply follow the instructions below:
Log in to your Free Fire MAX account. Then, click the diamond symbol at the top of the page to access the in-game top-up section. There will be a lengthy list of top-up choices.
To get the diamonds, choose the desired pack and finish the payment. The lowest bundle of 100 diamonds may be topped up to receive the Scorpio Dagger for free. On the other hand, purchasing 310 diamonds gives you an additional M60 – Sublime Scorpio in addition to a better value.
As soon as the money has been paid in full, you are qualified to claim the prizes from the event area. Select Project Crimson under the events section.
Choose Scorpio Top-Up, then click the claim button to earn your rewards.
Your account will then receive the rewards, which may then be utilised in the armory portion of the Weapon page.
Therefore, if Free Fire players wish to top-up their diamonds, they should ensure that they do so during the course of this event to maximize their benefits.
Also Read: Fortnite Has Been Officially Brought To Amazon Luna