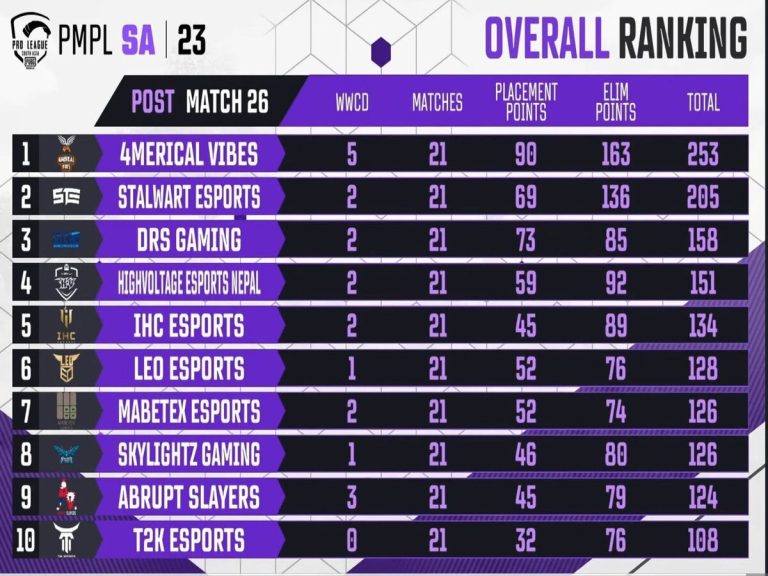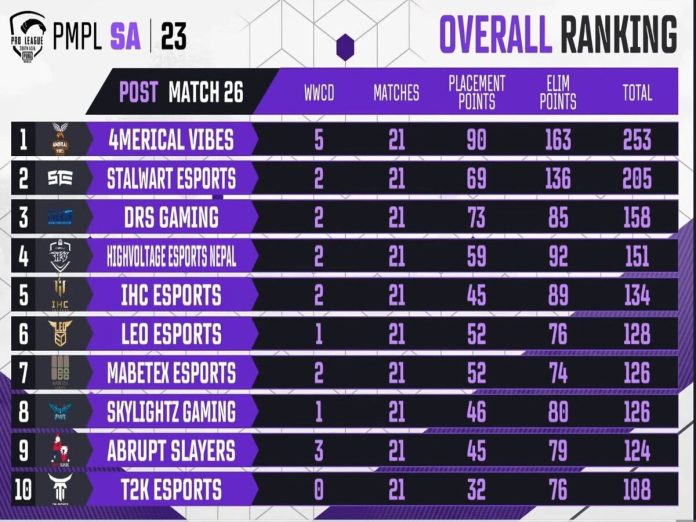 The PUBG Mobile Pro League (PMPL) 2023 Spring South Asia Week 1 has officially come to an end. It was truly an exciting and thrilling week of high-intensity matches. 4Mercial Vibes held the top spot following some impressive performances.
In 21 games, the Mongolian squad scored 253 points and won five Chicken Dinners. The team received 20 extra points for winning in Week 1.
Stalwart Esports finished in second place with 205 points after displaying their dependability. DRS Gaming's balanced style allowed it to reach the top three in the PUBG Mobile Pro League. High Voltage Esports and IHC Esports bagged the fourth and fifth positions respectively.
PMPL South Asia 2023 Spring Week 1 Overall Rankings
4Mercial Vibes
Stalwart Esports
DRS Gaming
High Voltage Esports
IHC Esports
Players with highest eliminations
DOK922
EAST922
TOPZZZ
ICY
SLEEPYY
PMPL South Asia 2023 Spring Week 1 Day 5 Match Highlights
Rouge put on an impressive performance in the first game of Day 5 in Miramar, scoring nine solo kills to aid SEAL in a stunning Chicken Dinner with 20 kills. Skylightz Gaming earned 12 points. Rouge eliminated Stalwart Esports, but they still managed to earn 11 points.
In the second match of Day 5, 4Mercial's incredible performance in the PMPL maintained with a 13-kill triumph. DRS Gaming from Nepal played the match slowly and finished in second place with only two eliminations.
Elementrix eventually found their footing and won their first match on Day 5 with 10 kills in match 3. With nine and five finishes, Abrupt Slayers and Kunyo placed second and third, respectively. Sleepyy dazzled spectators with his abilities, winning six eliminations to take the top spot in the third game.
A tense struggle between High Voltage and Stalwart resulted in an 11-kill Chicken Dinner for High Voltage. DRS Gaming performed admirably in this game as well, scoring 12 points.
In the next match, DOK922 led his team 4Mercial to victory. DRS Gaming and Stalwart, also performed admirably scoring 14 and 11 points, respectively.
In terms of individual players, DOK922 is in first place with 58 eliminations secured in 21 games. The second is East922 from his team. At the conclusion of PMPL Week 1, Top and ICY from Stalwart are in third and fourth places with 40 and 36 eliminations, respectively.
Also Read: BGMI Unban News: Indian Esports Players Comment On Recent BGMI Relaunch Rumours