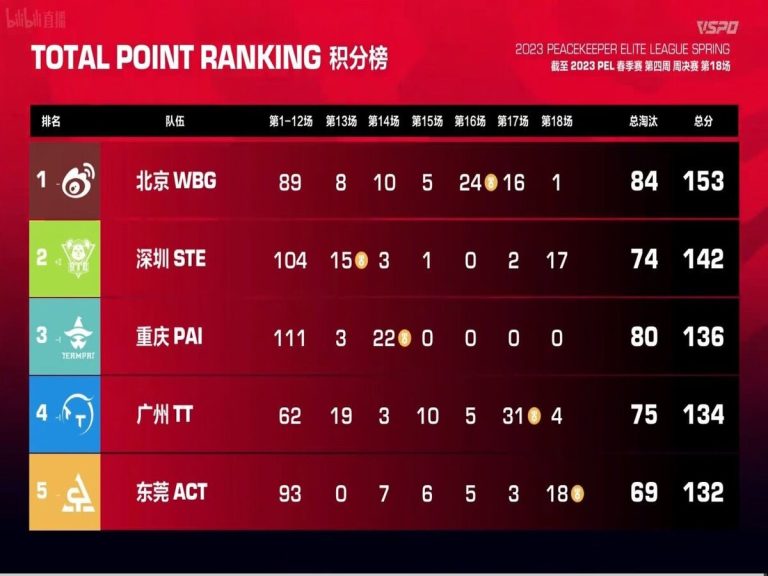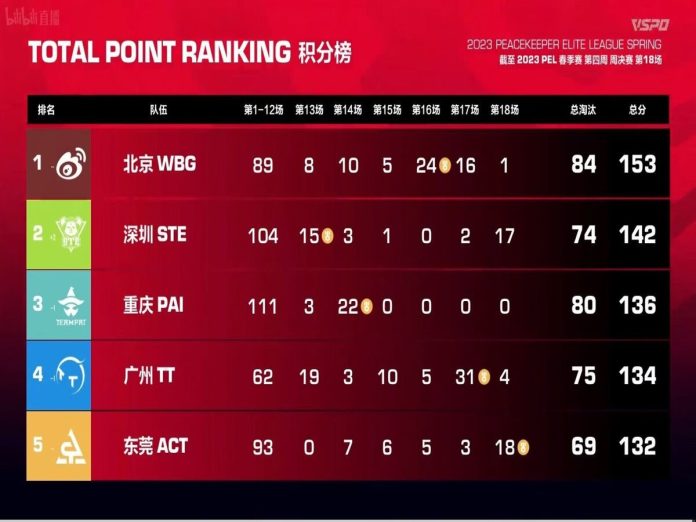 With some splendid displays of awe-inspiring gameplay occurring over 18 matches, Week 4 of the PEL Spring 2023 has proven to be an entertaining one.
Weibo Gaming won the weekly finals with ease, demonstrating their supremacy once more. They have now won three of the four weekly finals.
Weibo Gaming appeared extremely tough going into the fourth week and performed superbly in the final two games to take the lead with 153 points.
Weibo Gaming's winning run
It's interesting to note that Weibo Gaming has won the first, second, and third weekly finals during the regular season. There are now just two more weekly competitions left in this stage. The very skilled team will probably attempt to continue their winning streak into the following contests.
With 608 points after four weeks, Weibo Gaming is in first place overall. They are followed by RSG and Nova Esports, who have 532 and 481 points, respectively. With 476 and 438 points, respectively, LGD Gaming and The Chosen (TC) managed to take fifth and eighth position.
PEL 2023 Spring Week 4 Finals MVP
The Most Valuable Player (MVP) of the weekly finals was DaoShi, who joined the team before the PEL Spring.
PEL 2023 Spring Week 4 Overall Standings
Weibo Gaming
Six To Eight
Team PAI
Thunder Talk
ACT
Weibo Gaming topped the table which came in as no surprise. This week, Six To Eight made an incredible recovery, taking second position with 142 points.
Following a very mediocre run in their previous three weeks, the team received some respite after earning 17 points in the last game, moving up many spots.
Team PAI, which started the fourth week well and held the top spot until the 16th game, struggled in their final four games, dropping them to third place overall.
They were followed by Thunder Talk with 134 points and ACT with 132 points. As the remaining teams square off in the Breakout round, the top five teams will battle directly in the Week 5 Finals.
Also Read: Free Fire MAX: Steps To Get Corrupted Vein Bundle