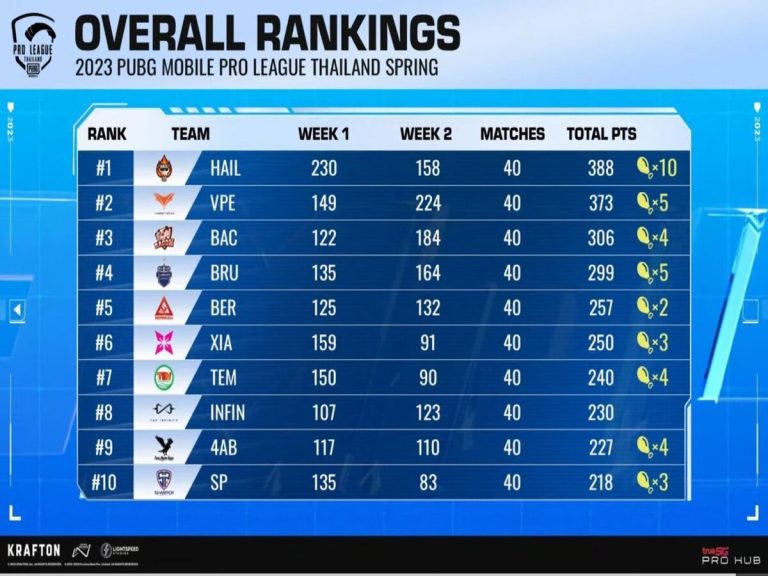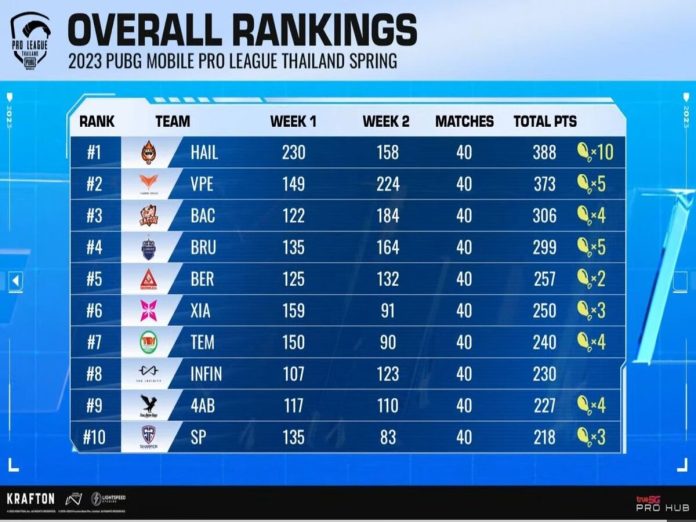 On February 25, the PUBG Mobile Pro League (PMPL) Thailand 2023 Spring came to an end. Twenty of the top Thai teams competed against one another over the course of about 10 days. The Indian organization HAIL Esports, which presently has a squad in the Thai area, triumphed.
Boasting a massive 10 Chicken Dinners won, the team scored 388 points overall. The team displayed their prowess right from the get go with the majority of those points coming in the first week. The group also earned a spot in the PMSL Spring 2023, where they will compete against the top South East Asian teams. The team also won a $15,000 cash award from the League Stage.
PUBG Mobile PMPL 2023 Thailand Spring Overall Rankings
HAIL Esports
Vampire Esports
Bacon Time
Buriram United Esports
Bermuda Esports
Individual titles
Players from several squads also displayed their talents during the PUBG Mobile PMPL 2023 Thailand Spring. Vampire Esports' Noozy dealt 17296 HP in damage overall, and amassed an astounding 69 frags. Together with 57 assists, Noozy contributed 26% to the team as a whole. He received a $700 reward and the Season MVP award for his efforts.
The recipients in other categories are listed below:
SchwepXz (Vampire Esports): Gunslinger – $375
Noozy (Vampire Esports): Grenade Master – $375
Concept (Buriram United Esports): Eagle Eye – $375
GETSLOW (HAIL Esports): Survivor – $375
SchwepXz (Vampire Esports): Field Medic – $375
Tournament Highlights – PUBG Mobile PMPL 2023 Thailand Spring
One of the most well-known and powerful teams in the Thai region, Vampire Esports took second place in the League Stage. I n the second week, the team, which included athletes like Noozy and SchwepXz, destroyed the opposition and broke records.
Ultimately, the squad scored 373 points with 5 chicken dinners from the 40 games they played. The team may have won the championship, but a sluggish start in Week 1 of the PMPL prevented them from finishing higher than second. The squad also received a cash award for their outstanding performance in the amount of $10,500.
Bacon Time placed third in the tournament. With steadiness throughout the course of the 10 games, the team finished third. The team was phenomenal, claiming top spots with players like AumStyle, ShirtyS, and ICEs handling the majority of the work. The squad earned 4 chicken dinners, accrued 306 points, and received a $5,250 cash award.
The PMSL Spring 2023 will reveal who emerges as the best of the best from the winners of each region. Stay tuned for more tournament updates.
Also Read: GTA 6 Leaks: RAGE 9 Engine To Be Used In The Game's Water Physics