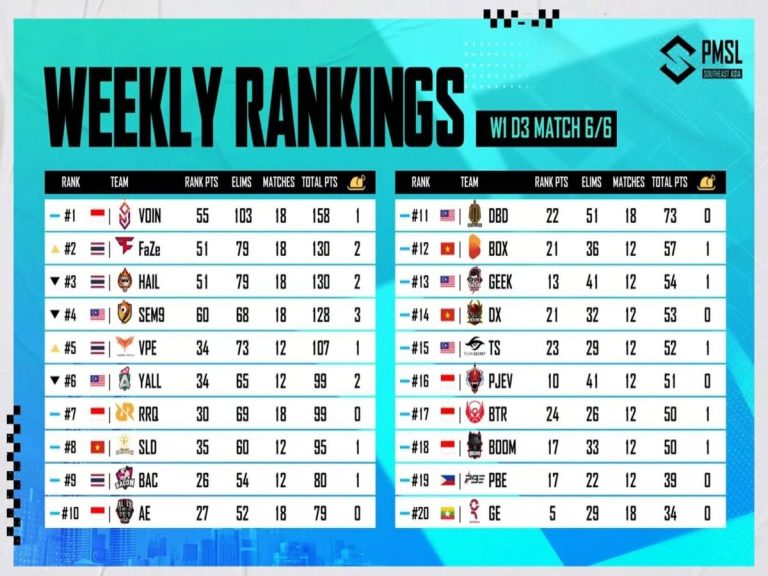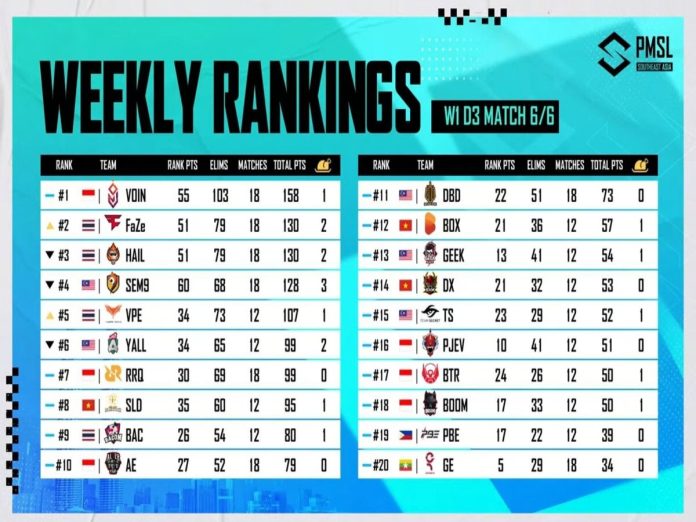 Week 1 Day 3 of the PUBG Mobile Super League (PMSL 2023) has come to a close after a lot of edge-of-the-seat action. VOIN took the lead with 158 points. With 130 points, Faze Clan moved into second position, ahead of Thai champion HAIL Esports. With 128 points, SEM9 dropped to fourth place. Gaining 107 points, Vampire Esports has advanced significantly from 12th to fifth. 
Rankings after PMSL 2023 Spring Week 1 Day 3
VOIN Esports
FaZe Clan
HAIL Esports
SEM9
Vampire Esports
Players to focus
VOIN Alva – 35 eliminations
VOIN Kenan – 6660 damage
HAIL Tigerx – 18 assits
PMSL 2023 Spring Week 1 Day 3 Match Highlights
Boom Esports won the very first match of Day 3 of the PMSL 2023 Spring Week 1 Day 3. They won easily with 8 kills and earned 18 points. To advance his squad to third place, TonyK eliminated BTR players. Both Bacon Time and RRQ had a bad start as they were eliminated without scoring any points.
The seasoned player Stoned's display of skills helped Vampire Esports win the second game with 21 points, including 11 kills. Onzenxs recorded seven solo kills during the game, helping Faze Clan score 16 points. DBD and Yoodo each scored 14 and 11 points.
In the third match, Bacon won by defeating Faze Clan. With nine kills, they won the Chicken Dinner, while Faze and SLD scored 13 and 12, respectively. Boom was unable to score in the match.
Box Gaming won the fourth match of PMSL Day 3 with a staggering 13 kills thanks to their faultless play. Yoodo scored nine points, including eight frags, while HAIL and SEM9 scored 12 and 9 points each.
SEM9 set up a fantastic performance to win a Chicken Dinner with nine kills in the fifth match. Following their immaculate performance, HAIL Esports won 13 matches. VOIN and Bacon Time both received 14 and 12 points.
In the sixth game, Faze Clan won after outperforming VOIN Esports in the final zone.