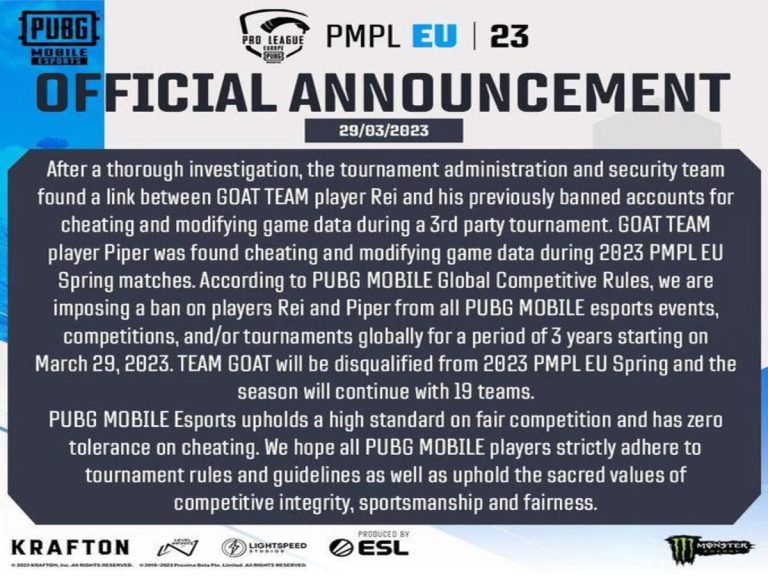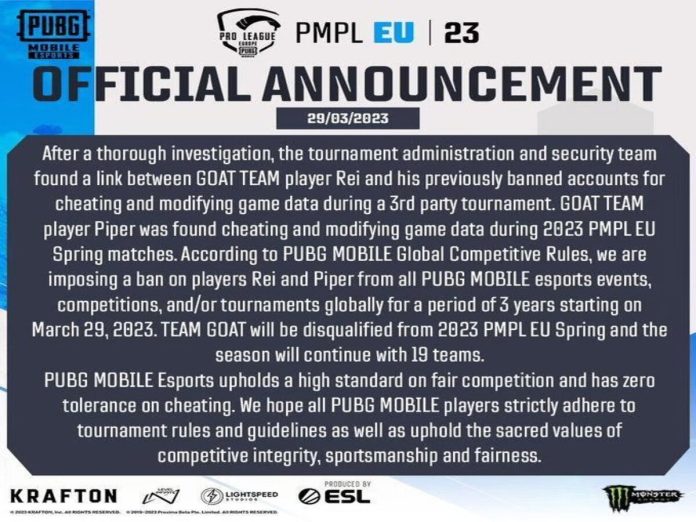 Team GOAT was disqualified from the current 2023 PUBG Mobile Pro League (PMPL) Europe Spring due to cheating on March 29, 2023, according to a formal announcement from Tencent. One of the team members (Rei) was linked to a suspended account that had previously been involved in cheating and modifying game data at a different competition, according to the event's organiser.
Tencent has formally announced that the current PUBG Mobile PMPL Europe season will continue with the remaining 19 teams without a substitute. The tournament's spring season began on March 20 and will end on April 30.
Team GOAT disqualified from PMPL 2023
Through their second-place finish in the PUBG Mobile European Cup, Team GOAT earned entry into the PMPL 2023 Europe Spring. The team had the most number of Chicken Dinners in the league – six. They were in third place with 184 points after 25 games before they were disqualified.
The official disqualification announcement stated:
"After a thorough investigation, the tournament administration and security team found a link between GOAT TEAM player Rei and his previously banned accounts for cheating and modifying game data during a 3rd party tournament. GOAT TEAM player Piper was found cheating and modifying game data during the 2023 PMPLEU Spring matches."
The organizers also disclosed that Piper, another team member, had falsified game statistics during the PMPL 2023 Spring Europe competition. The social media message continued by discussing the PMPLEU situation at the time:
"According to PUBG MOBILE Global Competitive Rules, we are imposing a ban on players Rei and Piper from all PUBG MOBILE esports events, competitions, and/or tournaments globally for a period of 3 years starting on March 29, 2023. TEAM GOAT will be disqualified from 2023 PMPLEU Spring and the season will continue with 19 teams."
Thus, according to the PUBG Mobile esports rules of competition, Tencent has imposed a three-year suspension on the two players. This will prevent them from taking part in any esports competitions for PUBG Mobile. 
Also Read: PUBG Mobile 2.5 Update Global Version APK Download Link