Following two days of intense competition, Revenant Esports emerged victorious in the PUBG New State Mobile Battle Adda.
They made the perfect choice by signing BGMI talents Sensei and MJ, who both used their talent to win the competition.
The squad grabbed two Chicken Dinners to get a total of 158 points. They received the first place title and a prize money of Rs. 5 lakhs.
Hyderabad Hydras put on a spectacular performance on the last day to finish second with 151 points and win a cash prize of Rs. 2 lakhs.
Additionally, Team S8UL performed flawlessly, earning third place with 135 points. Marcos Gaming was in fourth place with 125 points.
After Day 1, Team MAVI had the highest score and performed badly on Day 2, falling to fifth place in the PUBG New State Mobile Battle Adda.
Due to poor performance in their few pivotal games, OR and GodLike finished seventh and eighth, respectively.
PUBG New State Mobile Battle Adda Overall Rankings
Revenant Esports
Hyderabad Hydras
S8UL
Marcos Gaming
Team Mavi
PUBG New State Mobile Battle Adda MVP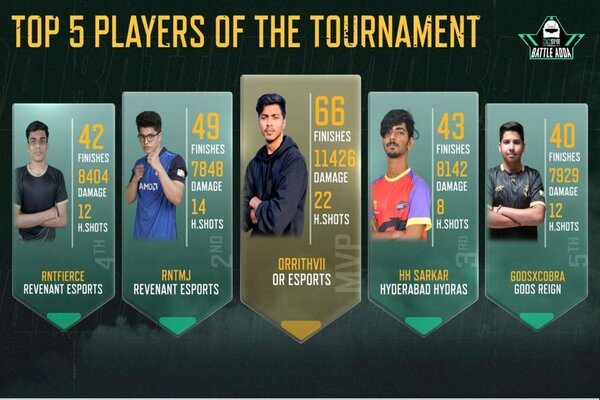 The MVP prize of Rs. 1 lakh was granted to Rithvii from OR Esports. Additionally, he received 50K for taking the best headshot.
S8UL won the Captain Cool award and was given a reward of Rs. 50,000.
Match Highlights
S8UL won in the opening match after scoring nine kills and the Chicken Dinner in Akinta. Revenant Esports and Team Atom both had outstanding starts, scoring 20 and 16 points, respectively.
By winning a 14-kill Chicken Dinner, Team Atom once again put on an impressive performance. With 14 frags, Team Genesis scored 24 points overall.
Aditya and Sarang helped Team Genesis win the Chicken Dinner with nine eliminations. Midwave scored 28 points despite not winning the game.
Hyderabad Hydras completely dominated the fourth match, winning a Chicken Dinner with 16 kills.
Sarkar won 12 individual eliminations, showcasing his outstanding performances. Revenant and Team S8UL were undefeated, which allowed them to last longer in this game.
In the fifth match, Big Brother Esports and Team S8UL performed brilliantly to win first and second place, respectively. Revenant played slowly, scoring only one kill and 10 position points.
With the crucial 11-kill Chicken Dinner, Revenant finished the last match on top. Midwave scored 13 points, one of which was a frag.
Also Read: Valorant Premier Full Details, Schedule, Guide To Create A Team