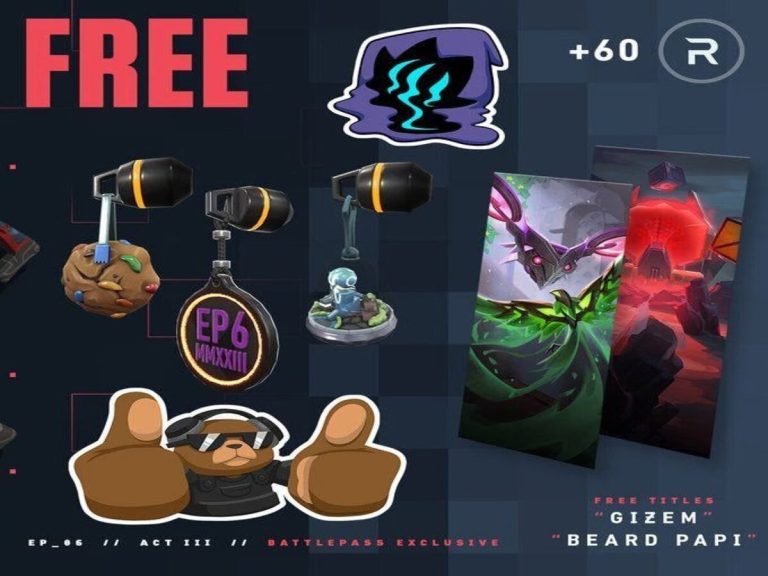 Valorant's Episode 6 Act 3 has arrived. It comprises a brand-new Battlepass with brand-new player cards, titles, and gun buddies.
The Episode 6 Act 3 Battlepass also includes the Moondash, Monstrosity, and Bound skin collections. Nearly every possible weapon is covered in these three skin lines.
Valorant Battlepass offers both free and paid rewards. The cost of the premium subscription for the pass is 1,000 VP (Valorant Points), or around $10.
The premium edition contains the Valorant Battlepass rewards that are the most desired.
However, if you don't want to pay for it and are curious about what is available for free, you can find all the free rewards listed here below.
In Valorant's Battlepasses, there are 10 regular chapters with a total of 5 tiers. Players that complete the Pass before the expiration date can also get a free Epilogue part.
For individuals who acquire the Premium pass, rewards are available at each of the five tiers in the Battlepass chapters.
Nevertheless, those who don't will always earn at least one free gift after finishing a whole chapter.
Gun buddies, player cards, Radianite Points, and weapon skins are all included in these free rewards.
Valorant Episode 6 Act 3 Battle Pass Free Rewards
Here is a list of every free reward you can get from Episode 6 Act 3 Battlepass:
Chapter 1: Skyborne Greeting player card + "Gizem" title
Chapter 2: "Episode 6 Act 3" gun buddy
Chapter 3: 10 Radianite Points + "UWU" title
Chapter 4: "Nice!" spray
Chapter 5: "Edge of Everything" player card + 10 Radianite Points
Chapter 6: "Monster Cookie" gun buddy
Chapter 7: 10 Radianite Points + "Beard Papi" title
Chapter 8: "I'm Melting" spray
Chapter 9: "Mother of Pearl" gun buddy
Chapter 10: Monstrocity Sheriff + "Death Trap" player card
Epilogue: Golden "Drop the Hammer" gun buddy + 30 Radianite Points + Golden "Claw Master" player card
The free rewards in the Valorant Episode 6 Act 3 Battlepass themselves are quite alluring. Valorant players will definitely be drawn to these rewards.
Also Read: PUBG Mobile x The Ultimate: New Themed Crate, Ultimate Set, And More