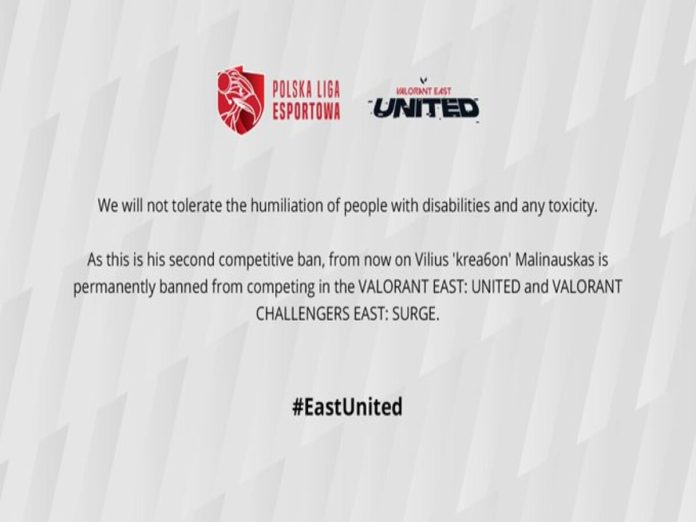 Following being seen on video making fun of another player's disability, VALORANT player Vilius "krea6on" Malinauskas has been permanently banned from both Challengers League East: Surge and Valorant East: United.
The Lithuanian player publicly insulted NAVI content producer Marcus "SoMarcus" Black while live-streaming on Twitch.
This ultimately resulted in his exclusion from all Polska Liga Esportowa tournaments starting today.
Polska Liga Esportowa, the organizers of the competition, revealed their "competitive ruling" in a tweet on May 2, 2023.
This decision is krea6on's final and second warning. This is after the VALORANT player previously got himself into trouble a little more than a year ago.
Krea6on has already been suspended for making abusive comments. The earlier penalty meted out to Krea6on was due to his April 2022 discriminatory statements.
He was therefore banned from "all official VALORANT esports competitions for the duration of Stage Two" for violating Global Competition Policy regulations 7.3.1, 7.3.4, and 7.3.6.
krea6on publicly apologised for his earlier misconduct, calling it "a bad habit" that he has to break and attributed it to his lack of confidence in speaking another language.
Krea6on makes fun of SoMarcus
Despite publicly apologizing for his misconduct, krea6on has gone back to doing the same actions.
On his Twitter account, SoMarcus referred to krea6on as an "awful human being" and uploaded the relevant video.
In the video, krea6on makes fun of SoMarcus' facial twitches. He made noises at him continuously in spite of requests for him to stop.
You can find the tweet with the video here below.
The Challengers League East Surge has 16 teams from 23 nations. It is a part of the elite Eastern European circuit in VALORANT.
Even if krea6on hadn't yet reached that level of competitive VALORANT play, this decision will probably permanently cut him off from that level of competition.
Also Read: PUBG News: 16-Year-Old Boy Allegedly Kills Mother Over The Game, Receives Bail