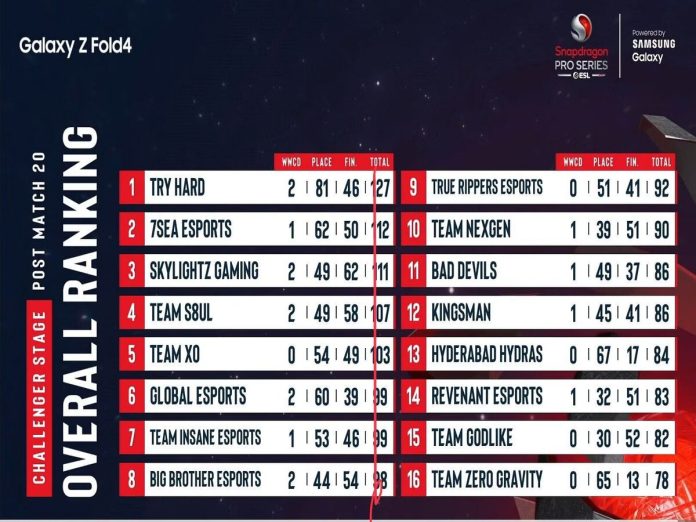 PUBG New State Pro Series is in full swing and if you are looking for the latest standings, you have come to the right place. Day 4 of the PUBG New State Pro Series Mobile Challenger occurred on January 8. Teams from Groups B and D competed against one another. The underdog team Try Hard had a wonderful day as they passed 7Sea Esports to reach the top place. Currently, Try Hard is leading among the rest of the teams.  Together with two Chicken Dinners, the team has 127 points, with placement points making up 60% of that total.
With 111 points, Skylights Gaming had a strong performance on Day 4. They placed third. Team XO entered the top five with consistent gaming and no Chicken Dinners. Team S8UL did not play on Day 4. Yet, they are still in the top five. Keep reading to find out who is leading in the PUBG New State Pro Series Mobile Challenger and the match-wise summary.
Top 5 teams after Day 4
As per the current standings, here are the top 5 teams:
Try Hard
7Sea Esports
Skylights Gaming
Team S8UL
Team XO
Match 1
Skylights Gaming won the first game of Day 4 with 12 frags. A major reason for this is their effective rotation. Try Hard and Team XO, the next two teams on the leaderboard, each got six kills. Team Godlike also had a successful game because they scored 10 points in the contest.
Match 2
The second game, which took place on the Troi map, was won by Team Try Hard. They were able to win with six frags thanks to their location in relation to the zone. Despite having fewer players than usual left in the game, Team XO still managed to rack up 10 kills. Prior to getting eliminated at the start, Team GodLike successfully covertly collected eight frags.
Match 3
TWOB scored six frags and won the Chicken Dinner in the third game of the day. GodLike, who finished second with 10 kills, nonetheless, took the first position in the overall match rankings. Despite being eliminated early, Wanted Gaming still managed to collect 10 crucial frag points.
Match 4
Day 4's fourth game saw AJ perform exceptionally well, helping Global Esports to a nine-kill victory. TWOB got 12 placement points, while Skylightz Gaming once again played fiercely to earn 13 frags.
Match 5
In the last game of the day, Big Brother Esports showcased their prowess, scoring 14 kills. Once more, a healing struggle decided who would take second, and Chemin triumphed with four frags. Try Hard scored 13 points.
Also Read: BGMI News Roundup: MortaL Wishes To Compete In Unofficial BGMI Tournaments After Unban, Krafton Set To Introduce NFT's in PUBG