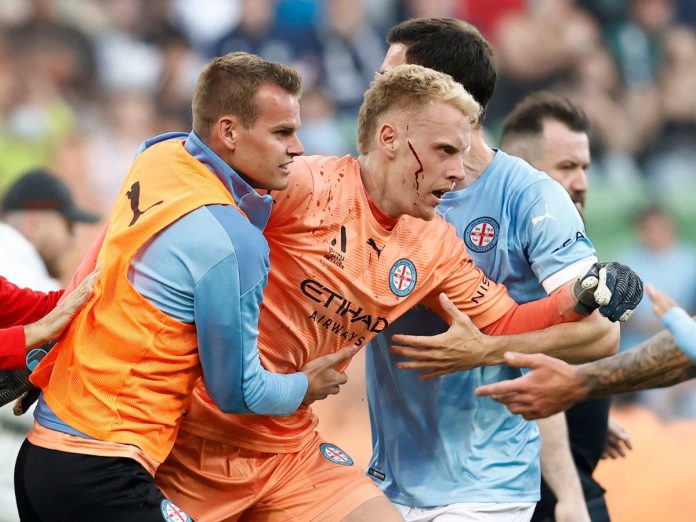 After last month's derby between Melbourne Victory and Melbourne City was marred with a serious pitch invasion, Football Australia slapped a fine of USD 380,000 on Melbourne Victory. Several fans came storming into the field and injured the goalkeeper of Melbourne City, Tom Glover.
The aggressive fans took a metal bucket filled with sand and threw it with full force on Glover. Glover had a deep cut on his face and a concussion. The shocking scenes on 17th December resulted in the Melbourne Derby being suspended.
A referee and a television camera were also hurt in this process. The chief of Football Australia James Johnson said that the incident was the worst in the history of Australian football.
"The sanctions we have issued against Melbourne Victory are the heaviest in the A-League era. These sanctions are reflective of our desire to remove this behavior, and those that perpetuate it, from our game," said Johnson.
"They also form part of a broader response to this incident which has seen 17 bans issued against individuals to date, including three-lifetime bans," he added.
The USD 380,000 fine is the heaviest ever imposed on a club in the history of A-League, the first-tier football competition in Australia.
Some seating areas in AAMI Park in Melbourne have been sanctioned as not being available for the remainder of the season. Melbourne Victory fans will also not be allocated away seating areas in the away matches.
For every football game, there are always two sections for home and away fans. This is essential to prevent a clash between the two sets of fans of the two different football teams.
Melbourne City presently is at the top of the points table in the A-League with 8 wins and 25 points in their kitty. Victory, on the other hand, is languishing at the bottom of the table with just 3 wins and 11 points under their belt.
Also read: France's Captain Hugo Lloris Retires From International Football