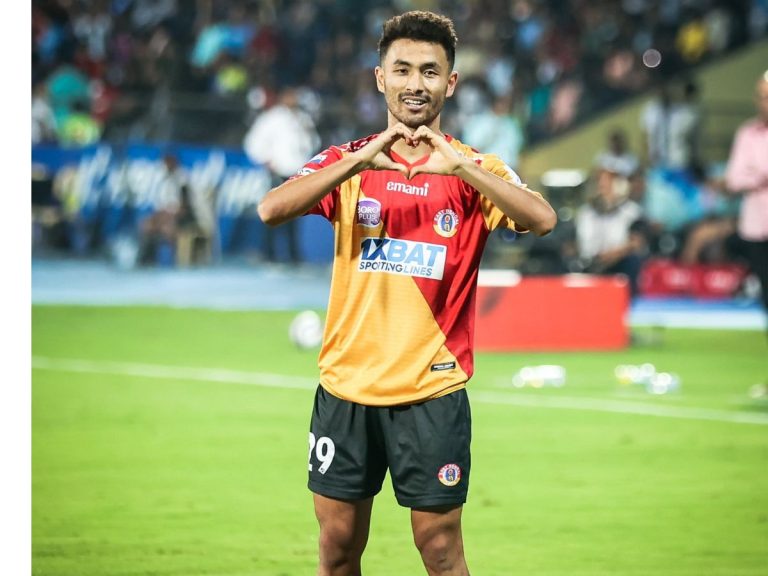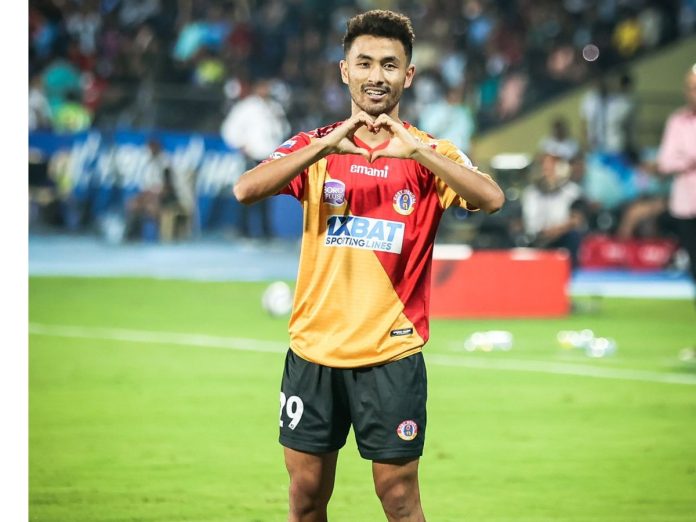 East Bengal FC displayed a memorable performance against the League Shield winners of this edition's Indian Super League (ISL) 2022-23. The Red and Gold Brigade won the game 1-0 courtesy, of Naorem Mahesh Singh's solitary goal in the game.
Jordan O'Doherty was substituted by Alex Lima in the starting lineup by head coach Stephen Constantine.
In the opening period of the game, East Bengal FC outran many incoming attacks from the visiting team. The Red and Gold Brigade soon began to take charge of the game and generated a couple of opportunities.
V.P. Suhair delivered a powerful cross from the right side in the eighth minute of play, finding Cleiton Silva. Jake Jervis received the ball from East Bengal's captain, but the Englishman's shot missed the mark.
Kamaljit Singh, East Bengal FC's custodian, went into beast mode and made some outstanding saves. In this Hero ISL 2022-23 season, his clean sheet against Mumbai City FC is the only one recorded by a goalkeeper.
Naorem Mahesh Singh made a smooth ball to Cleiton Silva in the game's 37th minute. Hero ISL 2022–23's top scorer fired a powerful shot, but Mourtada Fall, the captain of Mumbai City FC, blocked it.
At the half-time mark, parity was maintained between the two sides but post-half-time, it didn't take too long for the visitors to stamp their authority in this game.
Naorem Mahesh Singh received a pass from Cleiton Silva, who then assisted the winger in scoring his second Hero ISL goal of the season.
Lalchungnunga stopped a goal that was almost certain to be scored in the game's 56th minute. Our defense sent the opponent's player's ferocious shot outside.
The full-time score read 1-0 and East Bengal FC staged a major upset against this year's Hero ISL 2022-23 League Shield winners, Mumbai City FC. This was East Bengal FC's first win against the Islanders in ISL and also the first time, Mumbai City FC conceded a goal against the Red and Gold Brigade in ISL.
Squads
Mumbai City FC
Phurba Lachenpa, Mohammad Nawaz, Ravi Kumar, Vikram Lakhbir Singh, Rahul Bheke, Amey Ranawade, Mehtab Singh, Mohamad Rakip, Vignesh Dakshinamurthy, Mourtada Fall, Valpuia, Mandar Rao Desa, Gyamar Nikum, Cassio Gabriel, Bradden Inman, Ahmed Jahouh, Raynier Fernandes, Vinit Rai, Naorem Tndomba Singh, Chanso Horam, Asif Khan, Apuia Ralte, Gyamar Nikum, Vikram Partap Singh, Igor Angulo, Pranjal Bhumij, Bipin Singh, Greg Stewart, Lallianzuala Chhangte.Karuthadathkuni, Jockson Dhas, Senthamizh, Jobby Justin, Gulab Singh, Mohamed Liyaakath.
East Bengal FC
Kamaljit Singh, Suvam Sen, Pritam Kumar Singh, Mohammad Rakip, Sarthak Golui, Amarjit Singh, Pritam Singh, Athul Unnikrishnan, Jerry Lalrinzuala, Iván González, Charalambos Kyriakou, Lalchungnunga, Mobashir Rahman, Souvik Chakrabarti, Alex Lima, Amarjit Singh Kiyam, Aniket Jadhav, Naorem Mahesh Singh, VP Suhair, Sumit Passi, Cleiton Silva, Jake Jervis
Also read: ISL 2022-23: Mumbai City FC Pens Down Deal With Gyamar Nikum