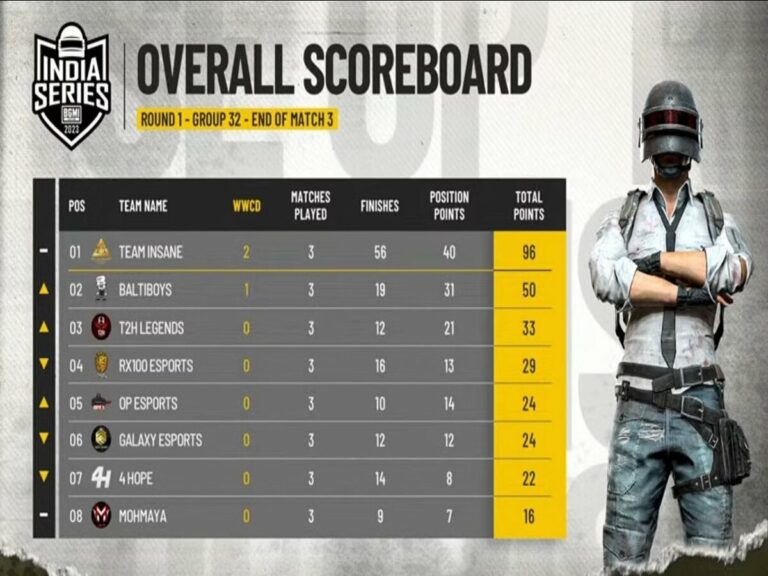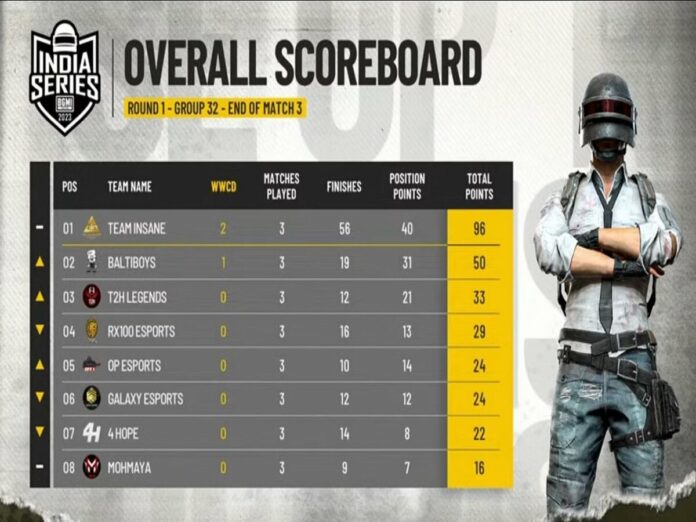 On August 31, the first day of the BGIS Online Qualifiers Round 1 came to an end. While several groups' games were not live televised, Krafton livestreamed the games in Groups 32 and 34.
The top three teams from each group have been chosen for Round 2 after the three matches. During the first round, which began on August 31 and will go through September 3, 128 groups will compete.
The organiser has released the standings for the two groups, whose games were broadcast live on Jio Cinema and Krafton India's YouTube page.
The outcomes of the other groups who participated in today's competition will be revealed in the next weeks.
Group 32 Qualified teams for BGIS 2023 Round 2
Team Insane
Baltiboys
T2H Legends
Team Insane won all three of their matches to earn the top spot in Group 32 of the BGIS 2023 Round 1. The team lead by Aadi scored 96 points, averaging 32 per game. 
Out of their three games on Thursday, they recorded two Chicken Dinners. Baltiboys finished in second place, 40 points behind them, demonstrating Team Insane's domination in this division.
With 33 points, T2H Legends placed third and advanced to the BGIS second round. RX100 Esports came in fourth with 29 points, falling short of first place by a few points.
Galaxy Esports, who also performed poorly at The Grind, were unable to improve and finished in sixth place.
Group 34 Qualified teams for BGIS 2023 Round 2
UP50 Esports
Enigma Gaming
Team IMGOD
A renowned squad, UP50 Esports, performed well in Group 34 and took the top place with 76 points. They won their first game, which gave them a boost. In the second game, Owais-led Enigma Gaming hit their stride and won by a commanding margin of 19 kills. In three games, the team scored 52 points overall.
With 36 points, Team IMGOD finished in the top three and advanced to the next round.