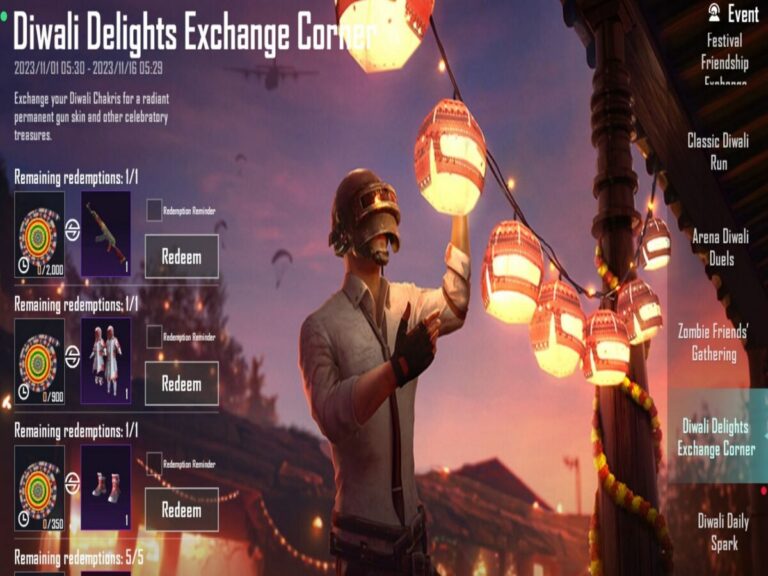 BGMI periodically incorporates new themes and events into the game.
Krafton recently unveiled the Zombie Edge theme plus several crates that let players win themed clothing, weapon skins, cars, and other items in honor of the spooky season in BGMI.
With the end of Halloween madness, the lights are back on with the Diwali Delights Exchange Corner.
Events and awards in BGMI are always themed, and this is true of every significant update.
Diwali Delights Exchange Corner is an event in Battlegrounds Mobile India where players may obtain character outfits, gun skins, and scrap coupons, which will be discussed in this article.
BGMI Diwali Delights Exchange Corner
To obtain Chakris, which can be traded for prizes at the exchange store, players must perform tasks in BGMI. November 1st is when the event started, and it ends on November 16th.
Here is a list of ways through which a player can earn Chakris:
Get 5 Chakris every day by logging in once.
Get 15 Chakris every day by sending friends three popularity gifts per day.
Get 10 Chakris every day by playing Arena mode once.
To receive 50 Chakris per day, engage in Arena mode a total of five times a day.
Get 20 Chakris per day by playing Classic mode with your companions once each day.
Get 100 Chakris per day by playing classic mode five times a day with friends.
Get 140 Chakris a day by playing traditional mode with your buddies seven times a day.
List of exclusive rewards that can be redeemed with Chakris:
2000 Chakris – Wood and Gold AKM
900 Chakris – Dawn Walker Set
350 Chakris – Dawn Walker Shoes
90 Chakris – Classic Crate Coupon
40 Chakris – A2 Royale Pass Mission Card
30 Chakris – Supply Crate Coupon
10 Chakris – Diwali Gift
5 Chakris – Diwali Graffiti
These are only a handful of the prizes; the event corner offers many more.
Also Read: Top 5 Tips to Avoid Dying in PUBG Mobile