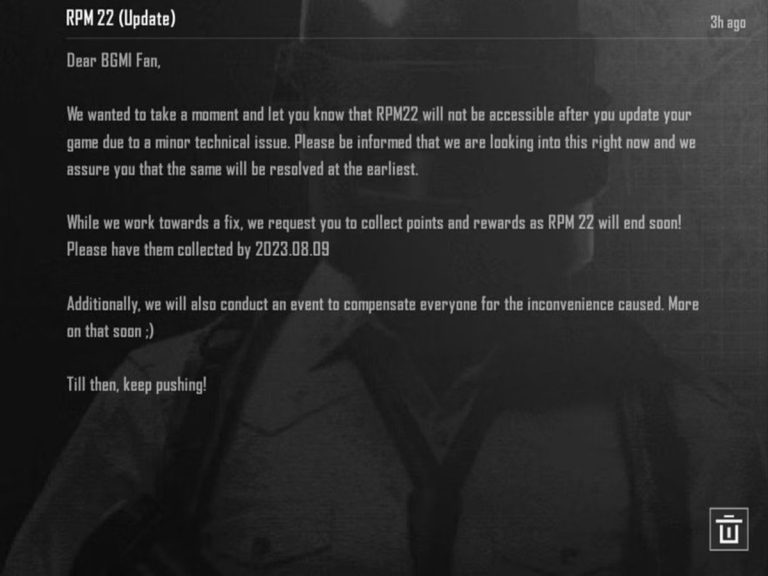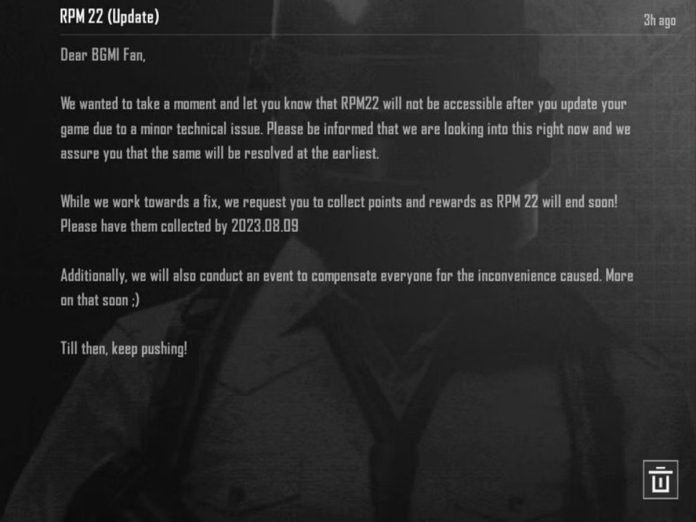 In Battlegrounds Mobile India, or BGMI, the developers, to keep players interested and excited, often release new content and updates.
However, Krafton had an unexpected technical issue with the most recent BGMI M22 Royale Pass upgrade that momentarily prevented access to the pass.
In response to this problem, the company informed its devoted player base in a notice, assuring a prompt resolution and explaining compensation policies.
Fans of BGMI anxiously anticipated the new royale pass update, which promised thrilling new content, challenges, and prizes. However, the sudden inaccessibility of the current royale pass in Battlegrounds Mobile India surprised a lot of players. 
BGMI M22 Royale Pass Issue
In a short period of time, Krafton recognized the matter and apologized to the gamers in an official statement. The official notice from Krafton reads:
"We wanted to take a moment and let you know that RPM22 will not be accessible after you update your game due to a minor technical issue.
Please be informed that we are looking into this right now and we assure you that the same will be resolved at the earliest. While we work towards a fix, we request you to collect points and rewards as RPM 22 will end soon!
Please have them collected by 2023.08.09. Additionally, we will also conduct an event to compensate everyone for the inconvenience caused."
In this message, Krafton expressed regret to BGMI fans for the M22 Royale Pass's inaccessibility.
The organization gave the participants the reassurance that it was diligently looking into the underlying technical problem and trying to fix it as quickly as feasible.
Since Krafton included details regarding the nature of the malfunction and the challenges experienced during the update rollout, the notification placed a strong emphasis on accountability.
The message advised players to collect rewards and points from the M22 Royale Pass before the deadline of August 9, 2023, in order to lessen the effects of the outage. 
Also Read: COD Mobile Season 7: How To Get Free CP