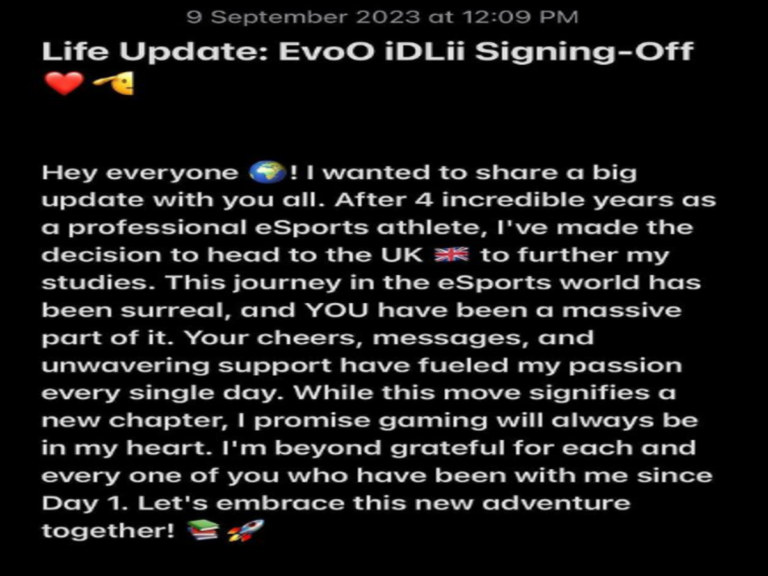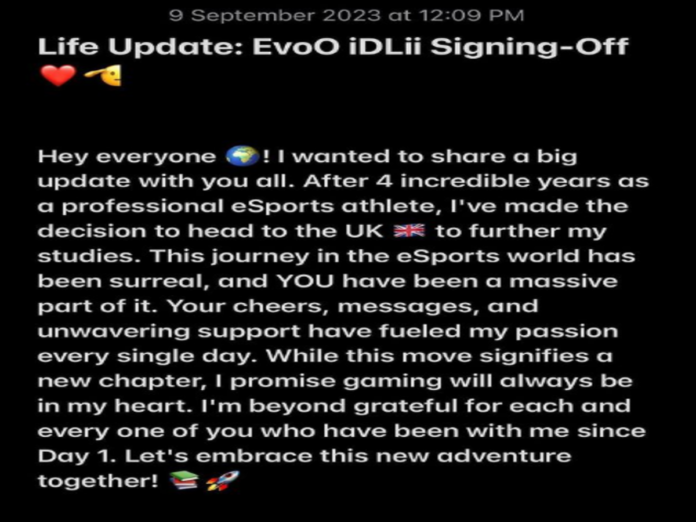 Seasoned eSports athlete Mohamed "EvoO idlii" Shahil made his retirement from BGMI Esports official on September 9.
He has participated in well-known Indian organizations and has been a renowned player in his four years in esports. He is one of the older players that made their 2018 PUBG Mobile debuts.
EvoO discussed his move to the UK for further studies and revealed his retirement plan on Instagram:
"Hey everyone, I wanted to share a big update with you all. After 4 incredible years as a professional eSports athlete, l've made the decision to head to the UK to further my studies."
He also described his esports career and thanked the audience for their encouragement and support:
"This journey in the eSports world has been surreal, and YOU have been a massive part of it. Your cheers, messages, and unwavering support have fueled my passion every single day."
"While this move signifies a new chapter, I promise gaming will always be in my heart. I'm beyond grateful for each and every one of you who have been with me since Day 1. Let's embrace this new adventure together," he added.
EvoO's Journey With BGMI
EvoO started out with Team CSPG India, but after joining Godlike Esports, he gained fame. He won the first trophy in the Fighting League India 2018 together with his teammates Scout, Smokie, and Assassin.
Later, EvoO shifted to Team Fire Frost and VSG Crawlers. He won the PMCO Fall India in August 2020 when he was a member of Team XSpark.
He competed with Blind Esports for around six months after the introduction of BGMI in 2021.
EvoO joined OR Esports before BGIS 2021. But all his squad could manage was a paltry seventh place. 
He then joined Enigma Gaming, where he constantly outperformed everyone in a number of BGMI competitions.
Enigma won the VE Winter Masters 2022 and earned a spot in the Skyesports Pro League by taking first place. Before the game was banned last year, the team placed third in both the BGMI Showdown and the BMPS Season 1 competitions. On May 29, Krafton revived the game, but EvoO opted not to participate this time.
Even though Mohamed EvoO Shahil's BGMI journey has come to a close, he will still be remembered in the eSports community as one of the best players in the country.
Also Read: PUBG Mobile C5S14 Details, Rewards, Date