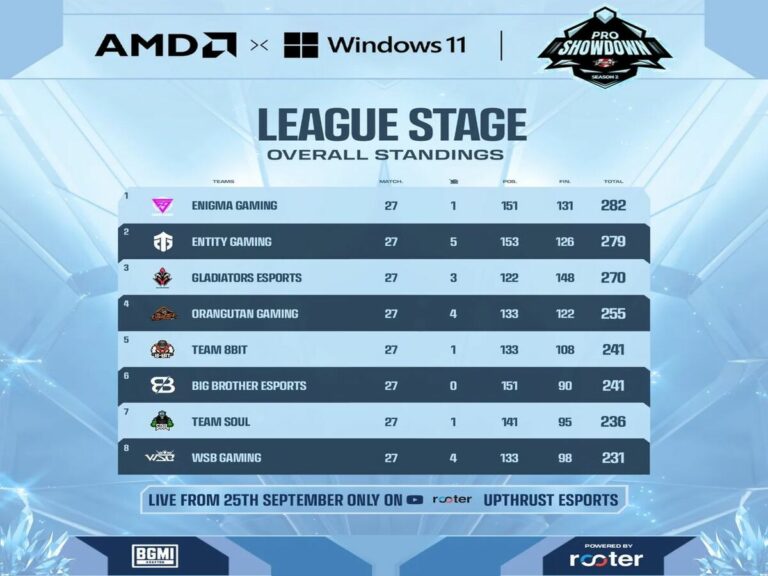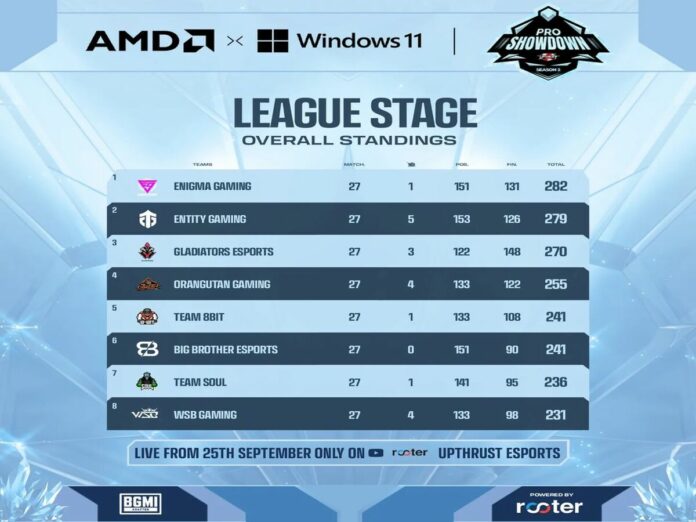 On September 20, the Upthrust BGMI Pro Showdown Season 2 League Stage came to a thrilling conclusion, with the top 16 teams moving on to the Grand Finals.
32 invited teams competed in this eagerly awaited tournament with a prize pool of 12.5 lakh across nine nail-biting match days in an effort to earn one of the 16 spots in the Grand Finals.
Enigma Gaming, who didn't even rank in the top 10 until the sixth day of this BGMI competition, showed incredible growth during the last three days, winning first place.
Out of the 27 games they played, they only managed to win one chicken dinner, but they persevered and played well enough to rack up an incredible 282 points.
BGMI Pro Showdown Grand Finals Qualified Teams
The following teams have qualified for the Grand Finals of the BGMI Pro Showdown:
Enigma Gaming
Entity Gaming
Gladiators Esports
Orangutan Esports
Team 8Bit
Big Brother Esports
Team Soul
WSB Gaming
Team Insane
Gujrat Tigers
Revenant Esports
Reckoning Esports
Blind Official
GodLike Esports
OR Esports
Gods Reign
Entity Gaming engaged in good League Stage competition. With a final score of 279 points, their steady performance allowed them to claim second place.
Gladiators Esports, renowned for their intense playstyle, followed closely after, defeating the most opponents while earning an incredible 148 frag points and 270 total points.
With a final score of 255 points, Orangutan Gaming earned the fourth place by playing consistently well.
Prize pool distribution
The prize pool for the first round of this BGMI event was ₹5 lakh, and the following is a breakdown of how it was distributed:
1st Place – ₹2 lakh- Enigma Gaming
2nd Place – ₹1.5 lakh- Entity Gaming
3rd Place – ₹1 lakh- Gladiators Esports
MVP – ₹50,000- Gladiators DeltaPG
With an incredible 51 eliminations throughout 27 rounds, Gladiators player DeltaPG stood out as the top fragger.
Justin was right behind him with 48 frags. Team Insane Skippz, a BGMI superstar, came in third on the fraggers list with an astounding 44 eliminations under his belt.
Also Read: Free Fire Guild Battle Event Details, Free Rewards