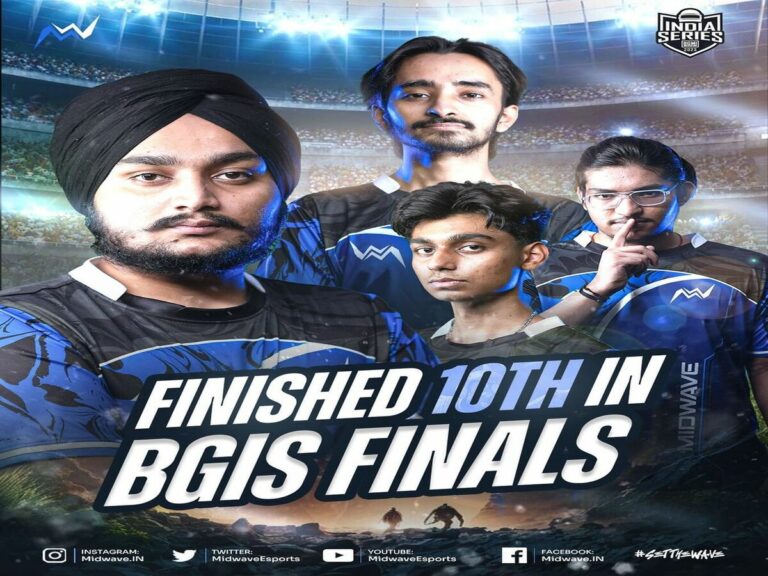 Many roster changes are in progress due to the BGMI esports circuit's forthcoming tournaments. Players and groups are experimenting with different lineups in anticipation of the Battlegrounds Mobile India Pro Series.
Recently, Midwave Esports announced that they were no longer working with their BGMI roster.
Only a few months prior, in August, the group had signed this roster, but their performance was only average. Prior to the Battlegrounds Mobile India Pro Series 2023, the group said goodbye to the team.
Midwave Esports' BGMI Roster
Midwave Esports made the announcement on Instagram, posting the following:
"Grateful for the incredible journey with you. From epic victories to unforgettable moments, thank you to my teammates for the memories. Time to level up on new adventures. stay on for further updates"
The four participants that were connected to the group are as follows:
Attanki (Randeep Singh Bhullar)
Aaru (Aaru)
Dinoysys (Jatin Chauhan)
Wixxky (Deepanshu Yadav)
In their short time, the team failed to win any big, important games. Their most noteworthy accomplishment was placing second in the Upthrust Esports Survivors Throne Season 4 competition.
The roster gave a fantastic showing in the BGIS 2023's first stages. They advanced to the final of this esteemed official tournament, where, despite putting up a mediocre display, the club finished 10th overall in the rankings.
Midwave struggled to establish themselves in the Skysports Championship 5.0 and was unable to go all the way to the championship match. Additionally, they finished seventh in the just finished Diwali Battle 2023.
Aaru, Attanki, and Wixxky were with WSB Gaming for around two months until they joined Midwave. Both Aaru and Attanki had lengthy and fruitful careers with OR Esports.
Both sportsmen have participated in several important contests. Aaru, Aatanki, Dinosys, and Snax, a well-known BGMI player and YouTuber, announced on November 17 that they will be participating as a team in the forthcoming BMPS 2023, an official event.
The players' next efforts in the professional arena will take on an intriguing new angle as a result of this abrupt development.
The team commanded by Aaru will now concentrate on placing on the podium in the next Battlegrounds Mobile India Pro Series 2023.
It's yet uncertain if Midwave Official will decide to pursue other options in the constantly changing esports scene or stick with their current lineup in BGMI.
Also Read: PUBG Mobile Snow Rail Selfie Challenge Details, Rewards