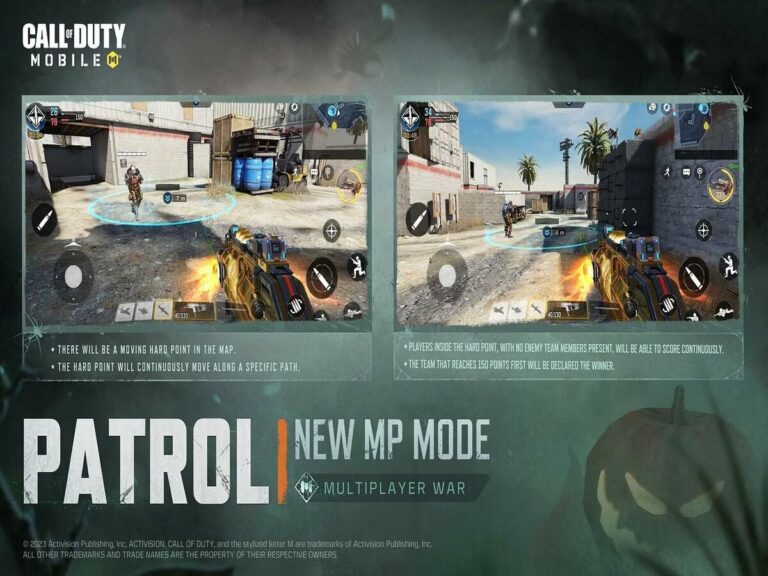 COD Mobile, is getting ready to celebrate Halloween with its forthcoming October release. Graveyard Shift, the ninth season, which will include a new SMG, various weapon designs, and a perk, officially launches today.
Undead Siege will return in Graveyard Shift along with the brand-new multiplayer Patrol Mode.
New guidelines, maps, and props will be added to the Prop Hunt mode. Operators may earn prizes, such as the HS0405's distinctive attachment, by taking part in a variety of themed events and completing season tasks.
COD: Mobile Season 9 Graveyard Shift Release date
On October 4, 2023, at 5 PM PT, COD Mobile Season 9 – Graveyard Shift will be made available. When it debuts, users may download the updated version from the Google Play Store and App Store.
The multiplayer maps Standoff and Hacienda will be transformed into spooky settings in Season 9, complete with hanging bats, ghosts, and Jack-o-lanterns.
Patrol Mode
The Patrol mode will make its debut in the mobile adaptation of the Call of Duty series. It was first featured in Vanguard.
The Patrol Zone will be present in this most recent multiplayer mode and will wander across the map until it is challenged. The side with the most Operators will get points by remaining in the zone.
New rules, locations, props, and dynamics will be added to the Prop Hunt mode, changing how people and prop interact in each round.
Players must be on the lookout for objects that are masquerading as humans and use a Heartbeat Sensor to find them.
Undead Siege
Season 9's Zombies mode will include Undead Siege in addition to Zombies Classic. They will include a balancing update, new challenges, classes, and prizes. New POIs and a new Camo reward will be available.
Graveyard Shift Battle Pass rewards
The CX-9 Submachine gun (SMG) and the new Launcher Plus Perk are two of the complimentary perks for purchasing the Graveyard Shift Battle Pass.
Players may acquire the former at Tier 14 and the latter at Tier 21. Growl, another QXR blueprint, becomes available at Tier 50.
Rewards for Premium Pass
Players may get several Operator skins and Weapon Blueprints with a Halloween theme by buying the Battle Pass. Details are as follows:
Operator Skins
Witch Doctor – Lethal Cure Demir and Lurking Dead
Portnova – Funny Bone
Misty – In the Spirit
Weapon Blueprints
CR-56 AMAX – Final Testament
Chopper – The Great Beyond
M4 – Nocturne Mortis
Kilo Bolt-Action – Rex Mortem
CX-9 – Deathly Light
Joining Ground Forces and purchasing the Graveyard Shift Battle Pass provide Woods and Oden access to the Operator Skin Jester, Dark Threshold Weapon Blueprint, and Dark Threshold Backpack.
Also Read: Warzone 2 and Modern Warfare 2 Tracer Pack: Grim Tidings Details, Price, Release Date