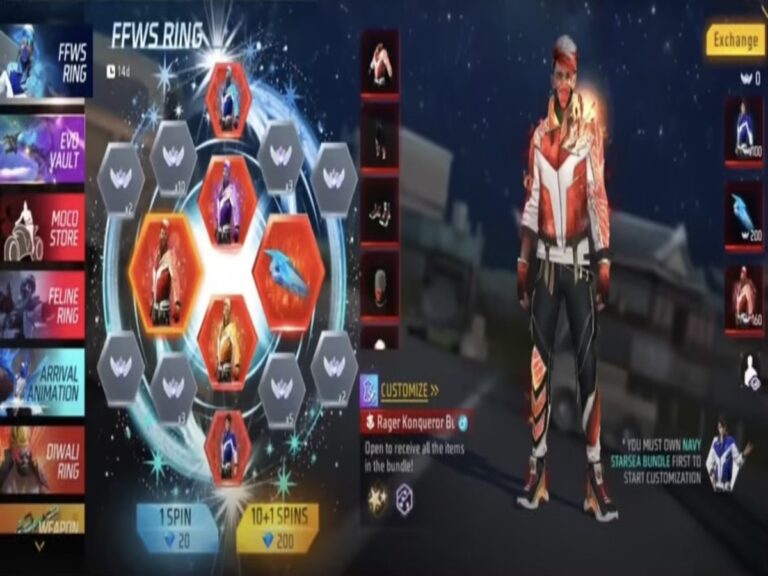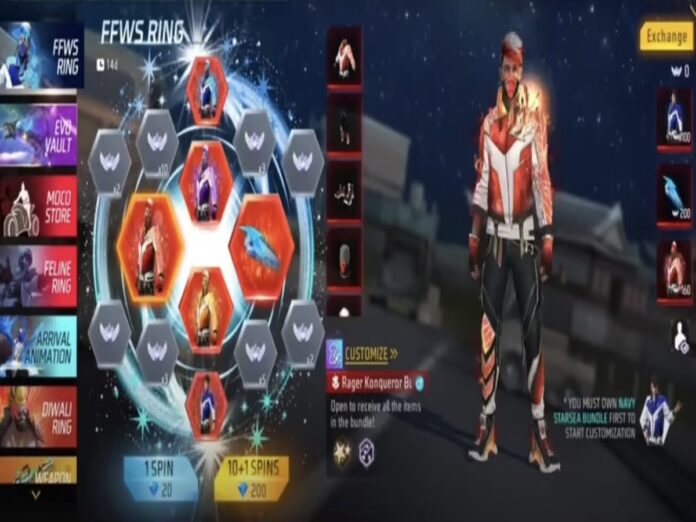 The popular battle royale game Free Fire presents the thrilling FFWS Ring event, which offers players access to a variety of high-end items as rewards.
The highly sought-after Dune Konqueror bundle is included in this most recent Luck Royale, along with other valuable items like the Navy Starsea bundle and more.
Diamonds can be used as spins to participate in this event, which offers a variety of rewards. It takes place across almost two weeks, so fans have plenty of time to participate and do well.
Free Fire FFWS Ring Event
Launched solely on the Free Fire MAX Indian server, the FFWS (Free Fire World Series) Ring event was brought in on November 17 and will continue through November 30. 
With two different ways to spin, players can use 20 diamonds for a single spin or 200 diamonds for 11 spins.
Prizes are selected at random from a large prize pool that includes a number of highly sought-after items:
Dune Konqueror Bundle
Galaxy Konqueror Bundle
Navy Starsea bundle
Rage Konqueror bundle
Mauve Konqueror Bundle
Drachen fist
Idol tokens in varying quantities
The most often obtained object after spins is usually the ring tokens, which are essential for exchanging desired things.
Players may access a variety of things that are available for trade by navigating to the 'exchange' icon inside the FFWS ring event interface:
Drachen fist: 200 tokens
Rage Konqueror Bundle: 160 tokens
Mauve Konqueror Bundle: 160 tokens
Dune Konqueror Bundle: 160 tokens
Navy Starsea bundle: 100 tokens
Galaxy Konqueror Bundle: 100 tokens
FFWS Iceblue avatar/banner
Name change card, Room card
Magic cube fragments, Weapon loot crates
How to participate in the event
To participate in the FFWS Ring event and retrieve your rewards from Free Fire MAX, simply follow these steps:
Press Start on Free Fire MAX, then find the "Luck Royale" icon on the left.
From the alternatives shown, pick the alluring FFWS Ring event.
Start spins with diamonds and use the universal tokens to your advantage to get the things you want.
Also Read: Free Fire World Series (FFWS) 2023 Knockout Results, Teams Qualified For Grand Finals