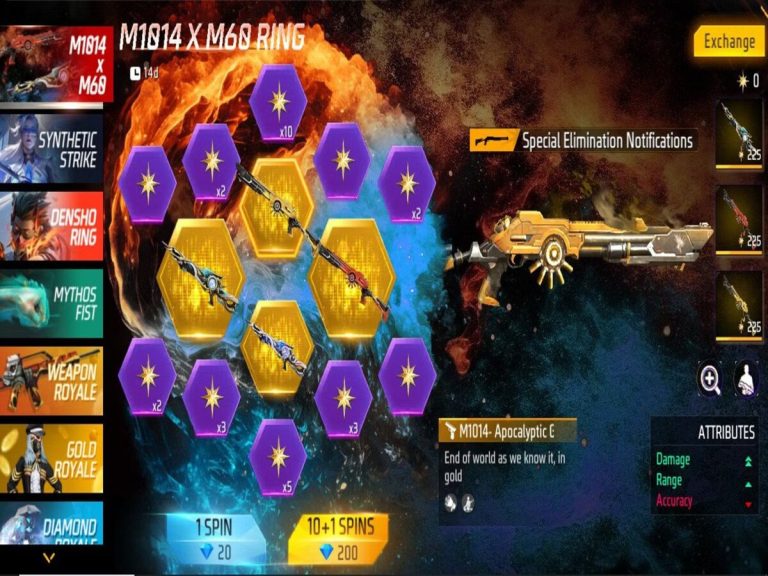 Garena has recently introduced a number of Ring-themed events, with M1014 x M60 being the most recent addition.
Apart from exclusive gun skins, players can trade previously amassed Universal Ring Tokens for things like Name Change Cards and weapon skins.
On August 4, 2023, the new M1014 x M60 Ring was added to Free Fire MAX. It will run for a week before coming to an end on August 17, 2023.
To get the desired gun skin, you may either use diamonds to generate spins or gather enough Universal Ring Tokens for the exchange.
In case of the exchange, even the tokens that have already been gathered will be used.
A single spin will cost 20 diamonds, while a pack of 200 diamonds may be purchased for 200 diamonds.
Free Fire MAX M1014 x M60 Ring Prize Pool
Diamonds may be used to purchase prizes from the following prize pool in the new Free Fire MAX event:
M60 – Azure Stormbringer
M60 – Frost Sabertooth
M1014 – Apocalyptic Red
M1014 – Apocalyptic Gold
Universal Ring Token
2x Universal Ring Tokens
3x Universal Ring Tokens
5x Universal Ring Tokens
10x Universal Ring Tokens
Additional rewards apart from the prize pool are offered in the Luck Royale's exchange section . The following are some of the choices that are offered in the section:
M60 Azure Stormbringer – 225 Universal Tokens
M1014 Apocalyptic Red – 225 Universal Tokens
M1014 Apocalyptic Gold – 225 Universal Tokens
M60 Frost Sabertooth – 200 Universal Tokens
M60 Volcanic Whirlwind – 200 Universal Tokens
M1014 Apocalyptic Green – 200 Universal Token
M60 Shadow Earthshaker – 175 Universal Tokens
M1014 Apocalyptic Dark – 175 Universal Tokens
Name Change Card – 40 Universal Tokens
Room Card (1 Match) – 15 Universal Tokens
Cube Fragment – 5 Universal Tokens
Enflamed Terror (MAC10 + Kingfisher) Weapon Loot Crate – 4 Universal Tokens
Shadow Rogue (MAG-7 + Kingfisher) Weapon Loot Crate – 4 Universal Tokens
Frenzy Bunny (Charge Buster + Mini Uzi) Weapon Loot Crate – 4 Universal Tokens
Time Travellers Weapon Loot Crate – 4 Universal Tokens.
You are free to use as many rewards as you like.
How to obtain the gun skins
In Free Fire MAX, you may use the instructions below to gather the beautiful M1014 and M60 gun skins:
First, go to your account's Luck Royale area and choose the M1014 x M60 tab at the top of the list.
You may purchase spins with diamonds. A single spin costs twenty diamonds, whereas a 10+1 spin costs 200.
Keep going until you either have the required gun skin or have gathered enough Universal Ring Tokens.You may click the exchange tab in the upper right corner of the screen.
Click the exchange button after choosing the gun skin that you want. To obtain the item in your account, confirm your choice.
Also Read: PUBG Mobile: How To Get New Marmoris X Suit