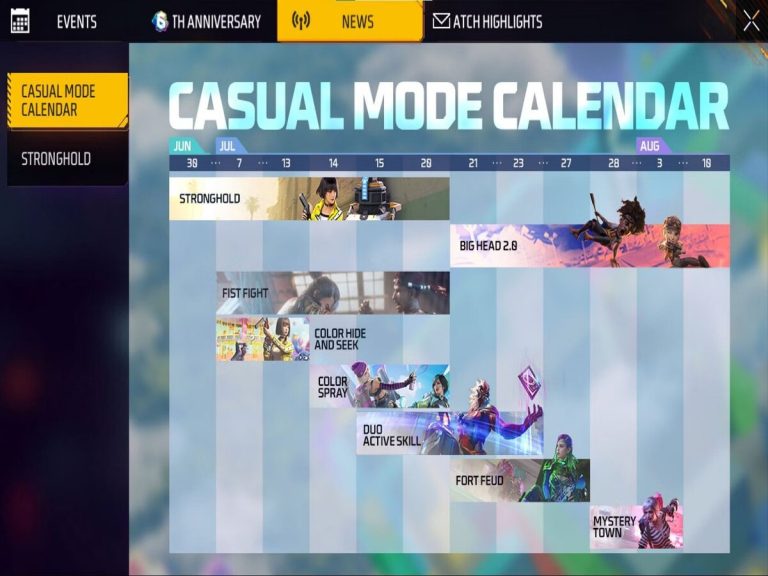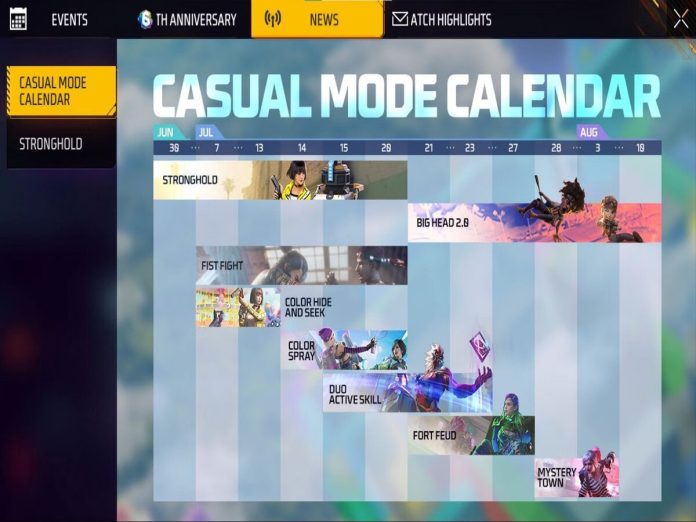 To improve the overall player experience and avoid boredom in the standard Battle Royale and Clash Squad modes, Free Fire MAX's creator, Garena, often adds new game types.
The casual mode calendar for July and August was been released by the creators, giving gamers a preview of these modes.
The Free Fire MAX Casual Mode calendar for July and August has been made available by Garena in the Free Fire MAX news area. 
The precise modes that will be accessible up to August are listed in this complete schedule. You can find all the details here.
Free Fire MAX Casual Modes July & August
The forthcoming modes and their timetables are shown below:
Stronghold (June 30 – July 20)
Big Head 2.0 (July 21 – August 10)
Fist Fight (July 7 – July 20)
Color Hide and Seek (July 7 – July 13)
Color Spray (July 14 – July 20)
Duo Active Skill (July 15 – July 23)
Fort Feud (July 21 – July 27)
Mystery Town (July 28 – August 3)
How to Play the New Game Modes
Follow these instructions to get access to the recently launched game modes on the Free Fire MAX Indian server:
Go to the mode selection menu after logging into your Free Fire MAX account. Selecting the option located above the Start button will enable you to achieve this.
A list of the game modes that are accessible will be shown. By selecting the matching tile, you may choose the mode you want to use.
In order to start the chosen game mode, click the start button.
Players have the opportunity to win interesting rewards by engaging in the most recent Stronghold mode.
Players may get a Gold Royale Voucher, a Weapon Royale Voucher, a gun crate, and a Random Loadout Loot Crate by investing only 30 minutes in this mode.
This will thus be a rewarding experience for Free Fire MAX players.
Also Read: Minecraft Guide To Find Ancient City