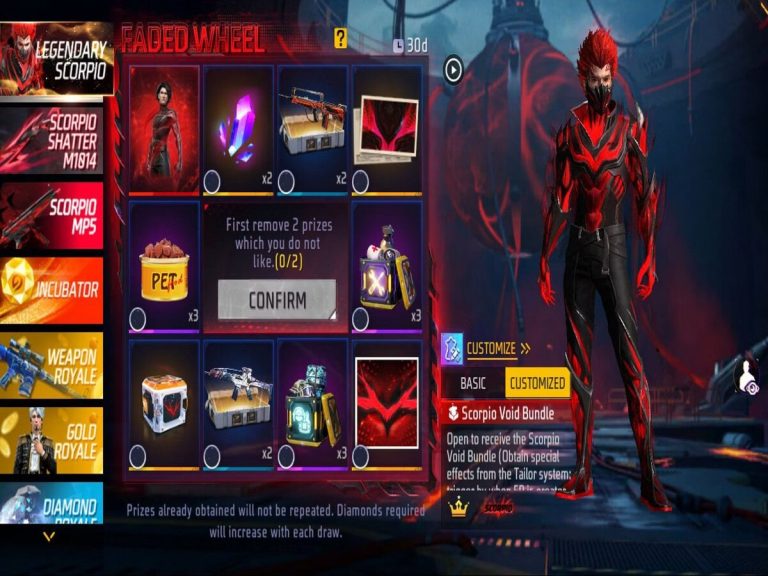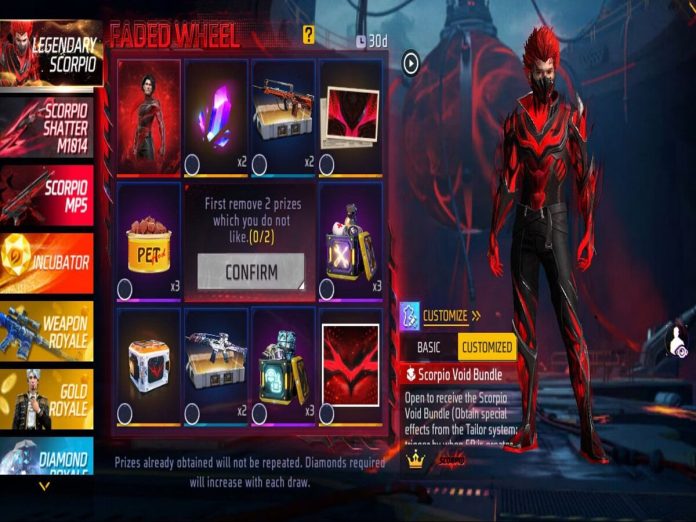 Free Fire MAX's Project Crimson provides a variety of rare items with a Scorpio theme. The game's most recent addition, the Scorpio Void Bundle, is now accessible via the Faded Wheel. 
The particular event will last for 30 days and provide the special outfit in addition to numerous other benefits.
Players may further customise the Scorpio Void Bundle to create a number of unique variations.
Beginning on May 19th, 2023, and running until June 17th, 2023, the new Faded Wheel will be accessible in Free Fire MAX for players. 
Free Fire MAX Faded Wheel Prize Pool
Players may use diamonds to draw things from the prize pool throughout the event in order to finally win the Scorpio Void Bundle.
Players can be sure to acquire the special outfit in eight spins since the gifts they earn become greyed out. The prize pool that the Faded Wheel has is detailed below:
Scorpio Void Bundle
2x Magic Cube Fragments
2x Warrior's Spirit Weapon Loot Crate
Scorpio Banner
3x Supply Crate
Scorpio Avatar
3x Armor Crate
2x Deadly Bat Weapon Loot Crate
Scorpio Token Box
Pet Food
Before beginning to make spins, players may take two things they do not want out of the prize pool.
The first spin will cost nine diamonds, and the next seven will cost 19, 39, 69, 99, 149, 199, and 499, respectively.
As a consequence, the total cost of all the potential items would be 1082 diamonds.
How to access the rewards
To access the Faded Wheel event and get the unique Scorpio Void Bundle in Free Fire MAX, follow the instructions listed below:
Launch Free Fire MAX on your smartphone. Then, press the symbol on the screen's left side to get to the Luck Royale area.
From the available choices in the game, choose the "Legendary Scorpio" Faded Wheel.
Eliminate two of the prizes that are unnecessary. Start making the spins after removing the two unnecessary elements
You may then begin spinning the wheel in order to win the Scorpio Void Bundle.
To equip the rewards from the Free Fire MAX Faded Wheel, go to the "Vault" portion of the game after purchasing it. 
Also Read: BGMI Returns: When Is The BGMI Unban Date?