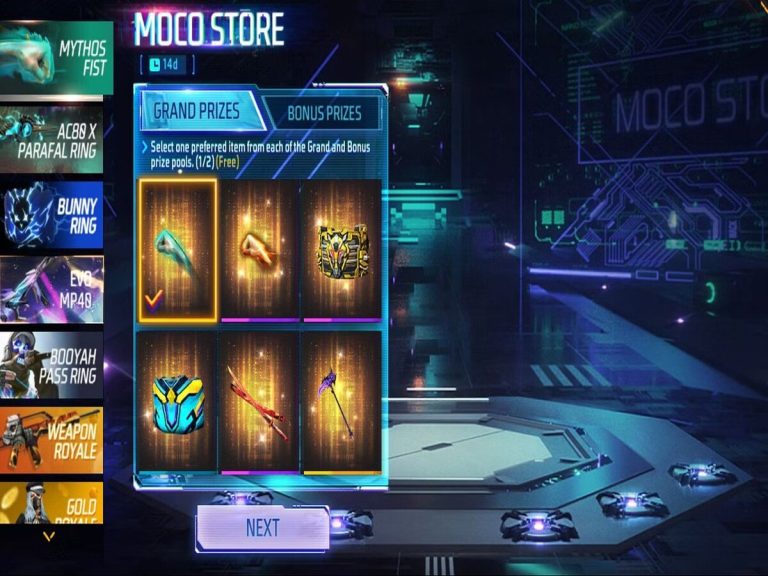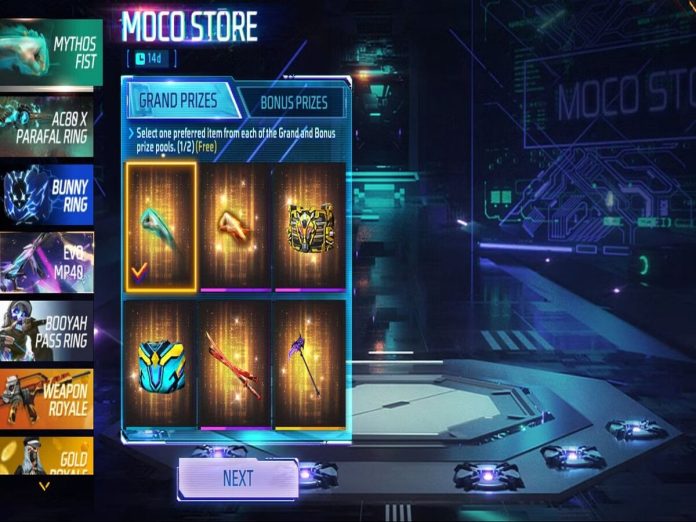 Free Fire MAX often includes New Luck Royales, and the most recent one is a new Moco Store. This newly added section offers the potential to win more items in addition to Mythos Fist, which is one of the grand prizes.
Because you need to use diamonds to generate spins in this Luck Royale, you have more influence over the items you want to get.
Additionally, you are guaranteed to win six items in the same amount of spins, making the proposition overall appealing.
Free Fire MAX Moco Store Rewards
On July 27, 2023, Free Fire MAX received a new Moco Store, which will be available until August 9, 2023, and will include Mythos Fist and other goodies. 
Despite the fact that all of the Grand and Bonus prize goods are exquisite, you can only choose one from each category.
The following choices are available in each section:
Grand Prizes
Mythos Fist
Flaming Fist
Gloo Wall – Death Guardian
Gloo Wall – Aqua Rogue
Katana – Whirlwind Blade
Night Scythe
Bonus Prizes
Rockie
Buried Purpledust Backpack
Warrior's Loot
Spider's Curse
Dreki
Spikey Spine Loot Crate
Since you cannot make adjustments afterwards, you must choose each section's items carefully. You must then make spins from a different reward pool in order to win the desired item.
The following are some of the things you may find in the following section:
2x Cube Fragment
2x Warrior's Spirit Weapon Loot Crate
Weapon Royale Voucher (Expiry date: August 31, 2023)
Gold Royale Voucher (Expiry date: August 31, 2023)
2 previously selected items
Here are the prices of the spins for the rewards:
1st spin – 9 diamonds
2nd spin – 19 diamonds
3rd spin – 49 diamonds
4th spin – 99 diamonds
5th spin – 199 diamonds
6th spin – 499 diamonds
How to get rewards in the new Moco Store in Free Fire MAX
To get cosmetics from the recently launched Moco Store in Free Fire MAX, just follow these steps:
Navigate to the Luck Royale area and choose the Moco Store option.
Choose a prize from the Grand Prize and Bonus Prize categories. Then, confirm that you have chosen your prizes.
It is crucial to emphasize that you cannot alter your choice, so proceed carefully throughout the procedure.
You may now use diamonds to perform spins and collect prizes from a different prize pool.
You will need to pay nine diamonds for the initial spin, and the cost will increase rapidly until it is 499 diamonds.
Also Read: Battlegrounds Mobile India Series (BGIS) Eligibility, Registration Link, And More