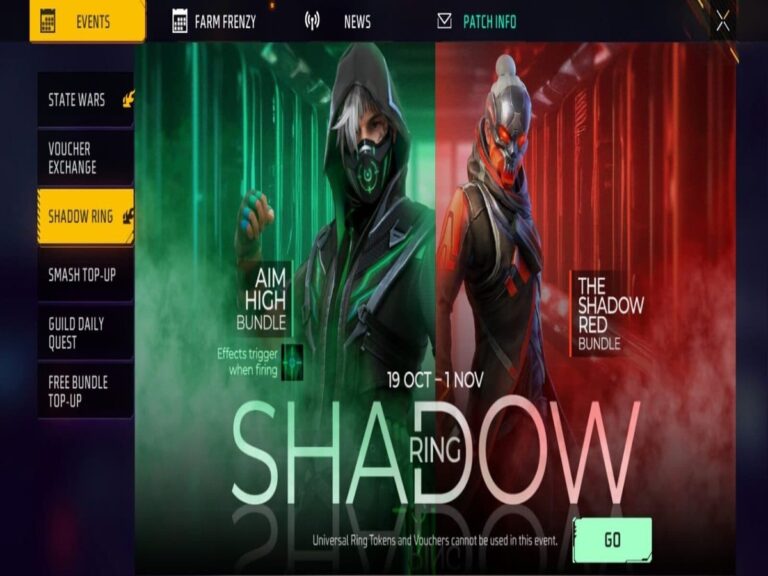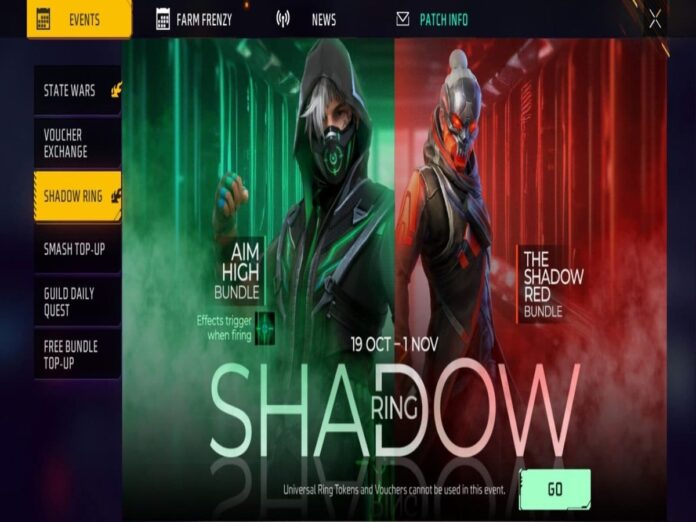 Players are invited to participate in Free Fire's newest ring event, called the "Shadow Ring," which runs from October 19 to November 1, 2023.
The Aim High Bundle, the Shadow Red Bundle, the Frosted Blue Bundle, and the Targeting Bullseye Bundle are the four main prizes that are highlighted throughout the event.
Throughout the event, players may acquire these special items and other minor rewards by using diamonds to pay for spins.
Free Fire Shadow Ring Event
The Free Fire Shadow Ring event's spin-to-win concept serves as its main working mechanism. A single spin costs 20 diamonds, or players may choose to purchase a bundle of 10+1 spins for 200 diamonds, which includes one extra spin as a bonus. 
Players are awarded one item every spin, chosen from a selection of 14 unique items shown on the event screen, which includes the much sought-after grand prizes.
Here are the rewards that may be acquired via spinning in this event:
Various quantities of Orb Tokens (x1, x2, x3, x5, x10)
Spot on Backpack
Spot on Loot Box
The Frosted Blue Bundle
Aim High Bundle
The Shadow Red Bundle
Targeting Bullseye Bundle
Orb Tokens, which may be gathered and redeemed for grand prizes and other goods, are a possible outcome of spinning.
For this reason, there is a 'Exchange' button located at the top right of the event screen. The objects and their corresponding Orb Token values are listed below:
The Shadow Red Bundle – 250 Orb Tokens
The Frosted Blue Bundle – 225 Orb Tokens
Aim High Bundle – 200 Orb Tokens
Targeting Bullseye Bundle – 200 Orb Tokens
And many more including weapon loot crates and name change cards.
You may get the Aim High and Shadow Red Bundles by trading in your earned Orb Tokens or by spinning the wheel.
It is best to get these bundles via spins in order to save Orb Tokens for the Free Fire Shadow Ring event, when you can use them to redeem additional valuable items.
Also Read: Minecraft Spookyfest Revealed: Check Details