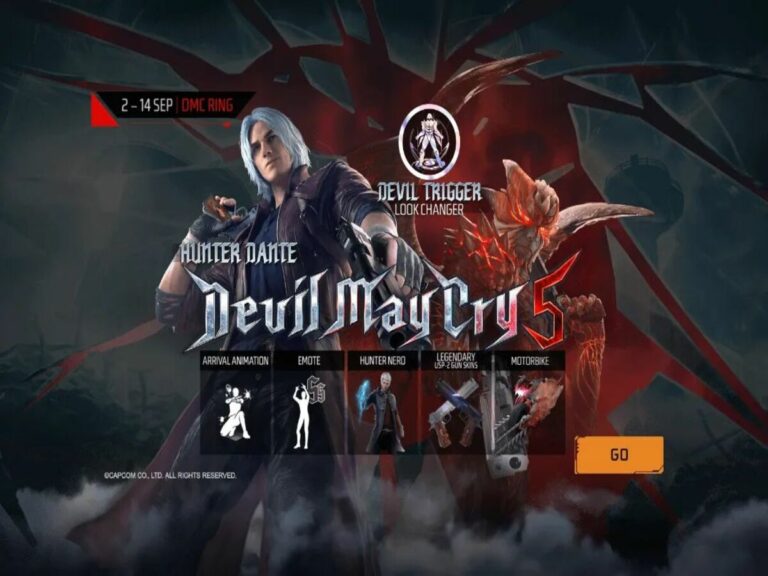 Free Fire constantly enters into exciting collaborations, each one unique in its own accord. These collaborations keep the game interesting and give the fans something to look forward to. 
Free Fire x Devil May Cry was a collaboration brought in earlier in the game. It added several themed items to the battle royale game. 
Data miner @venom.ofc_ has reported that Devil May Cry Ring is scheduled to return to the Free Fire game for around two weeks. It will provide players with various themed rewards. For those hoping to get Devil May Cry-related items, the event would be the ideal chance.
Free Fire x Devil May Cry Ring
Data miners @venom.ofc_ and others released the leak, which announced the start of the Free Fire x Devil May Cry Ring event, on Instagram. The event is anticipated to take place between September 2 and September 14.
The leak claims that the servers in India, Bangladesh, Singapore, Europe, and the CIS would include Devil May Cry Ring.
An Arrival Animation, Emote, Hunter Nero outfit, Legendary USP Gun Skins, Motorbike, and other items are supposedly among the rewards.
Players must spend diamonds on spins. This is just as in all previous Ring-themed events. Players must do this in order to win rewards from the prize pool, which almost certainly includes Tokens. They may swap the Tokens for the desired reward if they do not get it.
Keep in mind that Garena has not officially confirmed the Devil May Cry Ring event. However, it is fair to anticipate that this leak will turn out to be accurate given the reliability of @venom.ofc_'s earlier claims.
The MAC10 x AUG Ring event, which offers several gun skins for the two rifles, is now active in Free Fire.
Players may use in-game currency to purchase the skins for the two guns during the event, which lasts until September 11, 2023.
Also Read: BGIS 2023 Round 1 Matches Postponed: Find Out Why