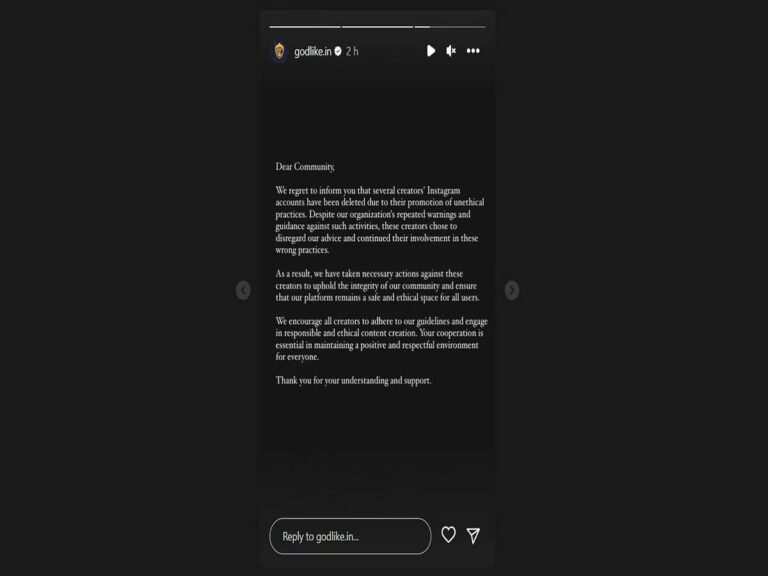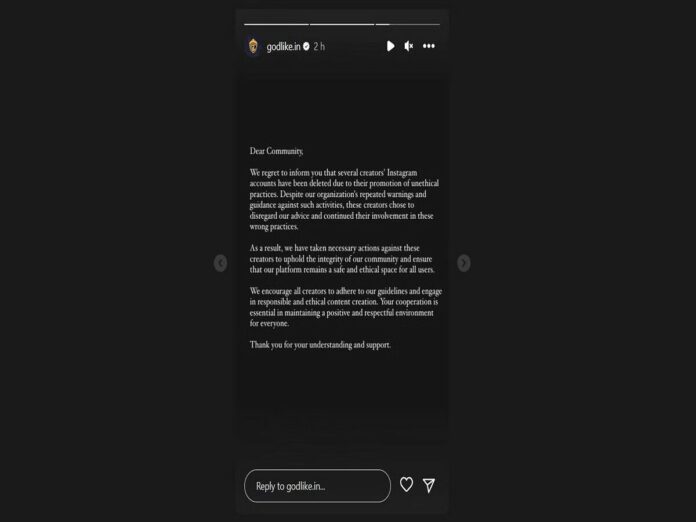 The GodLike Esports administration has chosen to suspend the Instagram accounts of well-known players including Zgod, Neyoo, and Spower, according to a story posted earlier today on their official Instagram account.
The incident has already generated a lot of buzz since it demonstrates how the organization dealt harshly with athletes who broke its rules.
A few hours ago, when they discovered that prominent players like Zgod, Neyoo, and Spower's Instagram accounts had been banned, GodLike Esports fans in India caused a stir.
Although the cause for the accounts' suspension remained unclear, GodLike's response on their official Instagram handle put everything in the clear.
GodLike Esports On The Suspension
According to GodLike Esports, they had to make the tough choice to suspend the prominent BGMI players' Instagram accounts since they violated the organization's rules. The story said:
"We regret to inform you that several creators' Instagram accounts have been deleted due to their promotion of unethical practices. Despite our organization's repeated warnings and guidance against such activities, these creators chose to disregard our advice and continued their involvement in these wrong practices."
"As a result, we have taken necessary actions against these creators to uphold the integrity of our community and ensure that our platform remains a safe and ethical space for all users."
They further encouraged all creators to adhere to their guidelines and "engage in responsible and ethical content creation," they added.
GodLike Esports made a request of its content producers via the story, saying that their collaboration "is essential in maintaining a positive and respectful environment for everyone."
Millions of people follow GodLike Esports on social media, making it one of the most well-known BGMI esports organizations in the nation.
Because of this, it is only natural that their harsh measures against the players' "promotion of unethical practises" have generated a lot of noise in the gaming industry.
Also Read: BGMI Veiled Princess And Windcrest Soul Sets Released: Check Details