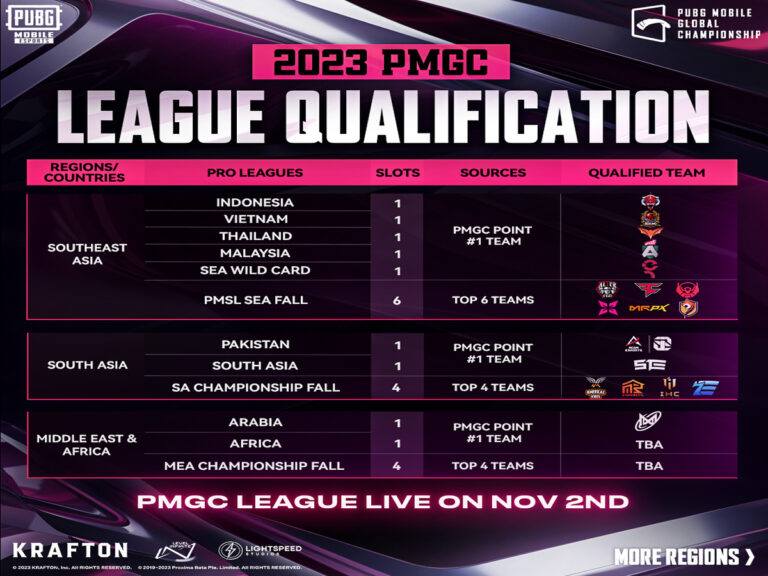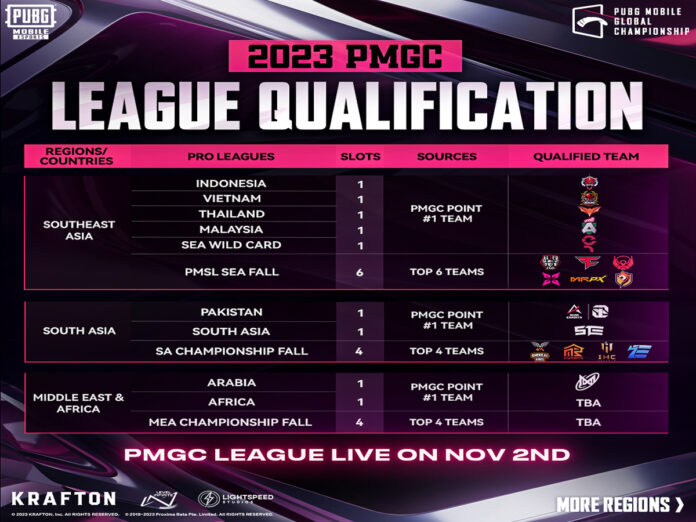 The PUBG Mobile Global Championship (PMGC) 2023 will start on November 2, 2023, according to a Tencent announcement.
There will be a total of 51 teams from across the world competing in the fourth edition of this prestigious event.
The League Stage and the Grand Finale are the two stages that the organisers will use to set up this event.
The overall prize pool for the PUBG Mobile Global Championship has not yet been made public.
48 teams will compete in the League Stage for the 13 spots in the second phase. A total of 16 teams, including three teams who were directly invited, will compete in the exciting Grand Finals.
PUBG Mobile Global Championship (PMGC) Teams
Certain regions have already finished the official PUBG Mobile fall season, which means that a number of teams have secured slots in the PMGC 2023. 
In the next weeks, the remaining openings will be verified.
By earning the maximum points in the PEL 2023, Titan Esports Club, commonly referred to as TEC, has advanced directly to the Grand Finals stage of PMGC 2023.
A special invitation to the championship round was extended to the Chinese team. The additional invite-based spots for the event have not yet received any information from Tencent.
Titan Esports Club (China) – Finals
Tianba (China)
Team Weibo (China)
Six Two Eight (China)
Hail Esports (Thailand)
Vampire Esports(Thailand)
Faze Clan (Thailand)
Xerxia Esports (Thailand)
Yoodo Alliance (Malaysia)
SEM9 (Malaysia)
Persija Evos (Indonesia)
Alter Ego (Indonesia)
Bigetron Red Villains (Indonesia)
Morph GPX (Indonesia)
D'Xavier (Vietnam)
Genesis Esports (Myanmar)
Stalwart Esports (Mongolia)
NB Esports (Mongolia)
IHC Esports (Mongolia)
4Merical Vibes (Mongolia)
AgonXi8 (Pakistan)
Seventh Element (Pakistan)
Duksan Esports (South Korea)
Dplus (South Korea)
Nigma Galaxy (Arabia)
For the PMGC 2023, a total of 25 teams have been announced. The other 26 teams will be chosen through their regional competitions.
The team Nova Esports, who won the championship in the first and second iterations of the international competition, was not selected this year.
The 2022 runner-up, DRS Gaming, struggled as well and was unable to qualify for the main tournament.
Also Read: Free Fire State Wars Event Full Guide