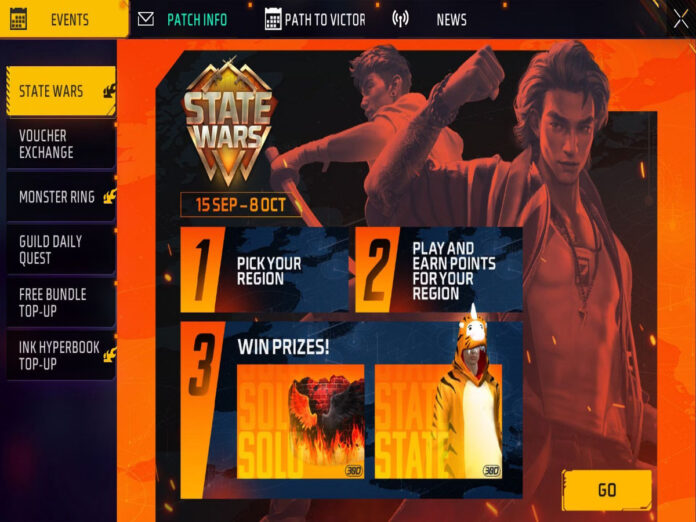 With the reintroduction of State Wars to Free Fire, players may now get their hands on a number of exciting rewards.
It encourages participants to select a state before starting to accumulate points to assure the success of both their selection and themselves.
Players will get rewards based on their individual and state performance after the tournament.
On September 15, 2023, the State Wars event began in Free Fire and will run a few weeks, finishing on October 8, 2023.
Free Fire State Wars
In the Free Fire State Wars event, players may begin by picking their favourite state before participating in Battle Royale and Clash Squad battles to begin collecting points.
The information on how points may be earned throughout the event are as follows:
Eliminations/Kills in CS and BR modes: 1 point
Booyah in CS mode: 2 points
Top 3 in BR mode: 3 points
Booyah in BR mode: 3 points (Additional 3 points from the Top 3 in BR)
To qualify for the rewards, you must gradually advance up the leaderboards. The state's development may not totally depend on individual outcomes.
However, your ranking is solely determined by the total amount of points you earn during the duration of the event.
The following are the rewards for this event:
Solo
Finish in the Top 1%: Torn Angel Gloo Wall skin
Finish in the Top 10%: 1x Luck Royale Voucher
Finish in the Top 50%: 1x Gold Royale Voucher
Others: Game Streamer Weapon Loot Crate
State
Top State: Dino Suit (30 days)
Top 5 States: Phantom Weapon Loot Crate
Top 10 States: Booyah Weapon Loot Crate
Others: Random Loadout Loot Crate
As a result, players ought to work hard throughout the whole event to receive greater State Wars rewards.
How to participate in the State Wars event
The procedure to access the State Wars event in Free Fire is as follows:
Launch Free Fire and go to the "Events" area.
After choosing the State Wars event, press the Go button. You will be sent to the event's interface as a result.
After the event loads on the screen, choose the required state or union territory. You should carefully select this since you cannot alter your mind afterwards.
Accumulate points to qualify for the rewards.
This is not only a good way to get some wonderful rewards, but is also fun to take part in.
Also Read: Minecraft Live 2023: Mob Vote Date And Time