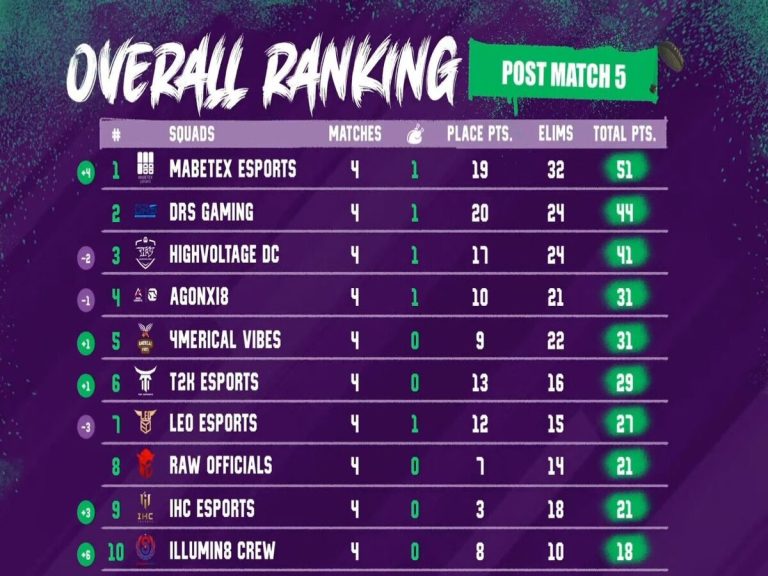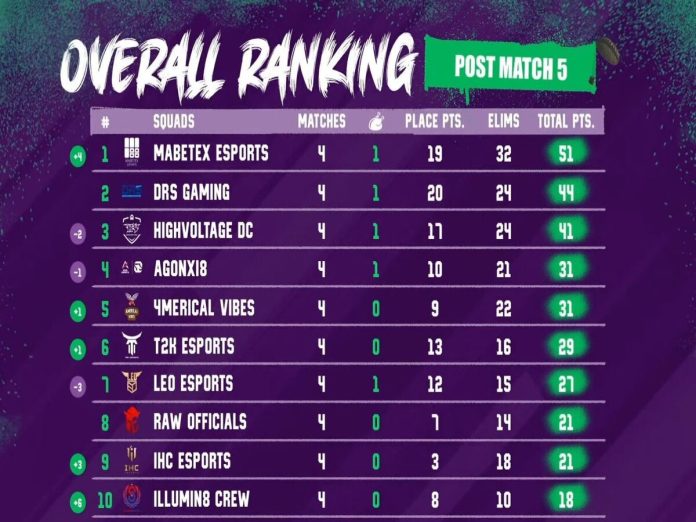 Day 1 of the PMPL South Asia Championship 2023 has come to a close after a thrilling start. Mabetex Esports kicked off Day 1 with an impressive display.
Leo and Wally led their squad with 51 points on Day 1 thanks to their outstanding performance. DRS Gaming and High Voltage, who both put up steady efforts, finished second and third, with 44 and 41 points, respectively.
AgonXi8 scored 31 points overall on Day 1, while 4Mercial was just behind them in fifth position with the same total.
The PMPL SA champion team, Stalwart Esports put up a dismal performance and only picked up 18 points.
NB Esports and 3X Esports underperformed and finished in positions 19 and 20, respectively.
The first leg of this competition has a total of 15 games remaining and will conclude on May 7.
From May 11 to May 14, the 16 top teams, as selected by the overall scoreboard of the PUBG Mobile: PMPL South Asia Championship 2023 Spring Day 1, will compete in the Grand Finals.
PMPL South Asia Championship 2023 Spring Day 1 Overall Rankings
Mabetex Esports
DRS Gaming
Highvoltage DC
AgonXi8
4Mercial Vibes
Match Highlights
AgonXi8, the defending champions from Pakistan, won the first game with nine kills on Erangel.
In contrast to 4Mercial Vibes, who only had nine eliminations and were unable to add any position points to their total, KLAW carried Raw Officials, enabling them to win 12 points.
In the second game, DRS Gaming was able to win by a score of 20 points with seven kills by KillerYT.
This assisted them in gaining pace early on in the competition. Mabetex Esports and IHC earned 14 and 13 points, respectively. 
High Voltage thoroughly dominated the third game and won with an astounding 16 kills.
With 12 points each, Mabetex and DRS Gaming put on an exhilarating exhibition of gameplay.
When LEO Esports destroyed T2K in the eighth zone on Sanhok in Match 4 of the PMPL South Asia Championship 2023 Spring Day 1, they secured their first victory.
East's five eliminations let 4Mercial Vibes get 13 points. I8 and Stalwart each scored seven and six frags, however neither side was successful in obtaining a position point.
With 24 points, Mabetex Esports emerged as the winner in the fifth match. Despite having flawless starts, DRS Gaming and IHC were eliminated from the PMPL Championship after the fifth game with six kills each.
Also Read: Minecraft Championship 31 Details Revealed: All You Need To Know