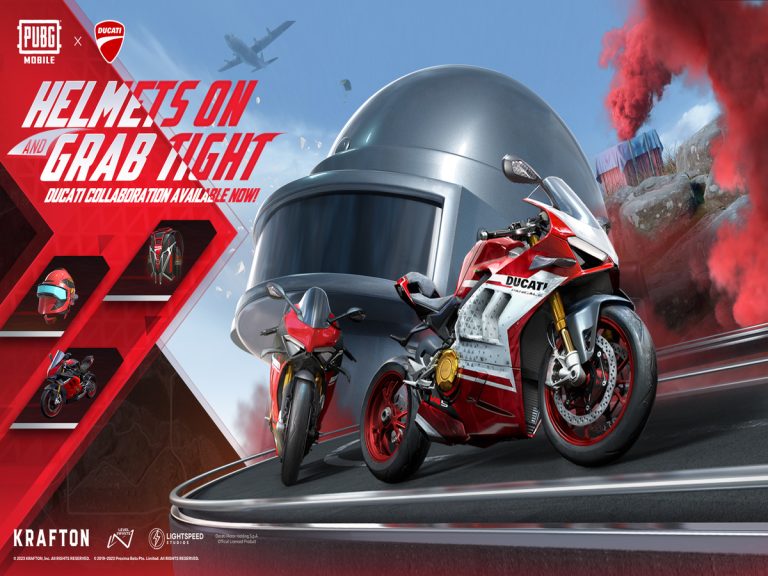 Following the May 17 release of the PUBG Mobile 2.6 update a slew of new features have been brought into the game.
Even though the most recent version has many new features, Tencent Games has now formally stated that the game will also be working with motorcycle industry titan Ducati.
Vincent Wang, the head of PUBG Mobile, commented on the collaboration by saying:
"We're very excited to bring Ducati's Panigale V4 S and Ducati-themed gear into PUBG MOBILE for players to enjoy."
"Ducati's commitment to excellence aligns perfectly with PUBG MOBILE's. Their vehicles' unmistakable Italian design, combined with their sleek elegance and sheer power, will make players feel fantastic," he added.
Players will now have the opportunity to pick the Ducati V4 S to travel in the game thanks to the collaboration between Ducati and PUBG.
Ducati enters the PUBG Mobile world
To access the Ducati V4 S, players must upgrade the game to the most recent 2.6 version.
Three colors—Traditional Red, Black Phantom, and Crimson Storm—will be available for the bike.
Players may also don authentic Ducati riding gear. This includes anything from a Crimson Storm Helmet to Ducati Sport C2 pants.
Players can also find a jacket, Ducati Corse C2 boots, a Ducati hoodie and a Swift Mirage bag.
Players will undoubtedly benefit from this in order to get the classic Ducatisti appearance.
For those gamers who are also motorbike aficionados, this endeavour between the two businesses will undoubtedly enhance enthusiasm among players and should make the whole experience much more fun.
Alessandro Cicognani, Head of Licencing, Merchandising and Corporate Sponsorship at Ducati, stated, "We can't wait for PUBG MOBILE players to experience the Ducati Panigale V4 S in all its beauty."
He also said, "Giving players the chance to experience the ultimate supersport bike inside their favourite game is something we were delighted to collaborate with the PUBG MOBILE team on. We hope the Panigale will have a lasting impact on players."
The reception from the PUBG Mobile community for the collaboration with Ducati has already been very impressive.
Also Read: Modern Warfare 2 And Warzone 2 CDL Major V Twitch Viewership Rewards Details & Guide