Navdeep Saini, the Indian pacer was Rishabh Pant's partner when the latter scored the winning runs for Team India in Brisbane. The former was struggling with a strain in his groin and was not in a condition to bat or run. But, Saini went to bat in order to help Team India register a historic win at Australia's fortress. The Indian pacer has now revealed the chat with Rishabh Pant when he took the crease.
Rishabh Pant's exceptional batting display on Day-5 was quite brilliant. It was his effort due to which Team India could excel to a win in Brisbane. On the final day, visitors were tipped to chase a mammoth total of more than 338 runs. And, Team India required a miracle to pull off an incredible win.
Also Read: Done Enough To Say I Am The Best Spinner, Says R Ashwin
Navdeep Saini Revealed The Chat With Rishabh Pant While Batting In Brisbane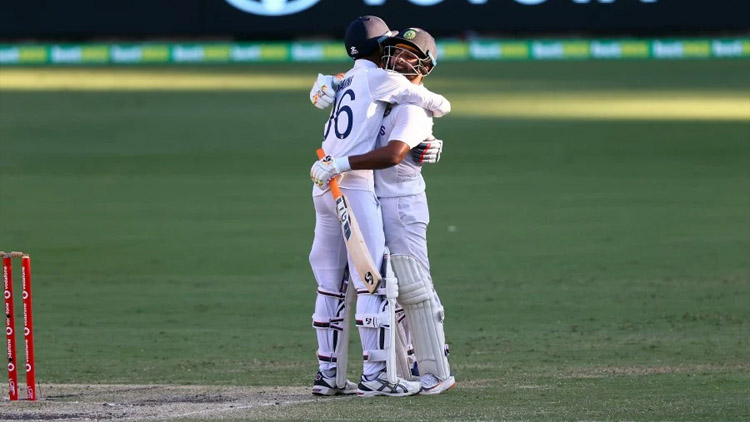 Interestingly, the same happened and Rishabh Pant, who was mocked for his poor batting before the Test series, took responsibility on his shoulder and played a scintillating knock. He scored unbeaten 89 runs that helped Team India in creating history.
In a recent interview, Navdeep Saini, who went to bat in crucial moments, revealed what Rishabh Pant said when he took the crease. The Indian pacer asserted that it was the first time that he was batting alongside Rishabh Pant. He opined that the southpaw made him comfortable and said just run for runs nothing more.
"It was the first time that I was batting alongside Rishabh. It was so much fun. I knew he will take India to the win. When I went to the crease, I looked at Rishabh and asked 'kya karna hai'? (What do I have to do?). Rishabh said 'kuch nahi karna, bass tej bhagna, jab bolunga, risky run mat lena (Just run when I say and don't take a risky run). He (Pant) went back to his crease and then came back again and told me 'don't worry, mai dekh lunga' (Don't worry, I will handle it)." Navdeep Saini said as quoted by Times Of India.