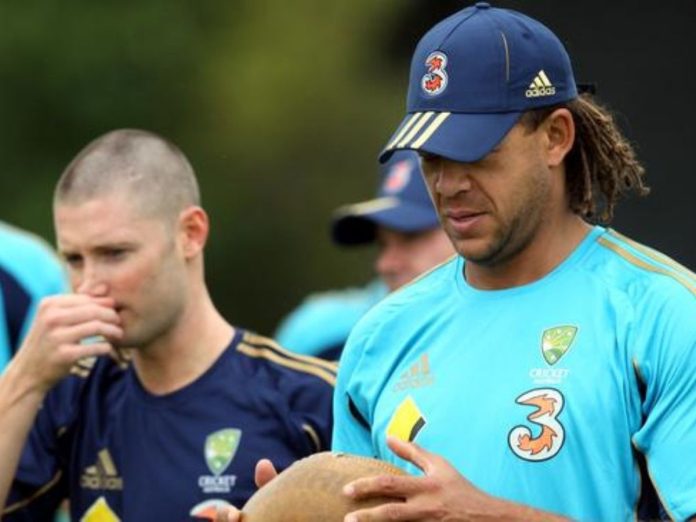 Andre Symonds is reckoned to be one of the most controversial figures to have played in international cricket. He was too often found involved in one or the other controversy. But, at the same time, he was equally talented with the bat and ball.
The former Aussie all-rounder did immensely well for Australia. But, his cricket career was cut short due to his poor habits. The right-handed player played for some of the big franchises in the IPL like Deccan Chargers and Mumbai Indians.
Andrew Symonds Talks About His Relationship with Michael Clarke
Andrew Symonds was a key player in the Australian squad during his playing days. He played with some of the legendary players to have played for Baggy Green like Ricky Ponting, Matthew Hayden, and Adam Gilchrist.
In a recent interaction, Andrew Symonds was asked to shed light on his relationship with former Aussie skipper Michael Clarke. On The Brett Lee Podcast, former Aussie all-rounder mentioned that he used to share a very good bond with Clarke. But, the latter got jealous after he received lucrative offers from the Indian Premier League.
"We became close. When he (Clarke) came into the side I used to bat with him a lot. So when he came into the side I really looked after him. That built a bond," Andrew Symonds told Lee.
"Matthew Hayden said to me — when the IPL started, I got a pretty penny to go and play in the IPL — he identified it as there was a bit of jealousy that potentially came into the relationship (with Clarke) there.
As per him, Money always does funny things but can also poison relations with close friends. He added that until now he has immense respect for Michael Clarke but he will not spill beans sitting down at a place.
"Money does funny things. It's a good thing but it can be a poison and I reckon it may have poisoned our relationship."
"I've got enough respect for him to probably not go into detail about what was said. My friendship with him is no longer and I'm comfortable with that, but I'm not gonna sit here and start slinging mud," the all-rounder added.
Read More:
IPL 2022 final to be played at Narendra Modi Stadium, Kolkata gets to host two playoff matches
Looked Like Indian Cricket Had Lost Him, Says Sunil Gavaskar After SRH Pacer Took 3 Wickets against RCB